House Minority Leader Kevin McCarthy on Wednesday sought to put an end to the false narrative among some rank-and-file Republicans and allies of President Donald Trump that left-wing actors were responsible for last week's deadly violence at the U.S. Capitol.
The California Republican stated in a floor speech just before the chamber impeached the commander-in-chief—again—that while he disagrees with the "incitement of insurrection" impeachment article, Trump is unequivocally to blame for hundreds of his supporters seizing the halls of Congress during an attack that resulted in five deaths, including that of a Capitol Police officer.
"Some say the riots were caused by antifa," McCarthy said. "There is absolutely no evidence of that, and conservatives should be the first to say so."
Some of the president's closest allies, including Reps. Matt Gaetz (R-Fla.), Mo Brooks (R-Ala.) and some Fox News hosts like Lou Dobbs, have pushed the false conspiracy theory that the rioters were secretly members of antifa disguised in pro-Trump paraphernalia. There has been no evidence to support such claims.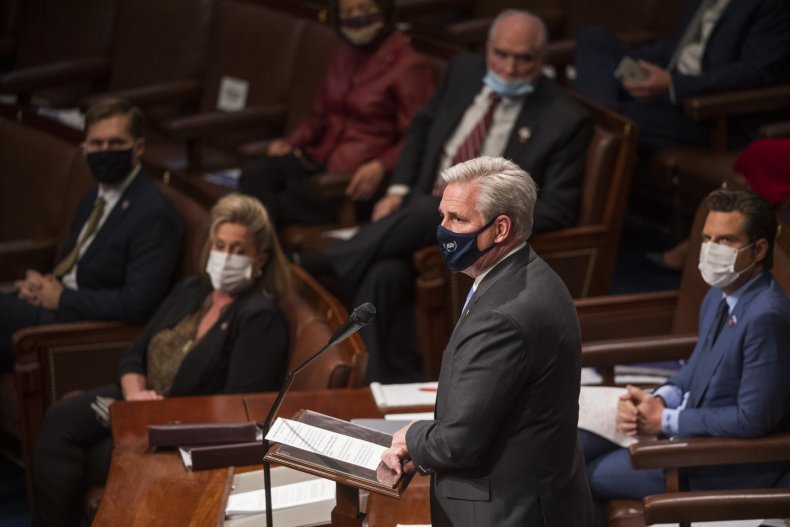 McCarthy, although he personally opposed impeachment because he felt it would further divide the country and "fan the flames of partisan division" ahead of a new administration, Republicans on Capitol Hill have reached their final straw with Trump.
Through his rhetoric and actions before, during and after the riot, McCarthy said Trump was not "free from fault."
"The president bears responsibility for [last week's] attack on Congress by mob rioters," he stated. "He should have immediately denounced the mob when he saw what was unfolding. These facts require immediate action by President Trump, accept his share of responsibility, quell the brewing unrest and ensure that President-elect [Joe Biden] is able to successfully begin his term."
McCarthy and his leadership team did not court GOP lawmakers against impeachment, as 10 House Republicans ultimately voted for impeaching the president. The lack of whip effort was a remarkable one, a clear representation of the party's dimming support for Trump and the intraparty rift that has developed in the outgoing president's final days in office. Impeachment allowed GOP lawmakers a final escape route to put distance between themselves and Trump once and for all.
Rep. Liz Cheney (R-Wyo.), the No. 3 Republican, once among those to support impeachment.
Reports have emerged that during the insurrection, Trump was glued to the T.V. screen in a fortress of safety that is the White House with almost a sense of joy, as he watched the carnage unfold at the Capitol building just blocks away from him. He issued a tepid call for peace during the siege, but it failed to come until long after the bloodshed had already begun.
After emerging in public on Tuesday for the first time since the riot, Trump contended to reporters that his remarks to supporters minutes before the attack were "totally appropriate."