The Tokyo Summer Olympics scheduled for 2020 will kick off in one week, but not without one year's worth of pandemic, controversy and social justice issues that preceded it. Even though the Games will still happen one year later, some things still lurk in society from 2020.
There will be no fans allowed at this year's Tokyo Games—foreign or domestic—because of the ongoing COVID-19 pandemic.
Another is the ongoing social justice protests that could be carried out by athletes. The International Olympic Committee still doesn't want demonstrations like the 1968 Mexico City Summer Games when Tommie Smith and John Carlos raised their fists for Black power while standing upon the medal podium after the 200-meter dash.
The International Olympic Committee (IOC) used that moment to squash future moments like those. The COVID-delayed 2020 Tokyo Games could become a pressure point for the IOC.
And while protests and demonstrations seem vogue for a few athletes, there are veteran U.S. Olympians who don't think such protests should happen on the playing fields, courts or other venues where the Games are played.
Some high-profile American athletes who are Olympic veterans believe that it's ok for athletes to use their own statuses to protest whatever they desire, but just not in the arena where competition occurs, though.
Brady Ellison, who is the top archer in the world, is making his fourth Olympic Games. He's won a pair of silver medals in the team division (2012, 2016) and an individual bronze (2016). He said the athletic arena isn't the time or place for such demonstrations.
"I really believe that the athlete should be able to say and do whatever they want within reason," Ellison told Newsweek. "The Olympics, to me, have never been political. It's never been about politics. Now I feel like it's turning into a theatrical spectacle. World politicians can learn a lot about the athletes at the Games. No one starts a war, no one fights ... we go out there and compete."
April Ross is an American beach volleyball player who echoes some of those comments, saying she supports the free speech rights of Americans on the international stage—like the next three weeks in Tokyo.
"I really want to respect an athlete's right to free speech and hopefully promoting stuff that's really important to them," said Ross, who won silver at the 2012 London Games with Jennifer Kessy and then bronze at the 2016 Rio de Janeiro Games with Kerri Walsh Jennings. "I think there's a way to do it that can get their point across and hopefully uphold the values of Team USA."
Ross will team up with Alix Klinemen at these Games as the No. 2-seeded team going into competition.
Many American athletes headed to the Tokyo Games fully support their fellow Americans in protesting anything they choose to protest, whether they're against police brutality against minorities, racial inequality or any other social issue that has surfaced since the murder of George Floyd in 2020.
American hammer thrower Gwen Berry, who qualified for the Olympic team in Tokyo but made more headlines last month for turning her back while the national anthem was played at the Olympic Trials medal ceremony, said she felt like the anthem's playing was "a set up."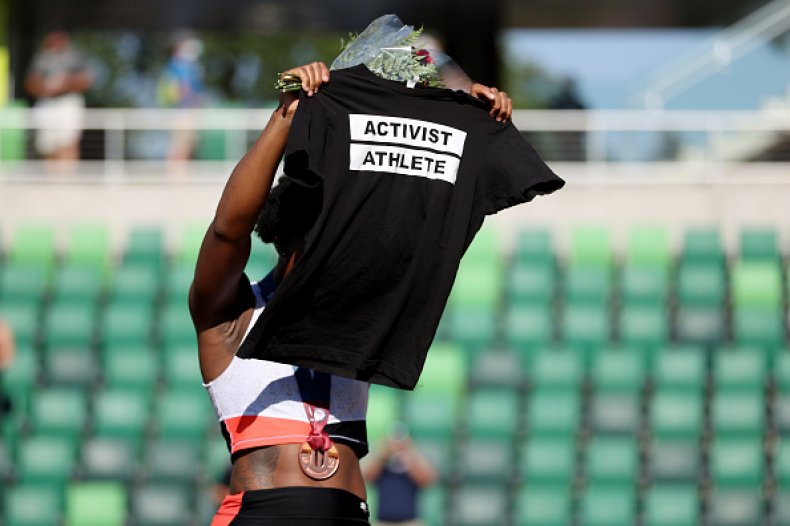 At the 2019 Pan American Games, Berry protested the Star-Spangled Banner by turning away from the flag. At the U.S. Olympic Team Trials last month in Eugene, Oregon, she turned away from the flag and donned a black t-shirt that read "Activist Athlete" while the song played.
Ellison, who is the favorite to win individual gold and maybe a team gold in recurve archery, said athletes should use their voices through interviews and social media, and not on the playing fields. He called it a slap in the face to military members and half the country.
"I think athletes should have that voice and use that voice. On the sporting fields is not the time," said Ellison, who's the No. 1 archer in the world heading into the Olympics. "Do it on social media if you want, in interview if you want. Just not on the sporting field.
"There are ways to do things. There has to be a way to get your message out there and not piss off the people who fought for the flag and died for that flag. Don't disrespect the people who served in the military."
The Olympics begin Friday in Tokyo, with the Opening Ceremonies starting at 7:30 p.m. ET on NBC.
Uncommon Knowledge
Newsweek is committed to challenging conventional wisdom and finding connections in the search for common ground.
Newsweek is committed to challenging conventional wisdom and finding connections in the search for common ground.
About the writer
Scott McDonald is a Newsweek deputy night editor based in Cape Coral, Florida. His focus is assigning and writing stories across all topics, from news to politics, business, weather, sports and international news. Scott joined Newsweek in 2018 after a lengthy career of print journalism in Texas, including The Dallas Morning News, where he was a sportswriter, and he's a voter for the Heisman Trophy. He has been a newspaper editor-in-chief and also a newspaper publisher. He is a graduate of The University of Texas at Austin. You can get in touch with Scott by emailing s.mcdonald@newsweek.com. Languages: English