Olympic Athlete and Second-Year Medical Student Shares Life in Tokyo in Viral Videos
As the Tokyo 2020 Olympics rage on despite a 229 percent rise on the daily COVID-19 case count from the first official day of the games, athletes have turned to their social media accounts to keep themselves and their fans entertained.
One basketball sensation in particular has turned heads, not just for her talent on the court, but for her dedication to her studies as a second-year medical student.
Erica Ogwumike, the 23-year-old Nigerian-American point guard competing for Nigeria, has gone viral on TikTok for her "behind-the-scenes" videos sharing with fans how she spends her downtime in the Olympic village. After posting her first video only three days ago, it has quickly racked up over 5.3 million views and received more than 1.2 million likes.
"A day in my life in the Olympic village!" Ogwumike begins using the platform's text-to-speech function. Citing lingering "jet lag," she starts her day at 5 a.m. and shares the view of the city from her room. She then heads downstairs to stretch and go for a jog.
"Pray for me running these stairs lol," she jokes, turning the camera to a daunting set of stairs she is determined to climb.
After her workout, Ogwumike heads to the Olympic dining hall to eat breakfast. The lower level of the cafeteria was previously featured in a TikTok posted by Australian water polo star Tilly Kearns, who claimed she and her team were only given 10 minutes total to eat. While not a widely mandated procedure for all Olympians, she and her fellow Australian athletes reportedly are given a brief window to eat in an effort to minimize the risk of catching COVID.
Ogwumike then shares with viewers that she keeps both her body and mind active with a series of digital review cards on Anki, an open-source program popular among students working toward a medical degree. "Medical students already know," she jokes.
According to a report from The Los Angeles Times, when the Summer Olympic games were put on hold during the COVID pandemic last year, Ogwumike decided that, alongside her ongoing training to compete in the rescheduled games, she enrolled in medical school at UT Southwestern in Dallas.
Even at the Olympics competing against the best basketball players the world has to offer, she confessed in a statement with the outlets that "the hardest thing is probably just, you know, making sure you know that school comes first regardless."
After her study session, Ogwumike joins her teammates for a practice at one of the facilities in the village. She ends the video as she prepares to get a COVID test before grabbing lunch.
Many in the comments reflected on Ogwumike's impressive double life. "Olympian AND medical student!!?? YOU ARE INCREDIBLE," one amazed fan shared. "Medical student and in the Olympics. Black [excellence] at its finest good luck in [your] event Queen," another chimed in.
In a video uploaded earlier this week, Ogwumike returns to TikTok to share with fans some of the amenities offered to the athletes in the village. This video has been viewed more than 3.2 million times, and liked by over 621,000 engaged viewers.
"Things I do in my free time in the Olympic Village!" she writes in the text-to-speech function.
Ogwumike shows off the choices she and her fellow competitors have when they have some downtimes between games. She shares the obvious first: they can "workout in the gym," which boasts a plethora of all types of cardio and weightlifting equipment.
If they want a physical and mental break from the competition, they can visit the stores in the village, which offer souvenirs, colorful sneakers and snacks. For those looking to get pampered, Ogwumike shows off the hair salon and nail tech facilities located near their living quarters.
Ogwumike also noted she and others in the village take advantage of the restoration room to recharge and go for plenty of walks to take in the breathtaking views. She concludes her video with a clip in the game room, which offers athletes a chance to engage in friendly competition.
"Note to self: if you play ping pong against an OLYMPIC table tennis player, you WILL get smoked," Ogwumike jokes in her caption.
Fans were amazed at the offerings at the village. "The olympic village has salons and nail techs!? Today I learned," one person shared. "This is like a lil summer camp," another joked.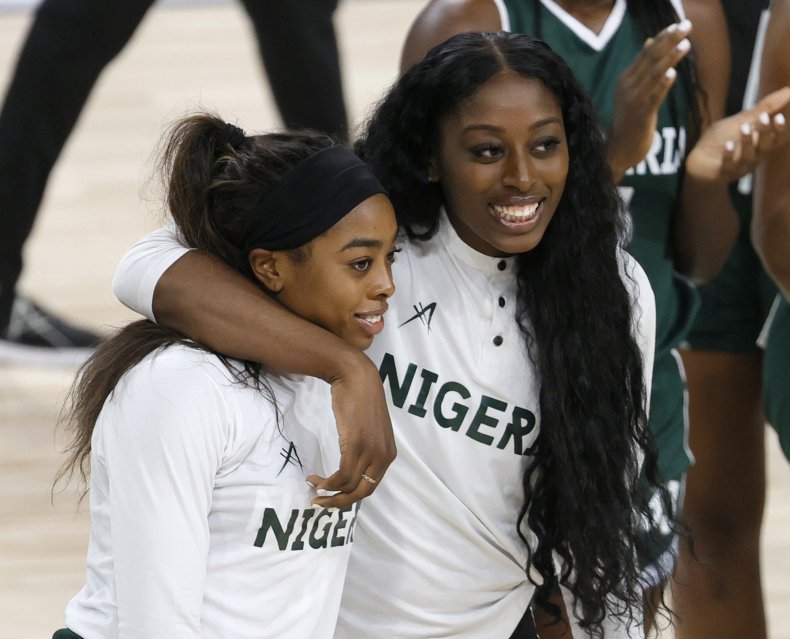 According to a report from ESPN, Ogwumike's sister and WNBA player for the Los Angeles Sparks Nneka attempted to play for the Nigerian team in Tokyo after she was not selected for Team USA. She was denied, despite her sisters Erica and Chiney being selected. Chiney ultimately declined the offer.
"I still have a lot of pride and high hopes for the Nigerian team as it's composed now," Nneka told the outlet. "So, maybe this time around, I won't be a part of it directly, but I certainly do hope that I can be in the future."
Ogwumike noted she hopes that all three sisters can compete together.
"I'm very confident that I'll be able to play with them in the future. I definitely wanted to experience this with them," she told The Los Angeles Times. "Being first the Olympian in my family...it was supposed to be Nneka. We know that. But I'm very fortunate that I can be here and represent my whole family. And they're really supportive of me."
Ogwumike's latest Olympics behind-the-scenes video comes amid the "anti-sex" bed scandal, in which the beds are rumored to have been designed to collapse under the weight of any more than one occupant in order to discourage sex amid rising cases of COVID. Athletes have since disproven the theories, sharing that the beds are made of an eco-friendly material to promote waste reduction.