Olympics Fans Slam NBC for Skipping Live Coverage of Jordan Chiles Gymnastics Routine
Following Team USA gymnast Simone Biles' sudden exit from the team finals due to a "medical issue," fans on Twitter have criticized Olympic broadcasters.
NBC television network and Peacock, the streaming service owned and operated by NBCUniversal, were called out by some for not providing live coverage of the gymnastic routine by Jordan Chiles, who stepped in as a last-minute replacement for Biles.
USA Gymnastics said in a statement Tuesday: "Simone Biles has withdrawn from the team final competition due to a medical issue. She will be assessed daily to determine medical clearance for future competitions."
Biles, a four-time Olympic gold medal winner and the most successful U.S. gymnast ever, left the competition after making a mistake during her performance on the vault on Tuesday.
A shaky landing saw her knees buckle, propelling her forward, but Biles managed not to fall. After she left the stadium, it was confirmed she would not join her teammates in the uneven bars event for the final. Team USA later won a silver medal in the women's team gymnastic final.
Twitter user @poorlawyer tweeted: "So, is NBC just going to omit Grace and Jordan (and MyKayla) on bars and beam?" The post received nearly 80 likes at the time of reporting.
User @idreamofegot wrote: "Why is @peacockTV not showing any of Jordan Chiles's routines live?? [red angry face emoji]."
User @RenaySaysHey wrote: "@NBCOlympics isn't showing Jordan Chiles performances. Where are yall watching so I can see her?! #gymnastics #Olympics."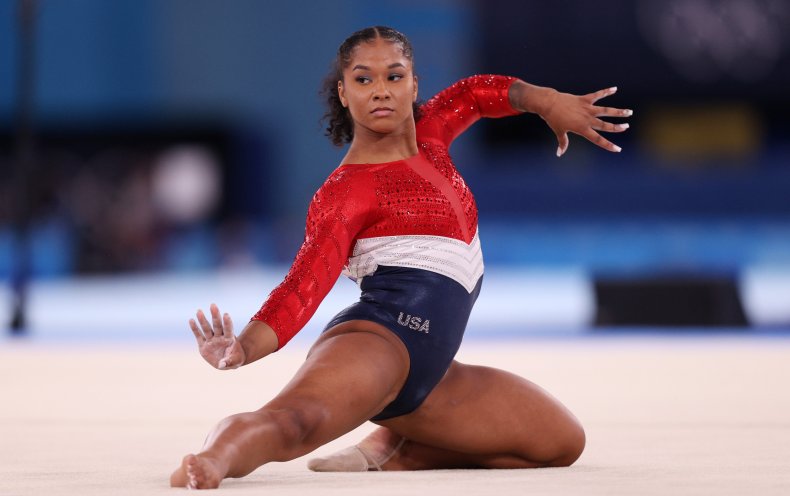 In a reply to the aforementioned tweet, user @ms_nikki48 tweeted: "Sad to say but I have to watch on EuroSport. I don't know why @peacockTV doesn't think she should be live in her own country!"
Sharing footage of Chiles' routine posted by Twitter user @cloudybuzzard, which has had over 900 views since it was posted, user @LiteracyBatman wrote: "There it is. @peacockTV should be ashamed for the Jordan Chiles hate. She is nailing everything. #OlympicGames."
Newsweek has contacted NBC for comment.
Several fans on Twitter who caught Chiles' routine praised her for stepping in and the rest of Team USA for their silver medal win.
Danielle Waugh DaRos, an investigative reporter for CBS 12 News in Florida, tweeted: "And now we watch the other 3 #USAGymnastics athletes step up in Simone Biles' absence. To me, that's just as inspiring as watching the GOAT. #JordanChiles #SuniLee #gracemccallum #TeamUSA."
U.S. Paralympian Ayden Jent tweeted: "Congratulations to all!!! Bringing home the #Silver. A medal is a medal. Great job everyone!!! You gave it everything you had. #OlympicGames #TokyoOlympics #SimoneBiles #SuniLee #JordanChiles #gracemccallum."
User @andreachorst wrote: "Folks, #JordanChiles deserves A WORLD appreciation right now! She didn't even warm up bars and HIT BIG, which was promptly followed by A HIT balance beam set. BALANCE BEAM.....At the #OlympicGames team final!!"
User @DanDanoDeege tweeted: "Team USA winning Silver without Simone Biles says a lot about the rest of team USA. This is their first Olympics EVER! Congrats ladies!!!! #ArtisticGymnastics #TeamUSA #Olympics #Simone #SuniLee #JordanChiles #gracemccallum."
User @ArianaHodes tweeted: "All the love to @Simone_Biles #GOAT #JordanChiles stepping up #SupportSystem #MindBodySpirit."
User @bls78momma wrote: "#JordanChiles killed it!!! WooHoo!!! #TeamUSA."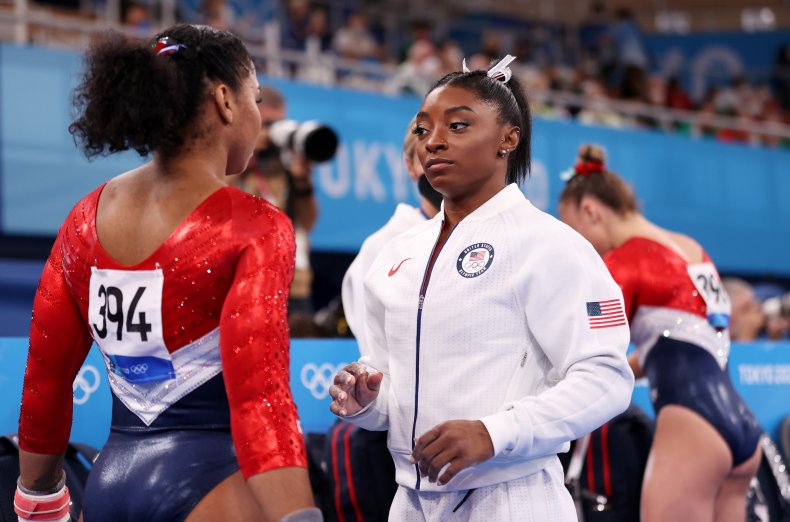 Update 7/27/21, 9:41 a.m. ET: This article was updated with comment from USA Gymnastics and additional Twitter users.