Dog Dumped at Shelter in Night, Hours From Death, Finds Forever Home
A dog who was dumped at a Virginia animal shelter in the night "30 minutes from death" has found his forever home after being nursed back to health.
Olympus, a boxer-pit mix, was found by a security guard at Richmond Animal Control at 9:30 a.m. on February 6.
Although staff at the shelter initially believed the dog had been left in order to be found, surveillance footage revealed the owner dumped the dog at 2:36 a.m. Footage showed Olympus attempting to follow the owner, only to collapse on the floor.
"His little paws started to turn under, which is what we see when death comes often," Christie Chipps-Peters, director of Richmond Animal Care and Control, told CBS 6. Olympus was emaciated and rushed to a veterinarian with the car's heater on full blast, where he has since been receiving treatment.
"His temperature was too low to read and his blood pressure wasn't strong enough to place an IV," the shelter wrote online.
According to social media posts by the shelter, Olympus has gained 55 percent of his original weight and his white blood cell count is back to normal.
Last week, the shelter opened adoption applications for Olympus after finally feeling he was healthy enough. Hopeful adopters were invited to email the shelter with information about their home and experience with "medical pups that need ongoing care."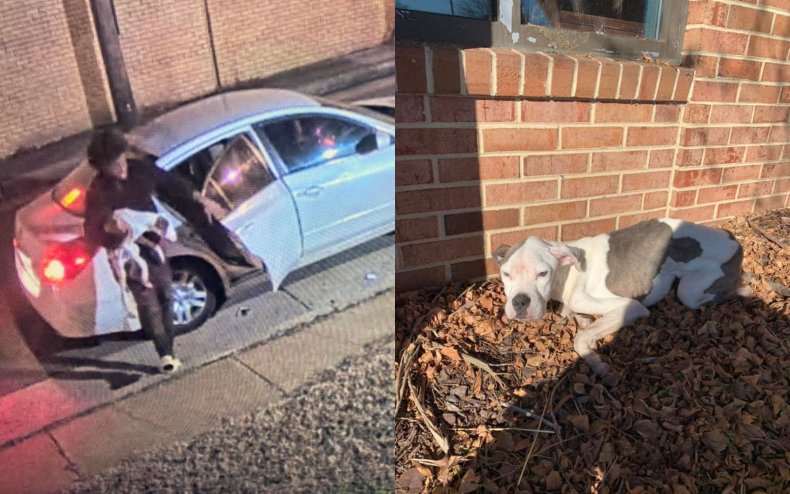 On Saturday, the shelter announced online that Olympus has found his new family, who will continue to nurse him back to health in their home.
"We are thrilled to announce that Olympus has found his forever home! After weeks of treatment (touch and go results; thank you, Dr. Honias for leaving no stone unturned), thousands of dollars in vet care, foster care rehabilitation (thank you, April), lots of healing prayers and well wishes from across the country, our sweet boy Olympus is finally adopted," they wrote.
"We honestly can't believe he lived...it was tough there for a bit!"
Richmond Animal Care and Control's animal control team, which probes animal cruelty, enforces humane laws and issues pet licenses, was treating the incident as an active investigation, but it has not since commented in any updates.
"It falls under our purview as an animal crime," Chipps-Peters told Newsweek at the time.
Just last week, in another case of shocking animal abuse, a dog was found screwed to a bathroom door at a property in South Carolina.
Officers with the Union County Sheriff's Office attended after a tip-off from a county employee. When officers arrived at the address, they found that two of the dog's paws had been screwed to the bathroom door frame.