Ilhan Omar, Rashida Tlaib Slam Israel Ban: Trump, Netanyahu Making Muslim, Jewish Communities 'Into the Boogeyman'
The Muslim congresswomen banned from Israel ahead of a planned visit to the Middle East this week went on the offensive Monday, blasting President Donald Trump and Prime Minister Benjamin Netanyahu as men who sought to politicize a decades-old conflict.
Representatives Rashida Tlaib, of Michigan, and Ilhan Omar, of Minnesota, accused Trump of trying to "pit Muslims and Jewish Americans against each other," the first comments the freshmen progressives have made to members of the media since Netanyahu announced last week they were banned from entering Israel.
"The Muslim community and the Jewish community are being made into the boogeyman by this administration," Omar told reporters during a news conference at the Minnesota State Capitol in St. Paul. She was flanked by Tlaib, in addition to local Jewish-American and Palestinian-American residents who have been personally impacted when trying to visit Israel.
Omar suggested that, should Israel continue to build Jewish settlements on Palestinian land, ban American lawmakers and exert military occupation over Palestinians in the West Bank, perhaps Israel should no longer receive the more than $3 billion in foreign military aid provided by the United States each year.
"This is predicated on them being an important ally in the region, and the only democracy in the Middle East. But denying a visit to duly elected members of Congress is not consistent with being an ally and denying millions of people freedom of movement, or expression or self-determination is not consistent with being a democracy," Omar elaborated. "We must be asking, as Israel's ally, the Netanyahu government stop the expansion of settlements on Palestinian land and ensure full rights for Palestinians, if we are to give them aid."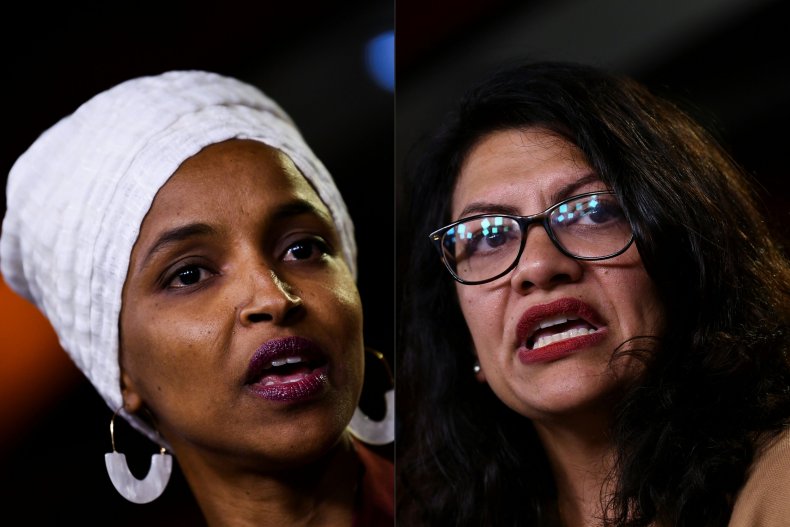 Israel partially lifted its ban on Tlaib last week to offer her the opportunity to visit her aging grandmother, who resides in the occupied West Bank. However, she refused, citing what she called "oppressive & racist policies." Trump later claimed in a tweet that the "only real winner here is Tlaib's grandmother. She doesn't have to see her now!"
Tlaib became emotional on Monday, shedding tears as she described memories of traveling through the region as a little girl.
"As a young girl visiting Palestine to see my grandparents and extended family, I've watched as my mother had to go through de-humanizing checkpoints," Tlaib recalled, pausing to wipe away tears, "even though she was a United States citizen and a proud American. I was there with my [grandmother] was in a terrible car accident and my cousins and I cried so she could have access to the best hospitals, which were in Jerusalem."
Tlaib continued: "All I can do, as the granddaughter of a women who lives in occupied territories, is to elevate her voice by exposing the truth the only way I know how, as my Detroit public school teachers taught me: by humanizing the pain of oppression."
Despite claims by Netanyahu and the itinerary of Omar and Tlaib published by Israeli media, Omar said they intended to meet with Israeli officials, in addition to Palestinian officials, non-governmental organizations and human rights groups.
News of the ban last week came just minutes after Trump issued a tweet, saying it would "show great weakness if Israel allowed Rep. Omar and Rep.Tlaib to visit" because "they hate Israel & all Jewish people."
Netanyahu cited what he believed to be the congresswomen's intent of the trip, to promote the Boycott, Divestment and Sanctions (BDS) movement, as reason to ban the Democrats. Both Omar and Tlaib support BDS, a pro-Palestine campaign that the House last month officially condemned in a resolution.
But Jewish groups on either end of the political spectrum said barring the congresswomen was counter-productive to the mission of educating Tlaib and Omar about the ongoing Israeli-Palestinian conflict and how it impacts a variety of communities in the region. Omar highlighted the same point, saying it would be beneficial to see Israel and Palestine first-hand and to meet people face-to-face, considering her position on the House Foreign Affairs Committee.
Both women also pointed to a congressional delegation comprised of five Democratic congressmen that was allowed to embark on a similar trip to the region in 2016. They were led by the controversial pro-BDS group known as MIFTAH, the same organization that sought to lead Tlaib and Omar's visit but who also were cited last week by Netanyahu as an entity containing members who've shown "support for terrorism against Israel."
"This is the policy of his government when it comes to anyone who holds views that threaten the occupation, a policy that has been edged on and supported by Trump's administration," Omar said. "That's because the only way to preserve unjust policy is to suppress people's freedom of expression, freedom of association and freedom of movement."
Carin Mrotz, the executive director of the Jewish Community Action group, was among those present to defend the congresswomen. She berated Israel and the U.S. for allegedly treating Jewish people as political pawns.
"We recognize that our identities have been weaponized to 'other' us, to divide us from our likeliest allies and to weaken our collective movements for justice," Mrotz said. "We recognize and resist the way that our communities values and diversity have been flattened and erased by a president and administration who seek only to use us as pawns in attacks against his political opponents. Our community has been used as a tool by those pretending to be concerned with our safety, to undermine the solidarity that we know is needed in order to achieve justice."