Omarosa Manigault Newman Admits She 'Came Up Short' for Black Community While in White House
Omarosa Manigault Newman admitted she "came up short" for the black community during her 11-month tenure at the White House, but she said it wasn't entirely her fault. The former White House aide said in an interview with The Grio that the nationwide "animosity" toward President Donald Trump prevented her from achieving the goals she set when she first took a "seat at the table."
Manigault Newman was asked by Grio reporter Natasha Alford what—if anything—did she accomplish for the black community when she worked for the Trump administration. "In some ways, I came up short," Manigault Newman said during the interview, published on Wednesday.
"A lot of that was the animosity toward Donald Trump. People just generally were devastated that this racist was going to run our country. So no matter what efforts I put out, people didn't want to see that type of residual outreach," she continued.
The former Apprentice contestant said what was most frustrating was the negative response she received from her community when she did try to reach out. "I would show up and people would boo and hiss and protest and downright just completely push back against my efforts to outreach," she said. "I could certainly see why people didn't want me there, but nonetheless I thought it was important for me to reach out."
Manigault Newman is currently on a publicity tour for her new book, Unhinged: An Insider's Account of the Trump White House, in which she detailed much of what she claimed went on behind the scenes and accused Trump of racism and misogyny.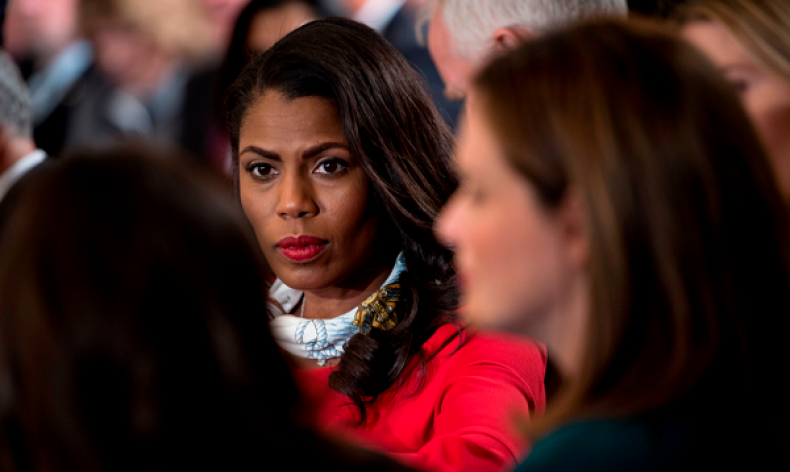 When asked why she was just now coming forward with such claims, considering the many people in minority communities who said they had always known that Trump was racist and had called him out for his discriminatory and separatist rhetoric long before he became president, Manigault Newman had this to say: "You know, I had a complete blind spot with the person who I thought that I had known for so long."
Manigault Newman said she tended to give Trump the "benefit of the doubt" because she had known him for 14 years, but admitted she shouldn't have. "I was too close to him to really see what he was doing, and in a lot of ways I missed the mark in terms of having an opportunity to impact him a little more," she said.
The 44-year-old noted that her silence in the past made some people believe she was "complicit with every single decision he made, and that wasn't always the case.
"To get up at the table by most of these white men and then to walk out and try to go to my community and get the pushback that I got. I didn't realize it until after I left the White House just how heavy of a burden that was."