Omarosa Claims Trump Campaign Offered Her $15,000 per Month to Stay Quiet in New Tell-All Book
Omarosa Manigault Newman, the former White House aide and long-time friend of President Donald Trump, was offered $15,000 a month in hush money by the Trump campaign after being fired from her position last December, according to her new tell-all book, Unhinged: An Insider's Account of the Trump White House.
In excerpts of the book obtained by The Washington Post, the former Apprentice star says she refused the offer. She writes that after Trump chief of staff John Kelly let her go last year, the president's daughter-in-law Lara Trump called and offered her a high-paying campaign job as a diversity outreach adviser—but only on the condition that she sign a nondisclosure agreement (NDA).
The agreement, wrote Manigault Newman, banned her from commenting publicly on the president or any member of his family and on Vice President Mike Pence or his family. "The NDA attached to the email was as harsh and restrictive as any I'd seen in all my years of television," she writes in the book.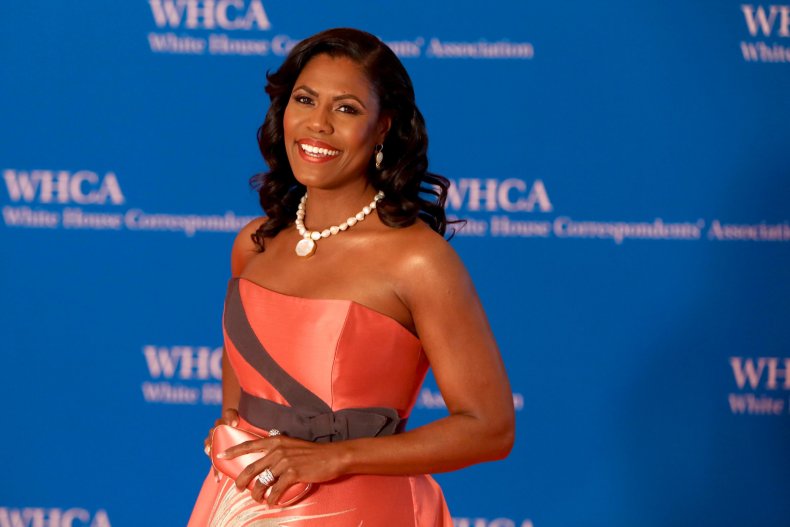 She also goes into the details of her firing by Kelly, which she denied happened at the time. Kelly reportedly took her into the Situation Room and told her that she had some very serious integrity issues and that she would be court-martialed if she were in the military. But Kelly reportedly told her, "If we make this a friendly departure, you can look at your time here in the White House as a year of service to the nation. You can go on without any type of difficulty in the future relative to your reputation."
Trump, says Manigault Newman, did not know of the firing for days. She writes that the president called her and told her that he "just saw on the news you were thinking about leaving! What happened?"
The Celebrity Big Brother TV star says she quickly received calls from Jared Kushner and Ivanka Trump reiterating how much they valued and liked her. Finally, she wrote, the call with a campaign job offer came from Lara Trump, who also wanted to make sure that "everything is positive." Lara briefly discussed the negative interviews she had given in the days after her White House dismissal and warned that "if you come on board, we can't have you mention that stuff," she wrote.
Other parts of the book reportedly question Trump's mental health and discuss his ego. "All we need to remember is that Trump loves the hate," she wrote. "He thrives on criticism and insults. He delights in chaos and confusion. Taking to Twitter to call him names only fuels him and riles his base. To disarm him, starve his ego; don't feed into it."
Manigault Newman will appear on Meet the Press Sunday morning to discuss her time in the White House.
In a statement to The Washington Post, White House press secretary Sarah Huckabee Sanders said that "it's sad that a disgruntled former White House employee is trying to profit off these false attacks, and even worse that the media would now give her a platform, after not taking her seriously when she had only positive things to say about the president during her time in the administration."