What We Know About Rapidly Spreading Omicron COVID Variant a Month Since It Appeared
About one month ago, scientists were collecting samples from COVID patients that would end up being the first reported cases of the variant B.1.1.529—better known as Omicron.
Thanks to the diligence of researchers in Hong Kong, South Africa and Botswana, where some of the earliest samples were sequenced—as well as those who raised the alarm—the world became aware of a startling new coronavirus variant.
Within days of scientists voicing concerns in mid to late November, the World Health Organization labeled B.1.1.529 a variant of concern and gave it a new name. The WHO made the decision because of Omicron's number of genetic mutations—around 50 in total, most of which are in the spike protein used by the virus to make people sick.
The variant is now present in at least 76 countries, the WHO said on December 14, and it is predicted to overtake Delta in some of them. Although we still don't know a lot about Omicron, new data is emerging every day.
Transmissibility
One of the most concerning characteristics of Omicron is how fast it seems to spread. Based on the data we have so far, Omicron appears to spread faster than Delta.
In its update on Tuesday, the WHO reported that Omicron is spreading faster than the Delta variant in South Africa—where Delta circulation was low—but also faster than Delta in the U.K.—where Delta circulation was high.
A U.K. government update on Omicron on December 10 estimated that, based on preliminary analysis, someone infected with Omicron is about three times as likely as a person with Delta to pass on the virus to a close contact.
Omicron accounted for 2.9 percent of sequenced cases in the U.S. in the week ending December 11, according to the Centers for Disease Control and Prevention. The Delta variant made up more than 96 percent of cases in that week, the CDC said.
Vaccine and Immunity Resistance
Another concerning characteristic of Omicron is its effect on people who have already been vaccinated or infected with COVID.
The WHO says more data is needed to understand the extent to which the variant can dodge vaccines, but it acknowledges that preliminary evidence shows blood samples obtained from vaccinated and previously infected individuals have lower neutralization activity with Omicron than with any other circulating variant of COVID.
Early data suggests that the effectiveness of the Pfizer vaccine is reduced in Omicron cases, but it still works. The U.K. government's Health Security Agency reported on December 10: "Nevertheless, moderate to high vaccine effectiveness of 70% to 75% is seen in the early period after a booster dose."
A pre-print study (which has not yet been through the peer review process required to be published in scientific journals) by scientists at the University of Washington, Vir Biotechnology and other institutions, released on Tuesday, states that neutralizing activity was particularly reduced with the J&J, Sputnik and Sinopharm vaccines.
Gamaleya Center, developer of the Sputnik V vaccine, disputes the results in this study, claiming that unrepresentative serum samples were used and conclusions about Sputnik efficacy against Omicron cannot be made.
Scientists and governments are stressing the importance of booster shots as early data suggests they may increase protection against the variant.
Disease Severity
Discussing the severity of illness caused by Omicron can be contentious. Experts have pointed out that even a less severe virus can cause significant harm if it spreads quickly.
Some, such as South African medic Angelique Coetzee, have reported that Omicron has tended to cause mild cases. A study of patients in the South African district of Tshwane gained attention at the start of the month after it reported that, in a snapshot of 42 patients in a COVID ward on December 2, most were not oxygen-dependent.
Maria Van Kerkhove, the WHO's technical lead on COVID, acknowledged these reports in an interview with New Scientist magazine last week, but warned: "Saying 'It's only mild' is very dangerous. If it is more transmissible than Delta, there will be more cases, more hospitalizations and more deaths."
Johns Hopkins University states that the full impact of Omicron in the U.S. and elsewhere will become more apparent in the coming weeks.
Symptoms
The U.S. Centers for Disease Control and Prevention (CDC) notes that based on 43 cases between December 1 and December 8, "the most commonly reported symptoms were cough, fatigue, and congestion or runny nose."
Speaking to BBC Radio 4, Tim Spector, a scientist behind the U.K.'s Zoe coronavirus symptom tracker app, said many symptoms of Omicron appeared to be the same as those of a cold. He said: "Things like fever, cough and loss of smell are now in the minority of symptoms we are seeing."
Spector urged people with cold symptoms to take a COVID test.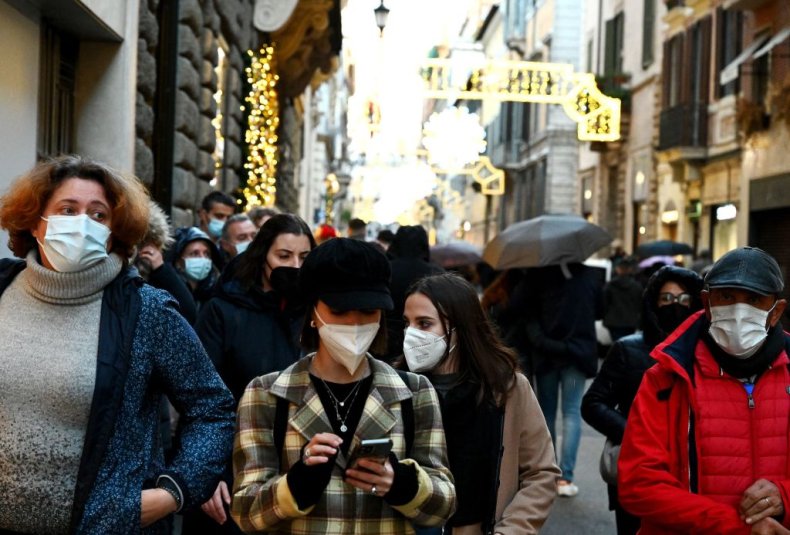 Update 12/16/21: This article was updated with comment from Gamaleya Center, and information about symptoms.