Who Discovered the Highly Mutated Omicron Variant, Now Found in More Than a Dozen Countries?
As scientists work to collect laboratory data on the Omicron COVID variant, cases are being reported from an increasing number of countries.
In a press briefing on Tuesday, Dr. Anthony Fauci, chief medical adviser to President Joe Biden and director of the U.S. National Institutes of Allergy and Infectious Diseases, said cases had been confirmed in at least 20 countries and "you're going to expect to see those numbers change rapidly."
"We've said it over and over again and it deserves repeating," he added: "If you're not vaccinated, get vaccinated. Get boosted if you are vaccinated."
Concern about Omicron flared last week as data on the variant caught the attention of scientists, who expressed unease about its large number of genetic mutations.
Governments soon caught on, and within days it had been flagged as a new variant of concern by the World Health Organization—a rapid turnaround.
But the first Omicron samples were collected back in early November, according to the GISAID virus reporting network.
GISAID shows that the first samples were collected on November 9 in South Africa, and the first genomic data was submitted on November 22 and November 23 by scientists in Hong Kong, Botswana, and South Africa.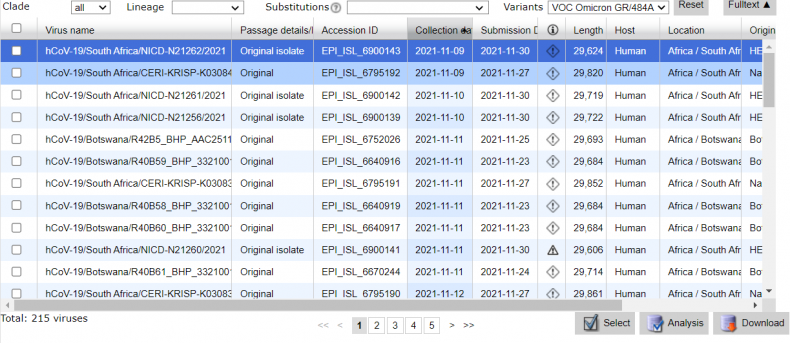 Scientists in all three countries have been widely praised for their work in alerting the world to the variant.
In South Africa, the first sequences were submitted by Tulio de Oliveira and colleagues at the University of KwaZulu-natal as well as Daniel Gyamfi Amoako and colleagues at the National Institute for Communicable Diseases of the National Health Laboratory Service.
From Botswana, the first sequences were submitted by Sikhulile Moyo and colleagues at the Botswana Harvard HIV Reference Laboratory.
And from Hong Kong, the first sequences were submitted by Ka Lun Tsang and colleagues at the Hong Kong Department of Health.
This is not an exhaustive list of the scientists and teams involved. Jeremy Kamil, a virologist at Louisiana State University Health Shreveport, highlighted more on Twitter last week.
"These people are forgotten over and over again," he told Newsweek. "And we expect them to keep sharing their data?"
Shortly after sensing the first cases caused by the variant in South Africa, de Oliveira and his team alerted South African authorities and the World Health Organization to the variant, he told The New Yorker.
Meanwhile, days after the first Omicron sequences were submitted to GISAID, Tom Peacock, a virologist at Imperial College London, submitted the first public request for the variant to be given a Pango classification—B.1.1.529, as it was known before it was called Omicron.
It should be noted that while the first samples of Omicron were collected from South Africa, it is not known where the variant itself originated. References to Omicron as the "South Africa variant" have been criticized.