As the Omicron variant continues to spread, the Netherlands is taking dramatic action ahead of the holidays.
On Saturday, the Dutch government announced that the European country would go into a strict lockdown in response to the Omicron threat, only a week before Christmas.
Prime Minister Mark Rutte warned that failure to take precautions now would result in "an unmanageable situation in hospitals."
The new rules, reported by the BBC to be the strictest yet imposed in response to the variant, will go into effect on Sunday and last until at least January 14.
"I stand here tonight in a somber mood," Rutte said at a press conference on Saturday. "And a lot of people watching will feel that way too. To sum it up in one sentence, the Netherlands will go back into lockdown from tomorrow."
In addition to urging citizens to leave their homes as little as possible, the Netherlands' new lockdown will also impose a cap on how many outside visitors over the age of 13 can be in a residence at one time. On typical days, the cap is set at two visitors, and on holidays—December 24-26 and New Year's Eve—the number is raised to four. Schools will also remain closed until January 9. In addition to announcing the new lockdown, officials at the press conference urged people to get vaccinated.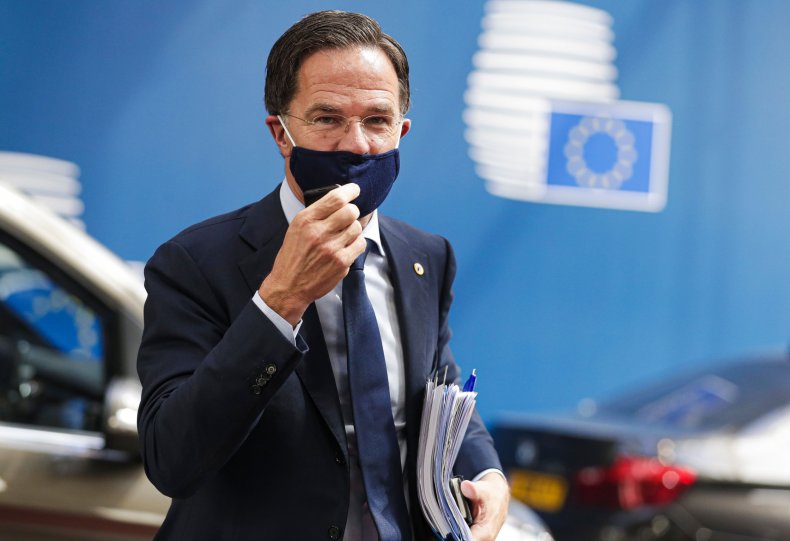 While it is spreading rapidly in the country, the Omicron variant still accounts for a minority of new COVID-19 cases in the Netherlands, though this is expected to change by around New Year's Day. According to Dutch health officials, the country has reported roughly 2.9 million cases of the virus overall, resulting in 20,000 deaths.
The announcement of the lockdown comes after weeks of precautionary curfews in the Netherlands, with cultural and hospitality spaces forced to close early. According to BBC reporter Anna Holligan, the announcement was met with "disbelief and dismay" by residents.
On Wednesday, European Commission President Ursula von der Leyen warned that the new strain would result in "another Christmas in pandemic mode" for Europe. The commission expects the strain to be dominant in all 27 member nations by mid-January.
As of Thursday in the U.S., 38 states had reported cases of the Omicron variant, only a month after the new strain was confirmed in southern Africa. The daily average for new COVID cases has been steadily rising in the country since mid-October, peaking with 119,456 cases as of Wednesday.