Marjorie Taylor Greene Attacks Travel Bans, Doctors Who Won't Prescribe Ivermectin
Republican Rep. Marjorie Taylor Greene told her Twitter followers they "might have a wrongful death suit in your hands" if a loved one died of COVID and wasn't allowed to take ivermectin or monoclonal antibodies." She also criticized world leaders for implementing travel bans in response to the newly detected Omicron COVID variant.
In a Twitter thread on Saturday, Greene accused doctors who refuse to recommend ivermectin to COVID patients of taking part in "politics that is killing people."
"Ivermectin, the 'Wonder drug' from Japan, has a long safe history of saving lives especially among the poor all over the world," Greene claimed on Twitter. "If you had a loved one die from Covid, and they were not allowed to take Ivermectin or monoclonal antibodies, you might have a wrongful death suit in your hands."
The Georgia congresswoman also said that Africans have taken ivermectin "for decades."
"Many clinical trials have proven Ivermectin to be a very effective safe & cheap treatment against COVID," she alleged.
The Food and Drug Administration has stated it has not approved ivermectin for the prevention or treatment of the coronavirus.
Greene also added that Africans have high levels of vitamin D and zinc due to "being outdoors a lot," which she claimed has been effective along with the ivermectin treatment and "low obesity rates" in the continent.
The congresswoman defended her stance against COVID-related restrictions as she called against vaccine and mask mandates.
"Treatment & healthy living is the way out of this nightmare, NOT vaccine mandates, masks, & shutdowns," she said while calling on world leaders to "immediately stop their tyrannical forced shutdowns, vaccine mandates, and absurd masking policies."
She also criticized the recent travel restrictions that were imposed on South Africa and seven other nations to control the spread of the Omicron variant.
"With all that is known about COVID and all the covid studies and the known miracle of low deaths in Africa with very little vaccinations, it's no wonder the Tyrants announce a new COVID variant from Africa and apply travel restrictions," she tweeted. "They control you with irrational fear."
The World Health Organization deemed the Omicron variant as a COVID strain of "concern" after it was first detected in South Africa.
In an email to Newsweek from Greene's spokesperson, the Georgia Republican shared her vaccination status and weighed in on recent travel restrictions.
"I'm not vaccinated just like 94% of African people, and the Democrats hate it," she said, according to her spokesperson.
"Watch how the travel ban lifts after 'talks' when the U.S. announces their 'life-saving' plan with global partners to provide free vaccines to South Africa, who has the lowest COVID death rate," she added.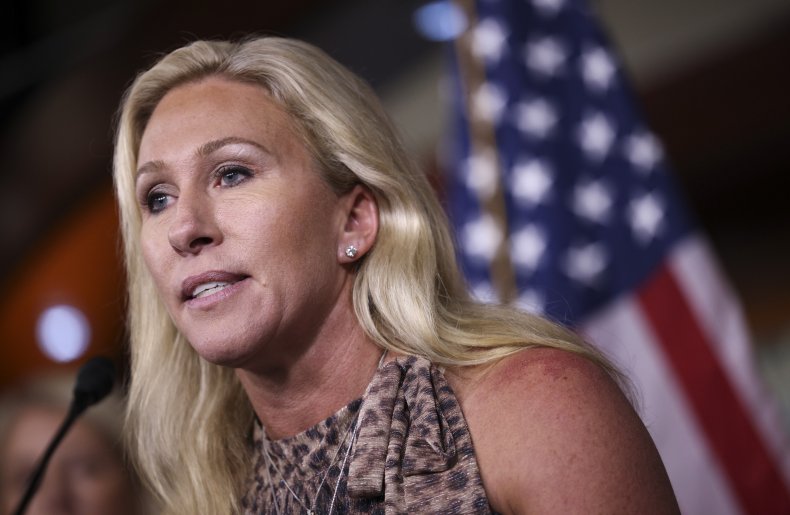 The White House chief medical advisor, Dr. Anthony Fauci, said on Friday that there is "no indication" that the Omicron variant had reached the U.S, but he confirmed that "everything" needs to be done "to protect the American public."
President Joe Biden announced a travel ban, taking effect on Monday, that restricts travel from South Africa, Eswatini, Mozambique, Malawi, Lesotho, Namibia, Zimbabwe and Botswana.
Other countries, including the Australia, Japan and Canada, moved quickly to impose similar travel restrictions on southern African countries.
Meanwhile, vaccine manufacturers expressed confidence in their ability to deliver a new vaccine within 100 days to fight the Omicron variant.
Correction: An earlier version of this article incorrectly stated Greene wrote that Africans have tried ivermectin as a way to treat COVID for decades.
This story has been updated to include Greene's comments.