Omicron Variant 'Will Push Us Over 1 Million Deaths' Health Professor Says
The highly contagious Omicron variant is driving America's death toll higher than the previous Delta wave, and one professor predicts it will push U.S. deaths over 1 million.
"Omicron will push us over a million deaths," said Andrew Noymer, a public health professor at the University of California, Irvine, to the Associated Press. "That will cause a lot of soul searching. There will be a lot of discussion about what we could have done differently, how many of the deaths were preventable."
The New York Times previously reported that the country's first known COVID-19 death occurred in Santa Clara County, California, on February 6, 2020. According to the Centers for Disease Control and Prevention's COVID-19 timeline, the U.S. death toll surpassed 100,000 by the end of May.
According to the CDC, more than 876,000 Americans have died from COVID-19 since the start of the pandemic, accounting for more than 15.5 percent of worldwide deaths.
Newsweek previously reported that some predictive models show COVID-19 deaths surging anywhere from 58,000 to 305,000 due to the Omicron variant.
Last year, the Times reported COVID-19 became the leading cause of death in the country, driving down life expectancy.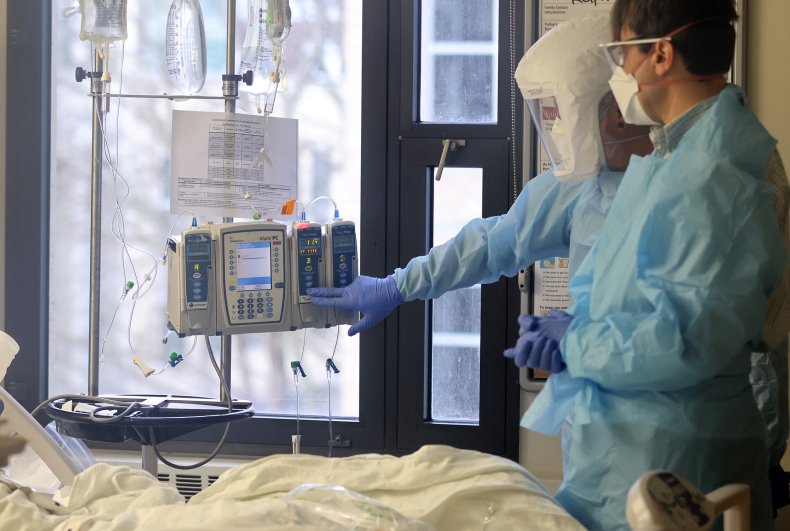 Newsweek reported in December that a study published in the International Journal of Infectious Diseases said Omicron might be the "harbinger" to end the global pandemic. The researchers noted they saw a decline in both COVID cases and hospitalizations after five weeks.
Although the Omicron variant is less severe for most people, the AP reports that more people are getting sick since it is more transmissible. Hospitals around the country are facing shortages from the recent surge.
"Importantly, 'milder' does not mean 'mild,'" said CDC Director Dr. Rochelle Walensky during a White House briefing this week.
Ciara Wright, a decedent affairs coordinator for the University of Kansas Hospital in Kansas City, posted a video in the hospital's morgue.
"This is real," she said to the AP. "Our concerns are, 'Are the funeral homes going to come fast enough?' We do have access to a refrigerated truck. We don't want to use it if we don't have to."
According to the COVID-19 Forecast Hub, 51 U.S. states and territories are likely to see a 50 percent increase in deaths during the next two weeks. Additionally, the model predicts 36 states and territories have a more than 75 percent chance of deaths over the next two weeks.
However, the model does predict weekly deaths will decrease by mid-February.