Despite some recent positive signs, a new report predicted on Monday that the U.S. could see a significant amount of COVID-19 hospitalizations and deaths before the Omicron variant subsides.
Using several predictive models, a team of analysts has predicted that around 1.5 million Americans could be hospitalized with around 191,000 being hospitalized from COVID as a result of the Omicron surge. The data accounts for a span of time lasting from mid-December, when the variant began to take hold, through mid-March, when it is expected to subside.
Accounting for various uncertainties in the models, the deaths from COVID during the Omicron surge could range from as low as 58,000 to as high as 305,000. As of Monday, the U.S. was around 150,000 deaths away from a total of one million deaths across the entirety of the COVID-19 pandemic.
The prevailing wisdom around the Omicron variant is that it results in less severe illnesses than previous strains of COVID-19. A report recently cited by the White House found that Omicron patients had a 53 percent lower risk of hospitalization with respiratory symptoms, a 74 percent lower risk of ICU admission and a 91 percent lower risk of death from their illness.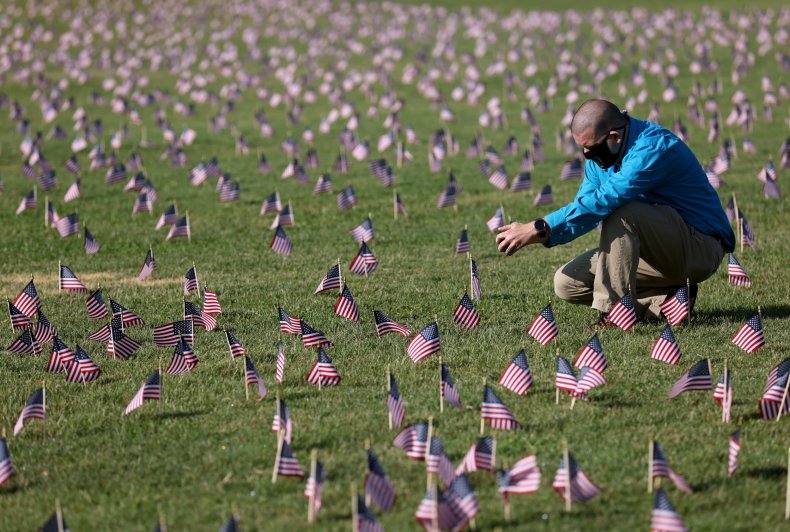 Despite that, experts say, the variant is still expected to result in a wave of deaths due to its increased rate of infection.
"Overall, you're going to see more sick people even if you as an individual have a lower chance of being sick," Katriona Shea, co-leader of a modeling team that pulled together the various predictive models, told the AP. "This is Omicron driven."
"A lot of people are still going to die because of how transmissible omicron has been," University of South Florida epidemiologist Jason Salemi said while speaking to the news organization. "It unfortunately is going to get worse before it gets better."
On Sunday, New York Governor Kathy Hochul noted that the state's COVID outlook is improving. New York was among the first states to be hit hard by the Omicron surge.
"The COVID clouds are parting," Hochul said during a briefing on Winter Storm Izzy. "Overall, the prognosis, the forecast, for COVID is much brighter than it had been before."
As of Saturday, New York's rate of positive tests for COVID had dropped to 12.9 percent, down 7 percent from only a week prior. Hochul called this development "a dramatic improvement over our statewide average just a couple of weeks ago of 23 percent."
The improvement was, unfortunately, not spread evenly across the state.
"Upstate is still lagging behind what we saw in New York City," Hochul said. "New York City numbers are going down. Hospitalizations are going down, but right here in Albany, the numbers are still high and Upstate New York, they're still high. So the lagging indicator will be the hospitalizations and sadly, more people dying in a couple of days."
Uncommon Knowledge
Newsweek is committed to challenging conventional wisdom and finding connections in the search for common ground.
Newsweek is committed to challenging conventional wisdom and finding connections in the search for common ground.
About the writer
Thomas Kika is a Newsweek weekend reporter based in upstate New York. His focus is reporting on crime and national politics. In the past, he has also focused on things like business, technology, and popular culture. Thomas joined Newsweek in 2021 and previously worked at the International Business Times. He is a graduate of the University at Albany. You can get in touch with Thomas by emailing t.kika@newsweek.com. Languages: English.