One Anti-Lockdown Protester Taken Away on Stretcher After Group Is Forcibly Removed From Michigan Statehouse
Demonstrators against Michigan's coronavirus stay-at-home order were forcibly removed from inside Michigan's legislative building in Lansing on Wednesday, with one of the protesters taken away on a stretcher.
A video of the incident was shared on Twitter by Michigan's MIRS News. In the clip, one of the protesters with the group Michigan United for Liberty can be seen screaming as uniformed security guards attempt to remove her from the House of Representatives gallery.
"You're not allowed to touch her," one of the protesters yells as her fellow demonstrator can be seen kicking her legs from the floor. Another protester can be seen filming with her phone as a woman is dragged away.
"Hey, that's not necessary, you guys," the woman holding a phone to film the scene can be heard saying.
Ashley Phibbs, co-founder of Michigan United for Liberty, told Newsweek in an email that a couple of members of her organization "were assaulted this morning by Capitol Red Coats."
"They were not doing anything wrong and were well within their rights. When they asked the red coats to call Capitol police, the red coats refused. At that point our founder and two other people were assaulted," Phibbs said. "We will be filing a lawsuit immediately!"
While the public is generally allowed into the gallery to observe lawmakers, the section had been closed because of social distancing guidelines that require Michigan state lawmakers to be seated at least six feet apart. Instead of allowing the public into the gallery, lawmakers are to be spaced out while seated in the area.
Newsweek reached out to the House's business office and clerk's office for comment. The clerk's office did not immediately respond, but a representative in the business office did not have any information about the incident and referred Newsweek to Speaker of the House Lee Chatfield.
Gideon D'Assandro, Chatfield's communications director and press secretary, told Newsweek in an email that the lawmaker was looking into the incident.
In another video filmed outside the statehouse, shared on Twitter by Sinclair Broadcasting Michigan political reporter Mikenzie Frost, one of the demonstrators can be seen being wheeled out on a stretcher. "A protestor is wheeled out of the Capitol into an ambulance on a stretcher after getting removed from the gallery," Frost wrote in a caption for the clip.
Craig Mauger, a reporter with The Detroit News, shared photos of a couple of protesters speaking with Michigan State Police outside the legislative building following the altercation. According to Mauger, one of the women said she wanted to press charges against the statehouse's security force and said her friend was taken away in an ambulance.
Lieutenant Darren Green of the Michigan State Police Security Operations Section told Newsweek there were no other incidents with protesters besides the altercation in the gallery. He said about five to 10 demonstrators were still outside the state House as he spoke with Newsweek by phone.
Green explained that the ambulance had been called at the injured woman's request. He said that police will now conduct "a complete and thorough investigation" to understand the details of what occurred. That information will then be forwarded to the prosecutor's office, which will decide if charges should be filed.
The protesters had converged on the state capitol to urge lawmakers to oppose Governor Gretchen Whitmer's 28-day extension of Michigan's state of emergency. While Whitmer has eased some statewide lockdown measures, she plans to extend her emergency declaration for nearly another month.
"It really should be longer than that, but 28 days is another important step," the Democratic governor said Monday.
Michigan has faced several protests against the stringent measures implemented by Whitmer. Earlier this month, thousands of demonstrators descended on Lansing in their vehicles, waving flags for President Donald Trump and holding signs opposing the lockdown. A number of the demonstrators disregarded social distancing guidelines, exiting their vehicles to protest at the capitol while holding guns and signs.
Despite the large demonstrations, polling has shown that a majority of Michigan residents support the strict lockdown measures put in place by Whitmer. The survey data showed that more people in Michigan approve of their governor's response to the pandemic than those supporting the president's handling of the crisis.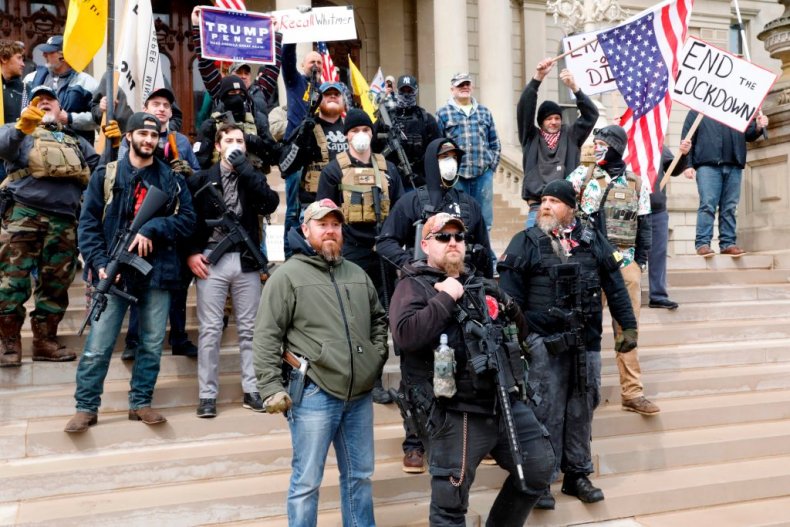 This article has been updated with a comment from Representative Chatfield's press secretary.