One Day After Trump Rallies in Michigan and Wisconsin, Polls Show Biden With Commanding Lead in Both States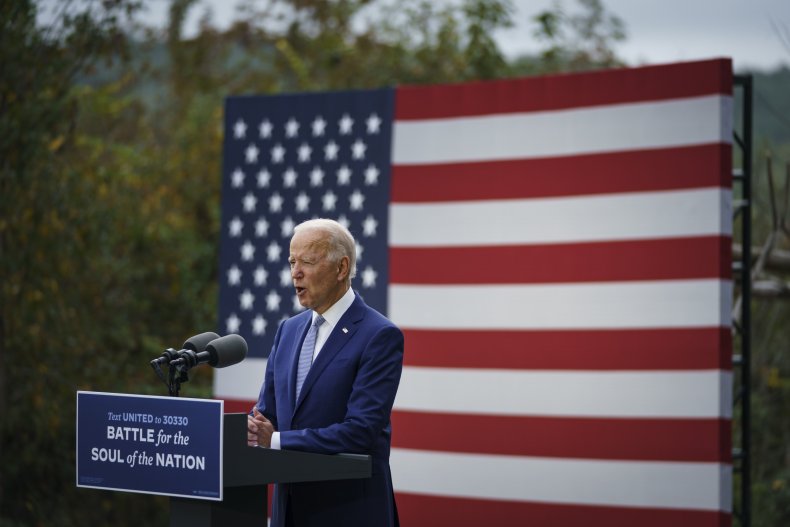 President Donald Trump spent Tuesday holding large rallies in Michigan and Wisconsin, but new polling shows Democratic presidential nominee Joe Biden significantly ahead in both battleground states.
A pair of surveys released by The Washington Post and ABC News on Wednesday found Biden up by 7 points in Michigan and 17 points in Wisconsin among likely voters. Among registered voters, Biden had a five-point edge in Michigan and a 12-point lead in Wisconsin.
The polls, which were conducted from October 20 to October 25, have a margin of error of 3.5 percentage points for likely voters and 4 percentage points for registered voters.
Michigan was the state with the slimmest margin of victory in 2016. Trump narrowly defeated Hillary Clinton by 0.3 percent, or roughly 10,000 votes, four years ago. During his rally in the Wolverine State on Tuesday, Trump framed the race as a "matter of economic survival for Michigan."
He also asserted, again, that he was once voted Michigan's "Man of the Year"—a claim multiple news organizations have been unable to verify.
Trump's deficit in Wisconsin also comes after he edged out Clinton in 2016. The president won the state with 47.2 percent of the vote, compared to Clinton's 46.5 percent. Today, the Post/ABC News poll found Trump with just 40 percent support among likely voters in the Badger State.
But speaking to thousands of supporters gathered at La Crosse Fairgrounds Speedway in Wisconsin on Tuesday, Trump said he predicted a "giant red wave" and that "seven days from now we are going to win this state and we are going to four more incredible years in the White House."
Biden's lead in both Michigan and Wisconsin is largely due to his support from female voters. He leads Trump by 24 points among likely women voters in Michigan and by 30 points in Wisconsin. Previous polls have also highlighted Trump's problem with women in red states like Iowa, Georgia and Texas.
Michigan and Wisconsin, along with Pennsylvania, are vital swing states that could decide the election. This "blue wall" narrowly flipped for Trump in 2016, cementing his Electoral College victory against Clinton. Biden has been consistently polling ahead of Trump in each state since the summer.
While Trump traveled across the Midwest on Tuesday, Biden campaigned in Georgia where he pledged to be a unifying presence to "restore our soul and save this country."
"If you give me the honor of serving as your president, clear the decks for action," Biden said. "For we will act."