One Dead After Plane Crashes in Trailer Park Community: Officials
A small aircraft crashed Thursday in a trailer park in Texas, killing one person and injuring two others, according to authorities.
The Texas Department of Public Safety (DPS) said on Twitter that the plane, which was carrying three people, crashed at 8500 Monterrey Pine Place in Tomball. KTRK in Houston reported that the plane had engine-related issues that led to the crash.
The SR-22 single-engine fixed-wing plane took off in Tennessee and stopped to refuel in Louisiana to fly to its final destination at Hooks Airport in Spring, Texas, KPRC in Houston reported, adding that the plane reportedly lost power before it crashed.
The Texas DPS said that the plane crashed into trees and landed between two homes, according to KTRK.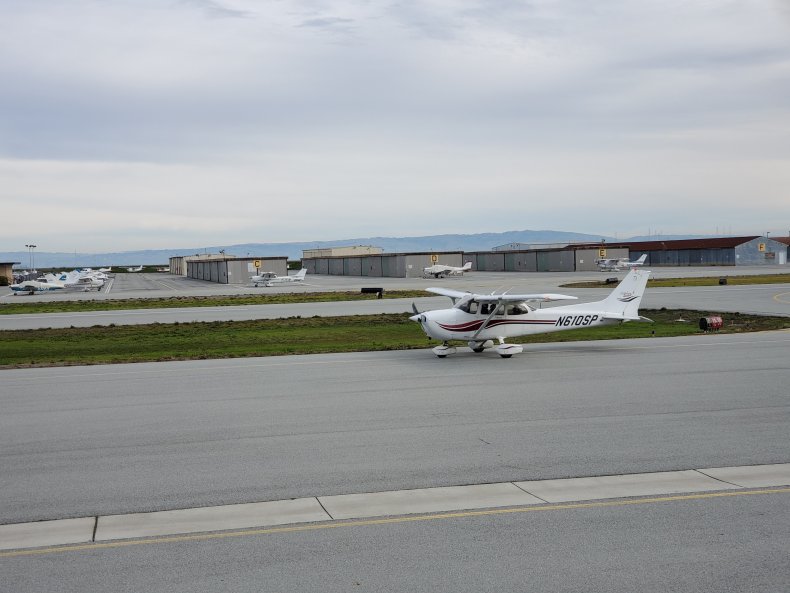 Authorities confirmed that no residents in the area were injured, according to KPRC. Harris County Sheriff Ed Gonzalez said the two injured people in the plane were in stable condition at a hospital.
The Harris County Fire Marshal's Office said that about 75 gallons of aviation fuel spilled from the plane, according to KTRK.
Eric Garcia, one of the neighborhood residents, initially thought that he heard the sound of thunder when the plane crashed.
"This neighborhood is usually busy with kids playing outside. I have a nephew, always outside with his bike and his friends. Good thing no one was injured around here in this neighborhood," Garcia said, according to KTRK. "I'm sorry for their loss, whoever lost their life."
Newsweek reached out to the Texas Department of Public Safety for additional information and comment.
Recent Plane Crashes
Late last month, a flight instructor and a passenger died in a small plane crash in a Florida swamp. The Volusia County Sheriff's Office said that first responders arrived at the scene of the crash after the aircraft "sent an emergency signal to the Air Force Rescue Coordination Center." The sheriff's office Air One helicopter located the plane and guided deputies "through thick vegetation and swamp." The plane was found heavily damaged and upside down.
Also in August, two planes collided mid-air in California over Watsonville Municipal Airport, killing "multiple people," according to city officials. The Associated Press reported that at least two people were killed. But no one on the ground was injured, according to the Federal Aviation Administration.
In June, a father and son died in a plane crash in the wilderness in Valley County, Idaho. The Valley County Sheriff's Office said that "the location of the crash is a steep hillside that is a designated wilderness area." Deputies and the Idaho Air National Guard arrived at the crash site to retrieve the remains of the 48-year-old pilot and his 16-year-old son, the only people in the aircraft.