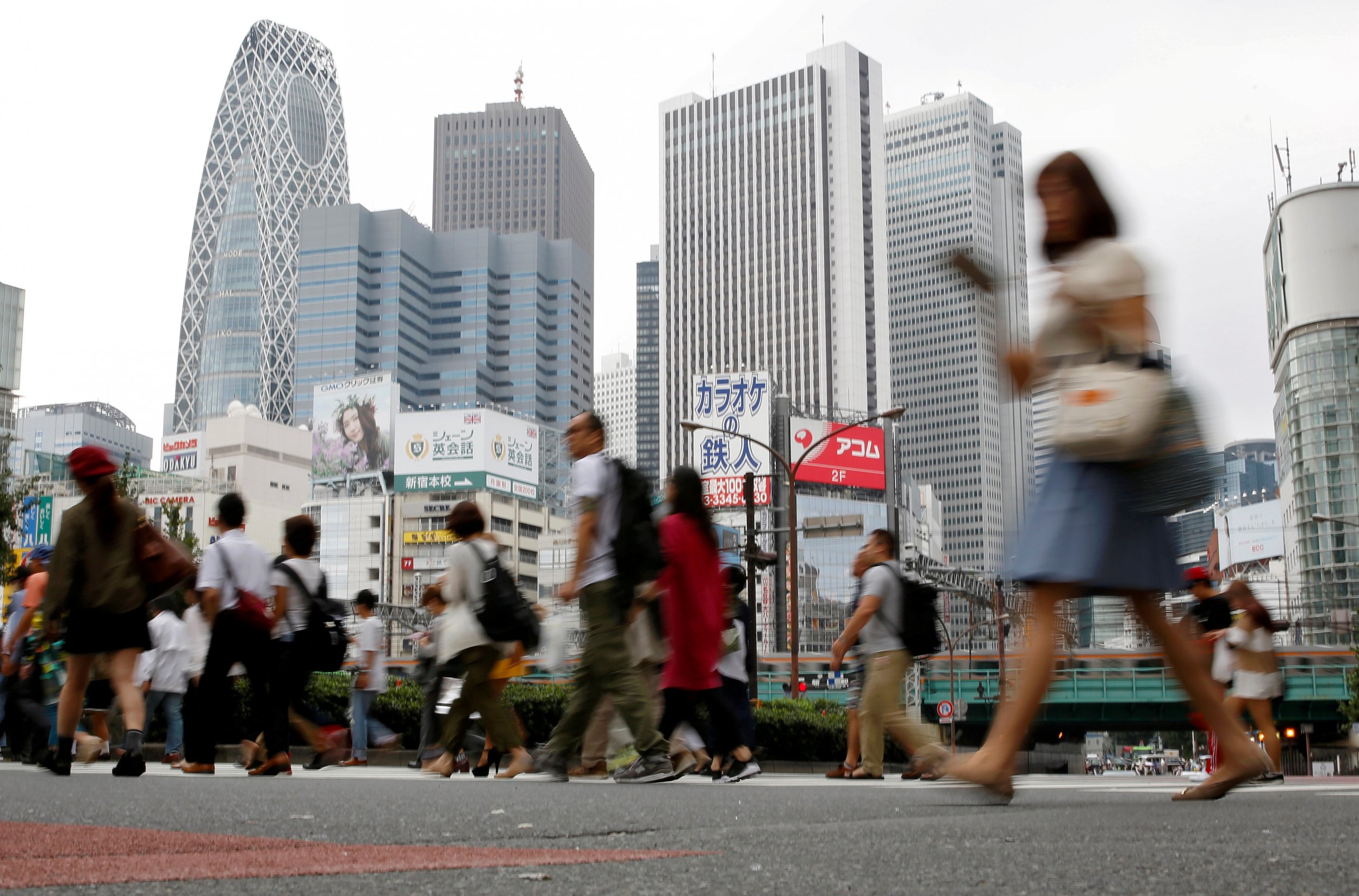 Nearly one quarter of Japanese people have considered committing suicide, according to the country's health ministry.
More women than men surveyed by the health ministry had considered suicide, although more men than women kill themselves.
The survey found that 23.6 percent of respondents considered suicide, an increase of 0.2 percent from 2012. 25.6 percent of women and 21.4 percent of men admitted to suicidal thoughts, the Japan Times reported . In 2015 the suicide rate for men in Japan was 26.9 per 100,000 of the population, compared to 10.1 females. Japan has the third highest rate of suicides per 100,000 of the population in the world, after South Korea and Hungary.
In 2016, 25,000 people took their lives — that's 70 a day, reported by the BBC. In the U.K., the average rate of suicide is 6.2 per 100,000, and in the U.S. it's slightly higher with 12.1 suicides on average out of 100,000 people.
In Japan, suicide is not considered to be a sin, because there is no Christian tradition. It is thought that suicide is seen as a responsibility, especially among the elderly, who could think of themselves as a burden on Japan's younger population.
Insurers pay out to families after suicides. Wataru Nishida, a psychologist at Tokyo's Temple University, told the BBC : "When all else fails—some people feel—you can just kill yourself and the insurance will pay out. There is sometimes an intolerable pressure on the elderly that the most loving thing they can do is take their lives and thereby provide for their family."
According to the BBC, many deaths reported by families as suicide are never fully investigated by the police. It's thought that suicide rates are high in Japan, because of the tradition of honorable suicide which ties in with the Samurai practice of Seppuku, or harakiri, which is suicide in the form of disembowelment.
When asked how they dealt with suicidal thoughts, survey respondents said they focused harder on work or hobbies, while 36.7 percent said they confided in family members, friends or co-workers.
Japan's mental health services are not prominent, and just 6.9 percent of respondents said they were aware of nationwide suicide prevention. In response, the Cabinet plans to implement a more visible measure this year, "We would like to further promote notification of consultation services and development of mental health measures at workplaces," an official of the Health, Labor and Welfare Ministry said, reported by The Japan Times .
Suggested reasons suicides are higher among young men include challenging working conditions—many Japanese employees work upwards of 80 hour weeks. Death by overwork is known as Karoshi. It is not surprising that people aged 20-44 are most susceptible to suicide. The average age of suicide in Japan is 31. Japan's under-population means it faces a growing labor shortage, which could lead to delayed or no retirement.
Being socially reclusive—known as Hikikomori—is also increasing in Japan. It's thought that more than one million people in Japan practise Hikikomori. Many struggle to understand their self-worth, and refuse to speak to others. The practise is mainly among young people, and is believed to contribute towards depressive thoughts and growing rates of suicide.
However, according to separate date from the National Police Data statistics, the number of suicides totaled 21,764 in 2016, a decline for the seventh consecutive year.