One Million Alligators Will Start Roaming Florida This Week—and They Are Looking for Love
The burgeoning alligator mating season and warming spring might be to blame for reports of Floridians seeing more of the huge reptiles coming out to roam.
CBS Dallas / Fort Worth pointed out that huge alligators had been spotted around Florida and Texas over the weekend with at least one 11 foot creature appearing "aggressive."
According to the Florida Fish and Wildlife Conservation Commission (FWC), while alligators start their courtship in early April, the mating begins in May and goes on through June. For males, sexual maturity is reached by the time they're around 7 feet long.
Related: How often do alligators kill people in Florida?
FWC told Newsweek that during the spring alligators also become more active due to the rising temperatures. "[T]heir metabolism increases, and they begin seeking prey items," they said.
A contractor for the FWC, Al Roberts, told Click Orlando that mating season is a particularly busy time for him, with April 28 already seeing him called out three times to deal with alligators.
But the increased likelihood of seeing a roaming gator doesn't necessarily mean people should be worried, as Newsweek described back in 2016, the number of unprovoked, fatal attacks by alligators in Florida is incredibly low.
Though 1.3 million alligators are estimated to be in the state and exist in all 67 counties, between 1948 and 2017 the FWC says there were only 24 unprovoked, fatal attacks. The latest factsheet from the FWC says that Florida averages around six unprovoked alligator bites per year.
The chances of being seriously injured by an unprovoked alligator attack is around one in 3.2 million, the agency says.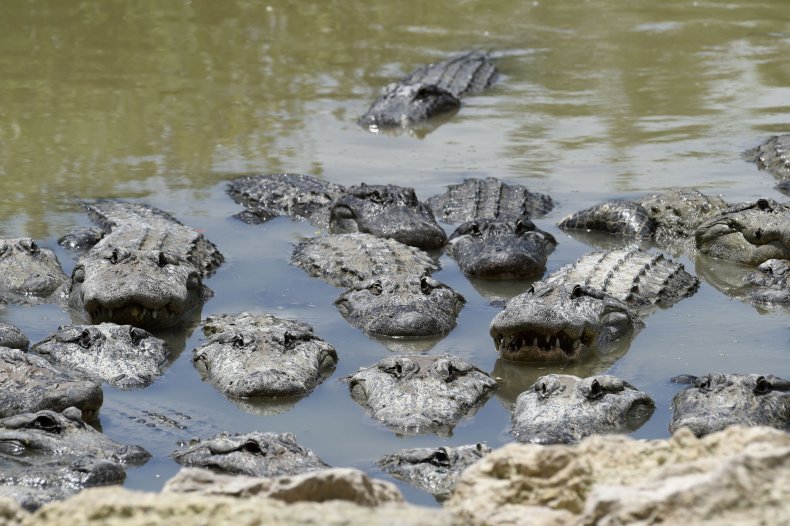 Still, the popularity of waterfront properties and watersports in the state makes alligator-human interactions more likely. The agency says that along with only swimming within designated areas during daylight hours, people should leave alligators alone and only observe them from a safe distance. They should especially never feed them, an action that is illegal anyway.
"By taking simple precautionary measures when recreating near the water, people can reduce the chances of conflicts with alligators," FWC said.
"We have a Statewide Nuisance Alligator Program to address concerns about specific alligators believed to pose a threat to people, pets or property. We urge anyone who has a concern about an alligator to call FWC's toll-free Nuisance Alligator Hotline at 866-FWC-GATOR (866-392-4286)."