One Night in Miami features four of the '60s' most celebrated African-Americans in the same room together on the night that Cassius Clay (played by Eli Goree) won the World Heavyweight Championship in 1964.
In the film, streaming now on Amazon Prime Video, he is joined by three figures from sports, entertainment and politics, all of whom have very different ideas of what their responsibilities as prominent Black people are—civil rights leader and Nation of Islam member Malcolm X (Kingsley Ben-Adir), football star and sports commentator Jim Brown (Aldis Hodge) and singer Sam Cooke (Leslie Odom Jr.)
Though the bringing together of these four very famous people in one room seems like the stuff of a contrived biopic, amazingly One Night in Miami is based on a true story of a real meeting between Clay (who would go to become Muhammad Ali), X, Cooke and Brown.
Or, to be more specific, it is based on a play by Kemp Powers, which itself was based on a true story.
On February 25, 1964, Clay defeated boxer Sonny Liston for the heavyweight championship, despite Liston being by far the favorite to win. This fight brought the three protagonists of the movie to the Miami Beach Convention Hall for very different reasons, as the film fairly accurately recounts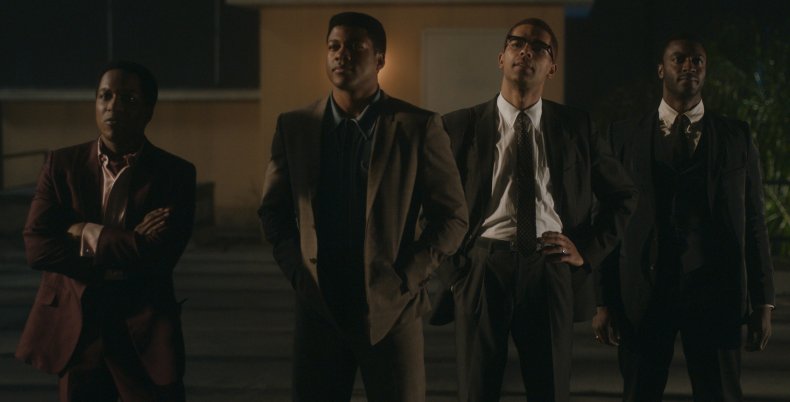 Malcolm X had been close to the young boxer in the weeks leading up to the event, with Clay revealing at a press conference the following day that he was mentoring him as he converted to the Nation of Islam. Cooke was also a good friend of Clay, and was in the crowd as a supporter. Brown, meanwhile, was a commentator on the bout.
According to the respective biographies of Brown and Clay, the footballer had wanted to go to an afterparty but was told by Clay himself that he wanted to go with him and a small group to the Hampton House Motel, which provides the setting of much of One Night in Miami. X and Clay, meanwhile, arrived at the motel after celebrating the victory at a local soda fountain.
As Powers himself wrote in a Broadway World column, "the four retreated after the fight to Malcolm's tiny room at the Hampton House Motel in Miami's Overtown section, for a private night of celebration and reflection over scoops of vanilla ice cream. None of them knew the FBI had outfitted Malcolm's room with listening devices, not that it would have mattered if they did."
In reality, this hotel party was a little larger than in the film, which cuts the guest list down to just the main players. Also said to be there were a number of other members of the Nation of Islam (who in the movie act as security and stay outside the hotel room).
Also said to be present was Clay's personal photographer, Howard Bingham—though this raises the question of why there are no photos of the event, while photos of Malcolm X and Clay at the soda fountain do exist.
Though what was discussed in that room will never be fully known, with only Brown still alive, biographers have suggested that the motel party did see Malcolm X telling his protégé that he should get serious—which he did, declaring to the world that he was becoming a Muslim the following day, announcing he was changing his name to Muhammad Ali shortly after.
However, Power has said that it is less important what actually was said in the room, but what it means historically. He wrote in Ozy: "This foursome seemed to represent completely disparate symbols of blackness, masculinity and celebrity," elaborating to Broadway World: "I wanted to write a play that represented the immediacy of that tumultuous moment in time, and rather than attempt to encompass all that these four icons had been in their lives up to that point, I could instead try to capture a living snapshot of that one, pivotal moment."
In the movie, one of the main plot threads sees the other men urge Cooke to use his fandom to speak more explicitly about civil rights issues rather than just releasing love songs. In the movie, it is implied that it is this conversation that leads to Cooke singing his civil rights anthem "A Change Is Gonna Come" on Johnny Carson, deciding to sing it instead of the song he was scheduled to sing.
In this moment, One Night in Miami takes a little liberty with the timeline of events. Though Cooke did indeed perform "A Change Is Gonna Come" on Johnny Carson, he actually did this on February 7, 1964, 18 days before he went to Miami, suggesting he was already ready to speak out on civil rights before that time.
And, per a 2005 biography of the singer, he performed the song on the show at the insistence of his manager rather than the other men, because he himself had an on-air change of heart. Sadly, however, only one of the songs Cooke performed on the show that night has been preserved, so we have no recording of the only time he sang the song live.
One Night in Miami is streaming now on Amazon Prime Video