'One Piece: Stampede' - Exclusive Clip Shows Luffy and Zoro in Action
The English release of One Piece: Stampede, the new animated film celebrating the 20th anniversary of one of the most popular manga/anime ever, is almost here and Newsweek has an exclusive clip to share.
In this one-minute clip, Luffy and Zoro are running when Zoro intercepts a pirate with bladed gauntlets allowing the captain of the Straw Hat Pirates to move forward. However, as Luffy jumps off a ledge, he's intercepted by a Pirate who uses explosives as weapons. Another pirate with mechanical arms runs past the two when a fourth pirate wielding dual axes stops him.
The two pirates begin to clash when Luffy drops in with a Gum Gum attack.
Check out our exclusive One Piece: Stampede clip above.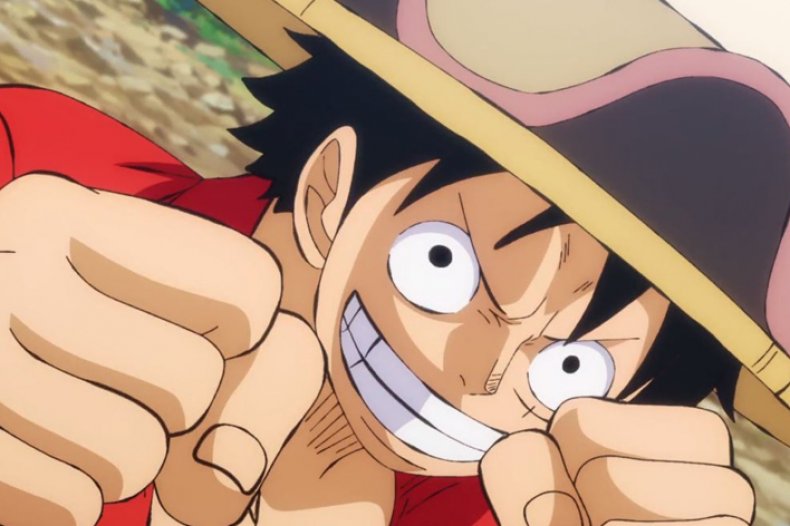 One Piece: Stampede is coming to 1000 theaters across the U.S. and Canada for a limited run. Starting October 24-31, One Piece fans can head to one of these locations to enjoy all the insanity and pirate action that made the anime famous.
In the US, the film will be presented in Japanese with English subtitles on October 24, 29 and 31, while the English dub will be shown on October 26 and 30. Canadian fans will get to watch the English subtitles on October 25 and November 5 while fans of the English dub can watch it on October 28 and November 8.
To find a theater that is playing One Piece: Stampede, visit the Funimation Films locator.
Here's the synopsis for One Piece: Stampede:
The world's buccaneers set sail for the great Pirate Festival, where the Straw Hats join a mad-dash race to find Gol D. Roger's treasure. There's just one little problem. An old member of Roger's crew has a sinister score to settle. All bets are off when the most iconic pirates of One Piece history band together for a swashbuckling showdown, the likes of which have never been seen.
Here's the English dub cast of the upcoming One Piece: Stampede:
Monkey D. Luffy – Colleen Clinkenbeard
Roronoa Zoro – Christopher R. Sabat
Nami – Luci Christian
Usopp – Sonny Strait
Sanji – Eric Vale
Tony Tony Chopper – Brina Palencia
Nico Robin – Stephanie Young
Franky – Patrick Seitz
Brook – Ian Sinclair
Buggy – Mike McFarland
Capone Bege – Kyle Hebert
Trafalgar D. Water Law – Matthew Mercer
Basil Hawkins – T. Axelrod
Foxy – Jonathan Brooks
Perona – Felecia Angelle
Scratchmen Apoo – Brad Venable
X. Drake – D.C. Douglas
Douglas Bullet – Daman Mills
Buena Festa – Mick Wingert
Marshall D. Teach (Blackbeard) – Chris Rager
Donald Moderate – Anthony Bowling
Ann – Macy Anne Johnson
Are you excited for the upcoming One Piece film? Who is your favorite character? Let us know in the comments section.