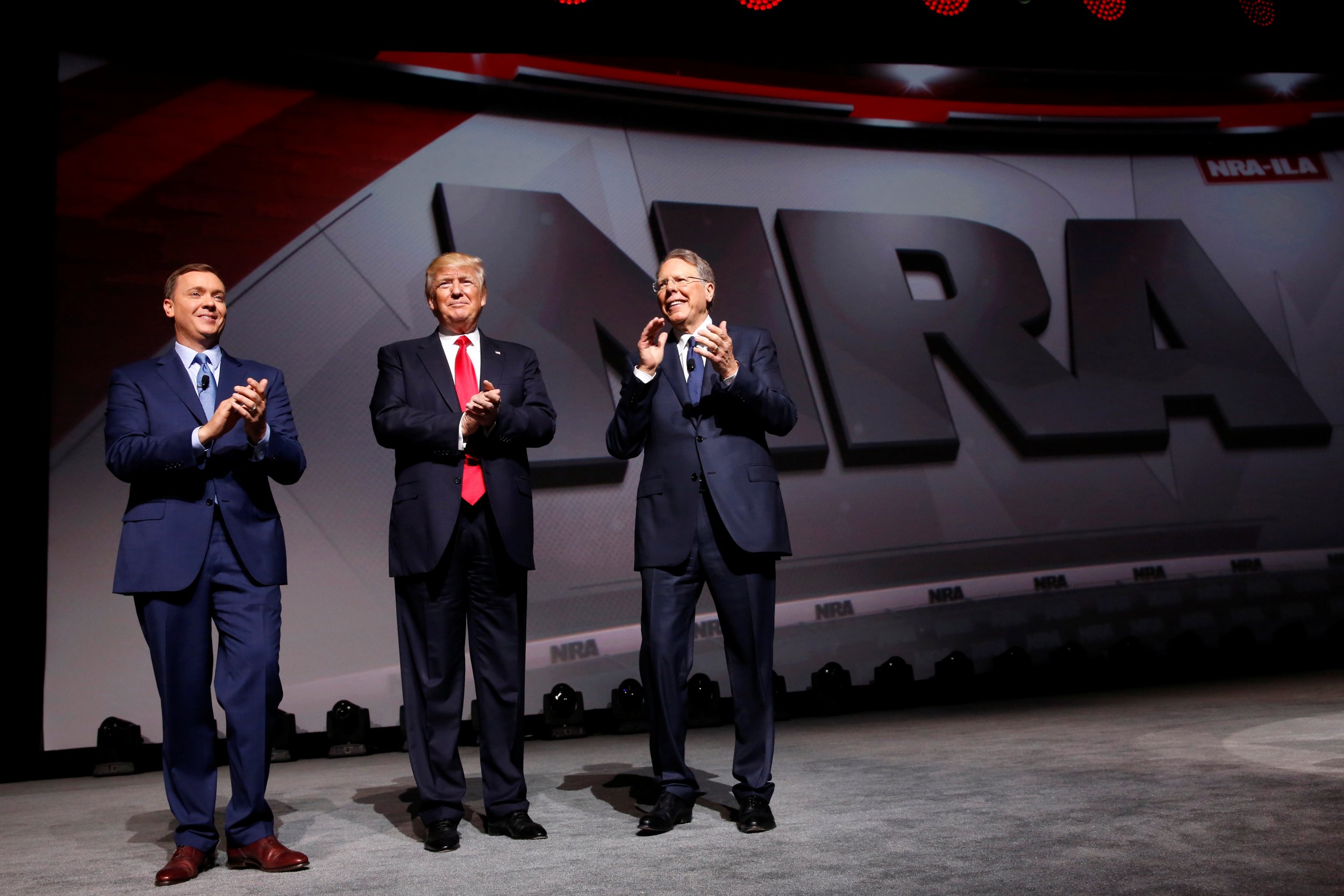 President Donald Trump is heading to Las Vegas on Wednesday to mourn the victims of the deadliest mass shooting in modern U.S. history, but he will steer clear of passing any comment on changing gun laws.
As the White House finalized details of the visit, press secretary Sarah Huckabee Sanders said the president will meet with the friends and family of the victims, offering his support to those recovering from their wounds, and thanking first responders. But, she said at a briefing on Monday, it was not the time to discuss gun control.
"There's a time and place for a political debate, but now is the time to unite as a country. There is currently an open and ongoing law enforcement investigation. A motive is yet to be determined, and it would be premature for us to discuss policy when we don't fully know all the facts or what took place last night," she said.
A White House official repeated the same line to Politico on Tuesday: "With this investigation still in its early phases, we should avoid making sweeping policy decisions," the source said.
The president also did not sound like he was in a rush to address policy changes on gun control laws that, in Nevada, are some of the most relaxed in the country, but he suggested there will be a discussion at some point.
"Look, we have a tragedy," Trump said Tuesday ahead of his visit to Puerto Rico. "What happened [in Las Vegas] is, in many ways, a miracle. The police department, they've done such an incredible job. And we'll be talking about gun laws as time goes on."
What motivated shooter Stephen Paddock in planning and carrying out the massacre remains unclear. Trump, who initially called the mass shooting an "act of pure evil," later called Paddock "demented" and said he had "no idea" if he was linked to the Islamic State militant group (ISIS).
The FBI had earlier said it did not find evidence linking Paddock to international terrorist groups, even if ISIS issued a statement claiming responsibility for the massacre.
Senate Minority Leader Chuck Schumer, an advocate for gun control, said on Tuesday that Trump's popularity could surge if he took on the National Rifle Association (NRA), despite the lobbying group's support for his presidency.
"It's really his responsibility to do this. In the past, he's been very reasonable about the gun issue," Schumer said, quoted by CNN. When Trump ran for president, Schumer said he "had to do what the NRA wanted him to do," but, he added, "Now, it would be an act of courage, strength, and popularity to do something."