Chef Who Cooks Holiday Meals for A-Listers Reveals Thanksgiving Meal Tips
Remember to do plenty of preparation ahead of Thanksgiving Dinner, advises popular food YouTuber Omnivorous Adam.
Newsweek has been taking tips from celebrity chefs in the buildup to Thursday, and Chicago-based cook Adam Witt is the latest to contribute his expertise.
We've heard from the popular Chef Bae on cooking for the stars, as well as British TikTok baker Fitwaffle on an easy Thanksgiving dessert.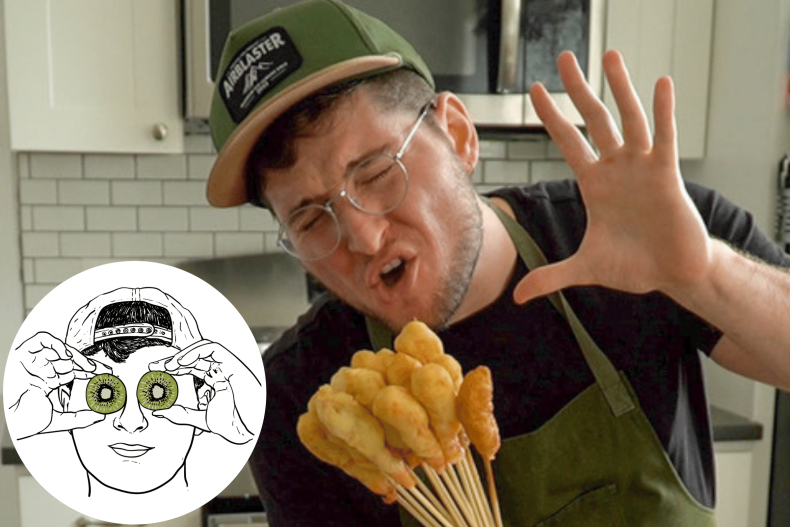 Omnivorous Adam was a private chef cooking for A-listers before he started making videos, gaining hundreds of thousands of followers across his YouTube, Instagram and TikTok accounts.
Before becoming a public figure himself, Adam once cooked for Nick Jonas and Priyanka Chopra, helping them prepare Christmas and New Year's celebration meals in Mammoth, California. "It was crazy," he said of the experience. "They're very nice people."
Adam now wants to encourage others to enjoy cooking as much as he does, hopefully with the help of his online videos.
When it comes to Thanksgiving meals, Adam told Newsweek there is one thing it's important to do ahead of time.
"Prep as much as you can," he said. "Blanch the green beans for casserole a day in advance and hold them in the fridge. Make any dressings/sauces the day before. Hell, I even prepare some dishes the day before so all that needs to be done is reheating before the big meal."
The preparation may come in handy, but if Adam had his way, he'd be the one to hire professionals to come in, cook and clean up for him so that he could focus on the important things. "So that you can focus on your friends/family/literally anything else," Adam said.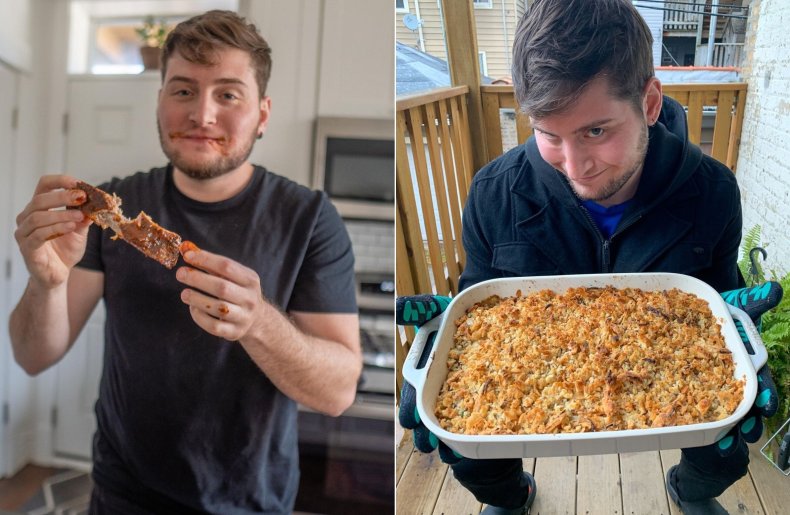 Once the main event of Thanksgiving dinner is over, it's time for dessert. After receiving Chef Bae's recipe for a no-bake pumpkin mousse, and Fitwaffle's thick NYC Christmas cookies, Adam gave his own easy-to-make, yet still impressive, option.
"Berries and Cream is one of the simple desserts us savory cooks like to bust out when dessert is called on. Devils Food cake couldn't be simpler to make, too." Adam added, "It's simple and always a crowd-pleaser.
"Don't take it too seriously. If you mess up, chances are it will still taste good because... sugar."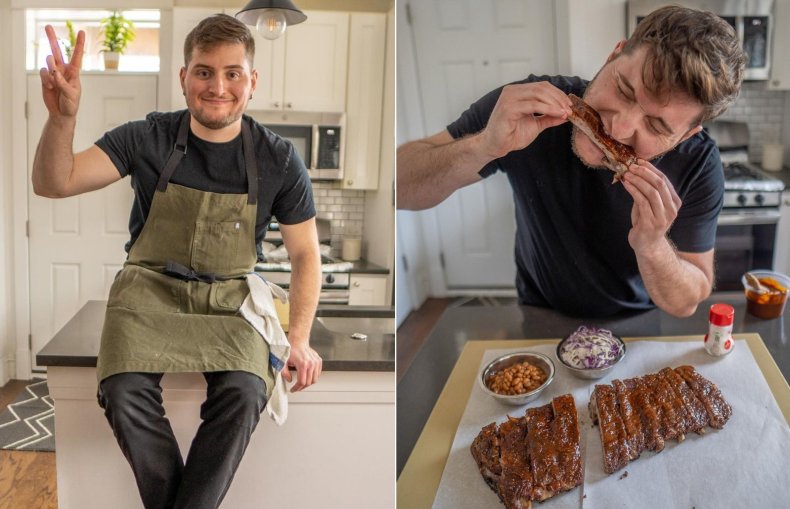 Adam's specialty lies with the savory portion of the Thanksgiving dinner. In the run-up to Thursday's holiday, he's been sharing recipes and tips on how to make a leftover turkey pancake, as well as how to make classic French onion stuffing.
He has a preference for stuffing on his plate, calling it the "king of Thanksgiving foods."
"Stuffing, or dressing, depending on who you're talking to. It's got all the textures; it's crisp around the edges, soft in the center. It can be dressed up, with gravy or cranberry sauce. or left plain. It's the best," Adam said.
Omnivorous Adam shares weekly videos on his YouTube channel, and they last around six to eight minutes each. He shares quicker tips and videos on his TikTok and Instagram channels.