Only 1 in 10 Americans Back 'Liberate' Protests, Poll Shows
A new poll shows nearly 90 percent of Americans favor retaining or expanding the social distancing measures meant to prevent the spread of SARS-CoV-2, while just 10 percent support the protests demanding an end to the stay-at-home orders.
Protests against the orders have in recent days been organized by conservative groups in state capitals across the country, most frequently in states with Democratic governors.
President Trump recently voiced a measure of support for the protesters, who he said were justified in demonstrating against governors who'd "gone too far" in ordering citizens to remain at home to slow the spread of COVID-19.
But according to a Navigator Research survey conducted from April 14 to 17, the president's views don't correspond with the views of most Americans.
Of the 1,000 people surveyed over that three-day period, just 10 percent said they favored an end to social distancing. The vast majority of respondents—86 percent—said the measures in place should remain that way or should be strengthened.
The survey also found that those who are protesting social distancing and stay-at-home orders do not represent the majority of President Trump's supporters, either. Of the respondents who voted for the president in 2016, only 17 percent said the measures should be rolled back. But 79 percent of 2016 Trump voters said they are either sufficient or need to be strengthened.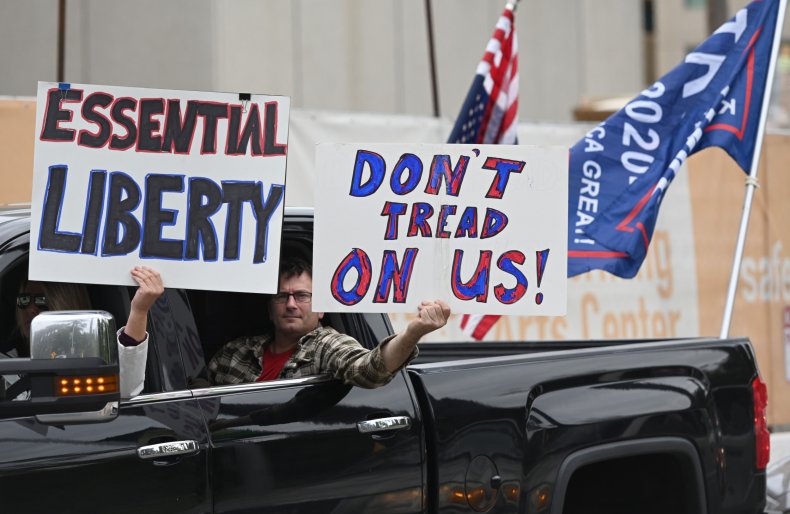 While Trump retains strong support among Republicans, it is state and local governments that they trust to decide when mitigation measures should be lifted—not the president or the federal government—by a margin of 51 percent to 42 percent.
Overall, 69 percent of Americans trust their state and local governments to make the right call on bringing an end to social distancing, with just 22 percent of Americans taking the president's side.
A separate survey conducted between April 3 and April 17 also found that voters in the key swing states of Michigan, Pennsylvania, and Wisconsin trust the Democratic governors of their respective states more than the federal government when it comes to the response to the COVID-19 pandemic by a margin of 55 percent to 34 percent.
Collectively, 67 percent of respondents of those states said they approved of their governors' responses to COVID-19, with just 29 percent disapproving. Trump's approval rating among the same group was more than 20 percent lower, at 44 percent with more than half of respondents—53 percent—disapproving of his response.
Ian Sams, a senior advisor to the Navigating Coronavirus project, said the anti-social distancing protesters represent a "tiny sliver of fringe rightwing extremists" who are "promoting dangerous behavior that could let coronavirus spread more, infect more, and kill more."
"We all want to try to move past this outbreak and begin to return to normal, but the only way to do that is by defeating this virus now and listening to the experts about how best to do that," said Sams, who previously served as national press secretary for Senator Kamala Harris' presidential campaign. "These protests are wildly out of step with the vast majority of Americans, and even conservative-leaning Americans, who believe we are doing the right thing or need to be doing more to stop the spread of the virus."