Protests Against Lockdown in Texas, California and Seven Other States As Calls to End Stay-at-Home Orders Grow
Protests against statewide lockdowns and stay-at-home orders have been taking place over the last week, with demonstrations in nine states yesterday.
California, Florida, Texas, Arizona, Colorado, Montana, Washington, Tennessee, and Illinois all saw protesters gather in large numbers—many not practicing social distancing or following government guidelines intended to prevent the spread of the coronavirus—demanding that their governors reopen their states.
Despite contradicting government guidelines, President Donald Trump has called the protesters "very responsible" and has said that some governors have "gone too far" with their stay-at-home orders.
Trump also tweeted on Friday: "Liberate Michigan," "Liberate Minnesota," and "Liberate Virginia, and save your great 2nd Amendment. It is under siege!"
Even though some states, including Texas and Montana, are planning on lifting or loosening restrictions this week, some residents took to their state capitols to protest what they see too slow a process of reopening their state economies, or as a loss of their constitutional rights.
Texas
Protesters gathered at Texas' state capitol in Austin yesterday to protest Governor Greg Abbott's lockdown, despite Abbott announcing on Friday the state would slowly loosen lockdown restrictions this week.
Abbott announced new orders that would allow non-essential surgeries to take place and retail stores to deliver orders to their customers' cars, as well as a third order to reopen state parks.
One protester told Fox 7 Austin: "I understand. [Re-opening the state has] gotta be slow, but it can't be this slow."
Having reported more than 19,400 confirmed cases of the coronavirus, according to Johns Hopkins University, Texas is aiming to be the first state to reopen following a lockdown.
Arizona
Arizona, which has more than 4,900 confirmed cases of the coronavirus, also saw protesters gather at its state capitol on Sunday morning.
A group called Operation Gridlock Arizona organized the protest on Facebook, encouraging protesters to remain in their vehicles, and cause gridlock around the capitol.
Arizona announced a "Stay Home, Stay Healthy, Stay Connected" order on March 31, and on April 18, Governor Doug Ducey told a local news outlet that the stay-at-home order was working and making a difference. The order is currently due to be lifted on April 30.
Colorado
A protest in Colorado gained attention yesterday when photos and videos of healthcare workers confronting demonstrators were shared on social media.
Photojournalist Alyson McClaran shared photographs depicting at least two healthcare workers standing in the street in front of protesters' cars. A protester, holding a sign reading "land of the free," was caught on video shouting at a healthcare worker, telling them to "go to China if you want communism" and asking "you're going to work, why can't I go to work?"
Colorado currently has more than 9,730 confirmed cases of the coronavirus and 420 deaths.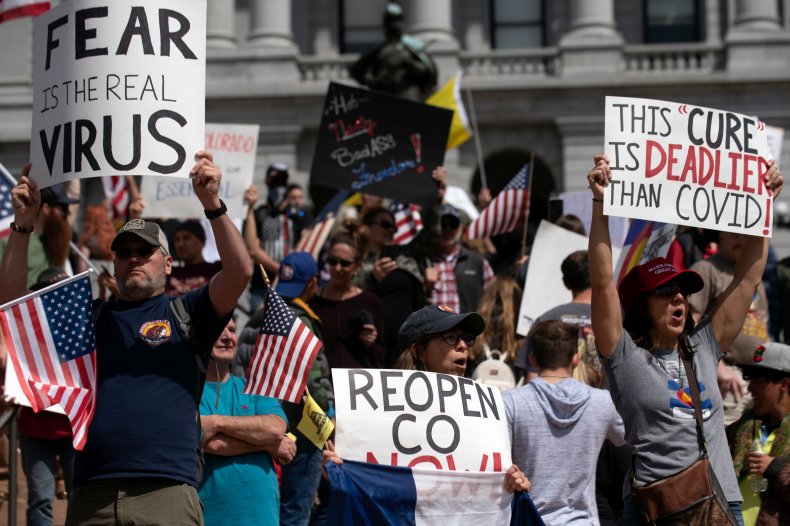 Montana
Hundreds of protesters gathered in Helena on Sunday to protest the statewide stay-at-home order introduced by Governor Steve Bullock on March 26.
On April 17, Bullock announced that the stay-at-home order would remain in place until April 24, when the state plans to move forward with a phased reopening.
Bullock tweeted on Friday: "We all need to understand this will be a gradual process. Because once we begin to reopen, we want to be able to stay open."
Montana has 433 confirmed cases of the coronavirus and 10 deaths.
Washington
Washington, which has 12,255 confirmed cases of the coronavirus, saw hundreds of protesters gather at Olympia yesterday.
On Sunday, when appearing on ABC's This Week, Washington Governor Jay Inslee criticized Trump's praising of the protesters and said: "To have an American president to encourage people to violate the law, I can't remember any time in my time in America we have seen such a thing.
"It is dangerous because it could inspire people to ignore things that could save their lives."
While Inslee has said some lockdown restrictions could stay in place past May 4, protesters yesterday were seen holding signs like "Give Me Liberty Or Give Me COVID-19!"
Tennessee
Tennessee residents gathered in Nashville on Sunday, as well as in Knoxville, Chattanooga, Jackson, and Memphis, as part of a statewide protest named #FreeTN.
In Nashville, protesters demanded that Governor Bill Lee's stay-at-home order be lifted, chanting: "Open up Tennessee, open up Tennessee."
On Friday, Lee announced that Tennessee would open 15 drive-through testing pop-ups over the weekend. He tweeted: "Until there is a vaccine for COVID-19, quickly detecting this illness, isolating if sick, and practicing social distancing are the most powerful tools we have to stop the spread and help our state return to work."
Illinois
Demonstrators gathered outside the Illinois State Capitol in Springfield on Sunday, as part of an "Operation Gridlock" movement, protesting Governor J.B. Pritzker's stay-at-home order.
Speaking with ABC 7 Chicago, a protester said: "People's rights are being taken and people are out of work. It's time to get back to work. It's time to get people out there, interacting and being with the people they care about."
Illinois has more than 30,000 confirmed cases and more than 1,200 deaths of coronavirus.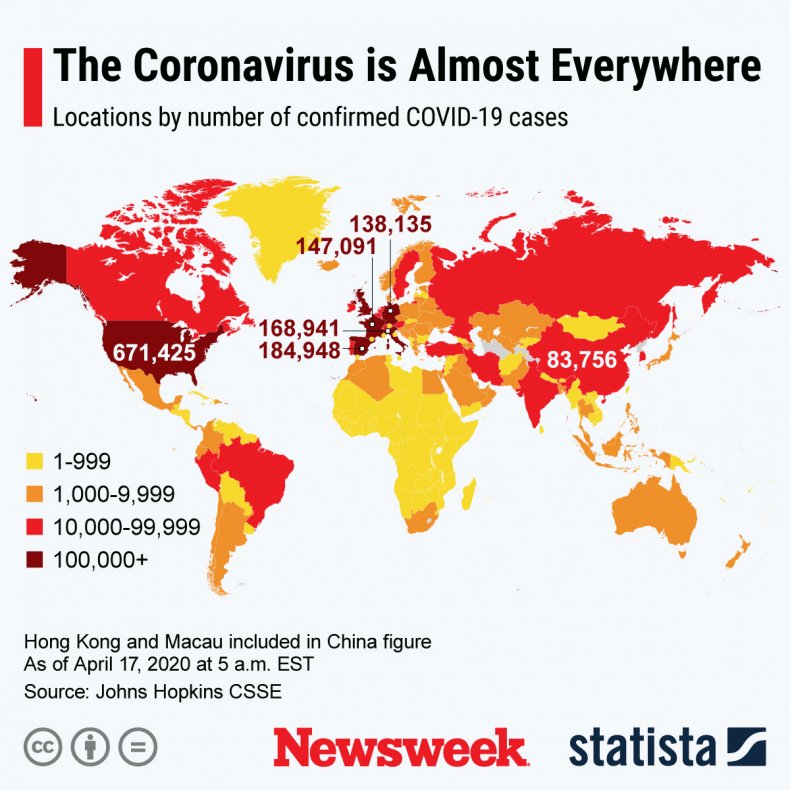 California
In California, protesters in San Clemente gathered at a rally, holding signs stating "Open Our Beaches," "Let Me Be Free," "Freedom Is Essential" and "The Media Is the Virus."
California has more than 31,000 cases and in excess of 1,100 deaths.
California Governor Gavin Newsom's pinned tweet, which he posted on April 11, says: "Can't stress this enough—physical distancing is working. CA is flattening the curve.
"But we can only continue that progress if we continue to stay home and practice physical distancing. You have the power to literally save lives. We can't stop now."
Florida
Florida, which has more than 26,000 cases and 770 deaths from coronavirus, also had protesters gathering yesterday.
A group called Liberate South Florida protested in Miami-Dade, Broward and Palm Beach counties. In more than two dozen cars, the protesters drove around the tri-county area with signs reading: "End the Shutdown," "All Businesses are Essential" and "Honk for Freedom."
The U.S. currently has more than 761,000 confirmed cases and more than 35,000 deaths from COVID-19. On Friday, Trump unveiled a three-phased plan, called Opening Up America Again, with guidelines for state and local authorities to follow when reopening their economies.
Centers for Disease Control and Prevention Advice on Using Face Coverings to Slow Spread of COVID-19
CDC recommends wearing a cloth face covering in public where social distancing measures are difficult to maintain.
A simple cloth face covering can help slow the spread of the virus by those infected and by those who do not exhibit symptoms.
Cloth face coverings can be fashioned from household items. Guides are offered by the CDC.
Cloth face coverings should be washed regularly. A washing machine will suffice.
Practice safe removal of face coverings by not touching eyes, nose, and mouth, and wash hands immediately after removing the covering.
World Health Organization advice for avoiding spread of coronavirus disease (COVID-19)
Hygiene advice
Clean hands frequently with soap and water, or alcohol-based hand rub.
Wash hands after coughing or sneezing; when caring for the sick; before, during and after food preparation; before eating; after using the toilet; when hands are visibly dirty; and after handling animals or waste.
Maintain at least 1 meter (3 feet) distance from anyone who is coughing or sneezing.
Avoid touching your hands, nose and mouth. Do not spit in public.
Cover your mouth and nose with a tissue or bent elbow when coughing or sneezing. Discard the tissue immediately and clean your hands.
Medical advice
Avoid close contact with others if you have any symptoms.
Stay at home if you feel unwell, even with mild symptoms such as headache and runny nose, to avoid potential spread of the disease to medical facilities and other people.
If you develop serious symptoms (fever, cough, difficulty breathing) seek medical care early and contact local health authorities in advance.
Note any recent contact with others and travel details to provide to authorities who can trace and prevent spread of the disease.
Stay up to date on COVID-19 developments issued by health authorities and follow their guidance.
Mask and glove usage
Healthy individuals only need to wear a mask if taking care of a sick person.
Wear a mask if you are coughing or sneezing.
Masks are effective when used in combination with frequent hand cleaning.
Do not touch the mask while wearing it. Clean hands if you touch the mask.
Learn how to properly put on, remove and dispose of masks. Clean hands after disposing of the mask.
Do not reuse single-use masks.
Regularly washing bare hands is more effective against catching COVID-19 than wearing rubber gloves.
The COVID-19 virus can still be picked up on rubber gloves and transmitted by touching your face.