Only 1 Percent of U.S. Population Has Been Tested for Coronavirus
The novel coronavirus in the U.S. has infected at least 825,600 people, as of Wednesday. But with less than two percent of Americans tested for the virus so far, according to the latest figures from Johns Hopkins University, the infected population is likely to be higher.
At least 4,163,464 people in the U.S. have been tested, as of Wednesday. This amounts to around 1.2 percent of the country's population of nearly 332,639,000.
New York, the worst-hit state, has tested around three percent of its more than 19.5 million residents, with nearly 650,000 tested as of Wednesday.
Following a conversation with President Donald Trump, New York Governor Andrew Cuomo announced a goal to perform 40,000 tests per day in the state, doubling the state's current testing capacity.
"Testing is the best way to inform and educate yourself as you go through the reopening process so you can watch not just hospitalizations...but also testing so you can look at the infection rate across the state and see how the infection rate is increasing," Cuomo said at a press conference.
"To quantify that situation in the State of New York, we now do, on average, about 20,000 tests per day....our goal is to double the 20,000 to get to 40,000 tests per day. We need several weeks to ramp up to that, but it is a very aggressive goal," he added.
Less than one percent—nearly 0.7 percent—of the population of California (nearly 39.5 million), the country's most populous state, has been tested.
Florida (which has a population of nearly 21.4 million) and Pennsylvania (nearly 12.8 million), the third- and fifth-most populous states, respectively, have each tested only around 1.3 percent of their residents.
Texas, the second-most populous state (with a population of 28.9 million), has also only tested nearly 0.7 percent, as of Wednesday.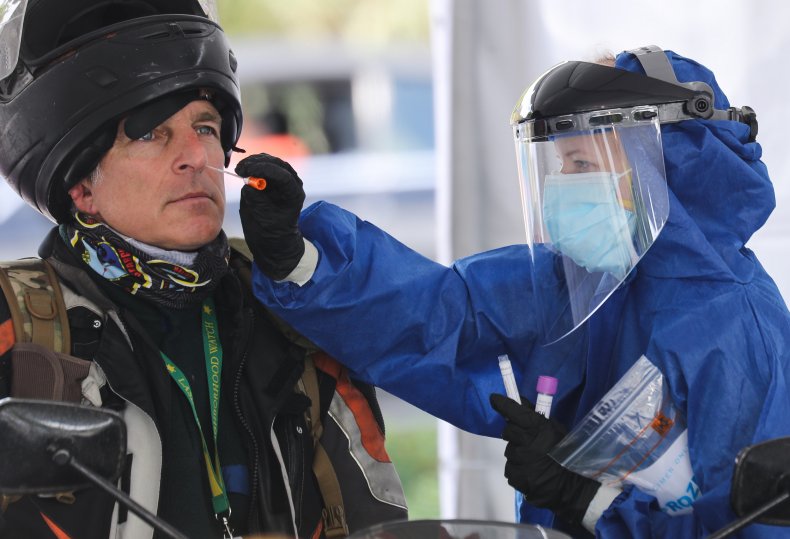 With a growing number of cases and hospitals facing a shortage of staff, beds and other medical equipment, virus tests are mostly limited to those who show severe symptoms. So those with mild symptoms or asymptomatic cases are left unaccounted for in official figures.
The Centers for Disease Control and Prevention (CDC) explains: "The CDC does not know the exact number of COVID-19 illnesses, hospitalizations, and deaths for a variety of reasons. COVID-19 can cause mild illness, symptoms might not appear immediately, there are delays in reporting and testing, not everyone who is infected gets tested or seeks medical care, and there may be differences in how states and territories confirm numbers in their jurisdictions."
Last week, several metropolitan areas of states with some of the country's highest death tolls were reported to have seen a spike in deaths at home that may have been from COVID-19.
Speaking to Newsweek, Mark Hayward, an expert on mortality statistics who is a member of a CDC advisory council on vital statistics, said: "The biggest challenge in obtaining an accurate tally of COVID-19 deaths is to [be able to] implement widespread testing. Locales that lack testing and where populations are rural, reside in nursing homes, or people live alone are likely to be major contributors to the undercount; note that these are not mutually exclusive categories."
He added: "There are also varying standards [and timing of rollouts] of testing by state. Cause-of death classification schemes have also been evolving and it's not always straightforward in assigning COVID-19 as a cause of death. I think the biggest barrier, though, is the lack of testing."
The CDC attempted to begin rectifying the issue last week. It released new guidelines for counting cases and deaths, which have been in effect from April 14.
"As of April 14, 2020, CDC case counts and death counts include both confirmed and probable cases and deaths. This change was made to reflect an interim COVID-19 position statement issued by the Council for State and Territorial Epidemiologists on April 5, 2020. The position statement included a case definition and made COVID-19 a nationally notifiable disease," the CDC states.
Earlier this week, a new study suggested that even conducting 20 million COVID-19 tests a day in the U.S. may not be enough to protect the public from the virus. The report by Harvard's Center for Ethics noted that widespread testing, as well as contact tracing and measures to isolate the sick, are required to re-open the country, while preventing another explosion of cases.
The novel coronavirus, which was first reported in Wuhan, China, has infected more than 2.5 million people across at least 185 countries and regions. More than 696,900 have recovered from infection, while over 179,600 have died, as of Wednesday.
The graphic below, provided by Statista, illustrates the spread of COVID-19 across the U.S.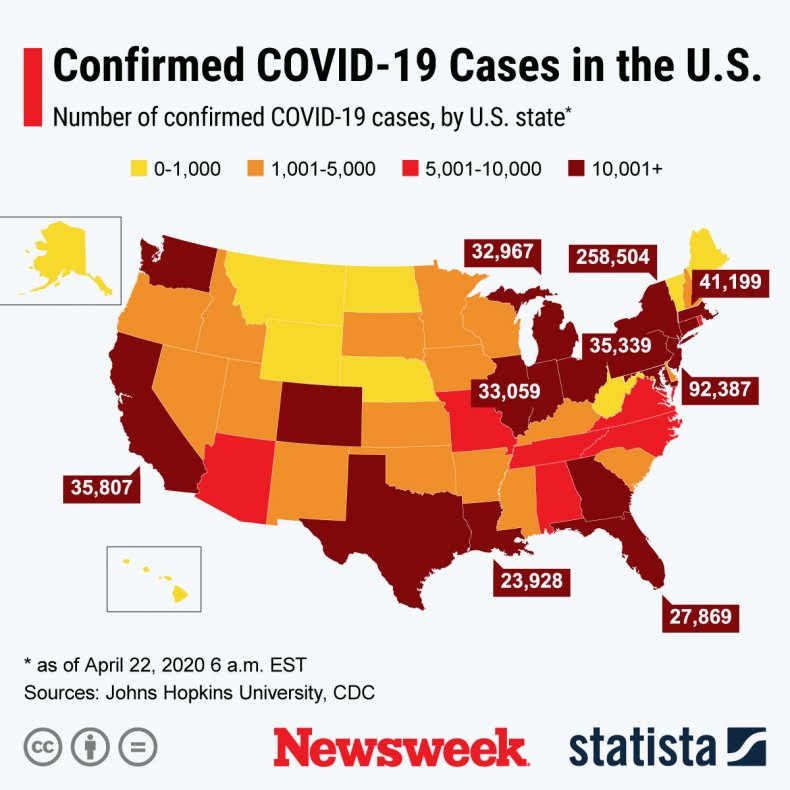 Data on COVID-19 cases is from Johns Hopkins University unless otherwise stated.
Centers for Disease Control and Prevention Advice on Using Face Coverings to Slow Spread of COVID-19
CDC recommends wearing a cloth face covering in public where social distancing measures are difficult to maintain.
A simple cloth face covering can help slow the spread of the virus by those infected and by those who do not exhibit symptoms.
Cloth face coverings can be fashioned from household items. Guides are offered by the CDC. (https://www.cdc.gov/coronavirus/2019-ncov/prevent-getting-sick/diy-cloth-face-coverings.html)
Cloth face coverings should be washed regularly. A washing machine will suffice.
Practice safe removal of face coverings by not touching eyes, nose, and mouth, and wash hands immediately after removing the covering.
World Health Organization advice for avoiding spread of coronavirus disease (COVID-19)
Hygiene advice
Clean hands frequently with soap and water, or alcohol-based hand rub.
Wash hands after coughing or sneezing; when caring for the sick; before, during and after food preparation; before eating; after using the toilet; when hands are visibly dirty; and after handling animals or waste.
Maintain at least 1 meter (3 feet) distance from anyone who is coughing or sneezing.
Avoid touching your hands, nose and mouth. Do not spit in public.
Cover your mouth and nose with a tissue or bent elbow when coughing or sneezing. Discard the tissue immediately and clean your hands.
Medical advice
Avoid close contact with others if you have any symptoms.
Stay at home if you feel unwell, even with mild symptoms such as headache and runny nose, to avoid potential spread of the disease to medical facilities and other people.
If you develop serious symptoms (fever, cough, difficulty breathing) seek medical care early and contact local health authorities in advance.
Note any recent contact with others and travel details to provide to authorities who can trace and prevent spread of the disease.
Stay up to date on COVID-19 developments issued by health authorities and follow their guidance.
Mask and glove usage
Healthy individuals only need to wear a mask if taking care of a sick person.
Wear a mask if you are coughing or sneezing.
Masks are effective when used in combination with frequent hand cleaning.
Do not touch the mask while wearing it. Clean hands if you touch the mask.
Learn how to properly put on, remove and dispose of masks. Clean hands after disposing of the mask.
Do not reuse single-use masks.
Regularly washing bare hands is more effective against catching COVID-19 than wearing rubber gloves.
The COVID-19 virus can still be picked up on rubber gloves and transmitted by touching your face.