Only 13 Percent Of Democrats See Abortion Rights As 'High Priority' Amid SCOTUS Battle
Despite the high-profile debates over the future of Roe v. Wade, a recent poll shows that only 13 percent of Democrats believe it to be a high priority for the federal government.
According to the Associated Press and NORC Center for Public Affairs Research poll, 13 percent of Democrats reported that they view reproductive rights, which includes abortion, as an issue the federal government should address. Although low, this was a major increase from previous years, as less than 1 percent of Democrats named it to be a priority in 2021, while 3 percent said the same in 2020.
"The public have lots of things that they want to see government addressing," said AP-NORC director Jennifer Benz. "You ask this kind of question in a time of economic turmoil and in the time of a pandemic and all of these other things going on, we might not expect abortion to rise to the top."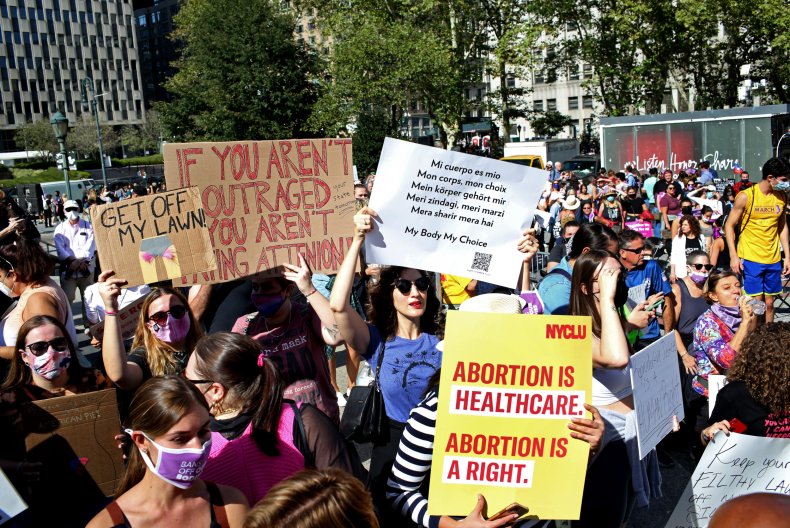 The topic of abortion rights has conventionally been thought of as a Democrat issue rather than a Republican issue, with the latter often wanting to enforce more strict measures against it.
In June, the Supreme Court will determine if one such measure from Mississippi, which bans abortions after "the probable gestational age of the unborn human" is shown to be 15 weeks, will be allowed to be enforced, according to The New York Times.
Other states, such as Florida and Oklahoma, have begun introducing similar restrictive legislature, according to The Hill. Experts argue that the idea that 13 percent is still low for Democrats should not take away from the fact that more people are paying attention to the issue.
"I think what we have seen is absolutely an increase in awareness, an increase in urgency, an increase in the need to fight back," said Planned Parenthood Action Fund senior director for advocacy media Sam Lau, according to the Associated Press. "But I still actually think that huge swaths of this population still don't quite believe that the access to abortion and the 50-year precedent that is Roe v. Wade is really hanging in the balance."
Still, Lau is hopeful that this increase in importance could result in positive impacts.
"We are currently pushing for elected officials who are champions of sexual and reproductive health care to be bold and to go on offense and to pass proactive legislation to protect access to abortion," he said. "I think voters are going to go to the polls and want to vote for candidates who they can trust to protect their health care and their reproductive freedom."
The poll allowed respondents to name up to five top issues they want the federal government to address in 2022, according to the AP. Other issues, such as the ongoing COVID-19 pandemic and the economy, were listed more frequently in the poll than abortion and reproductive rights.
The poll conducted by AP-NORC was conducted by 1,089 adults between December 2 and 7. Its margin of sampling error is plus or minus 4.1 percentage points.