The first person charged in relation to the national Boy Scouts of America (BSA) sex abuse scandal has been arraigned.
Mark Chapman, 51, was charged earlier this month with eight counts of second-degree criminal sexual conduct and two counts of first-degree criminal sexual conduct.
He was extradited from New York to Michigan and was arraigned via Zoom on Monday in Macomb County.
Michigan Attorney General Dana Nessel announced that Chapman was given no bond on the first-degree charges. His bond for the second-degree charges was set at $300,000 cash or surety.
"These charges are only the beginning," Nessel said Monday in a statement. "We ask anyone with information that could assist our BSA team to call our investigation tip line. We remain committed to securing justice for survivors of abuse."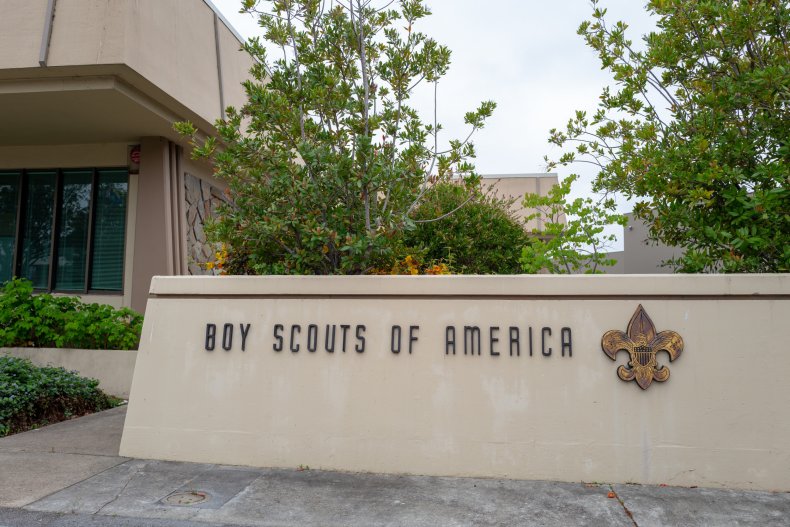 During his time with the BSA, Chapman was reportedly also involved in the Church of Jesus Christ of Latter-Day Saints.
Nessel's office said six of the second-degree CSC charges stem from alleged abuse that began in 2000 when the male victim was reportedly 13- or 14-years-old and continued until the victim was 17 and a high school senior. Incidents allegedly occurred at the victim's father's house, at Chapman's house, and at the local church.
Another male victim, described as a family member, was approximately 11-years-old when Chapman allegedly abused him. Those charges, which account for two remaining second-degree counts of criminal sexual conduct and both first-degree counts, revolve around alleged abuse that took place "around times that were designated as special opportunities for Chapman to spend time with the boy," Nessel's office stated.
"It remains imperative that sexual predators be held accountable, and one of my top priorities remains securing justice for survivors of abuse," Nessel said when charges were first announced on March 9.
Chapman reportedly left Michigan in 2007 to live in New York. While the statute of limitations for first-degree criminal sexual conduct has changed over the years, from a six-year limit to no limit, that statute ceases to exist when a suspect leaves the state.
A BSA spokesperson wrote to Newsweek calling Chapman's alleged actions "reprehensible and opposed to everything for which the Boy Scouts of America (BSA) stands."
They said that when they first learned of Chapman's alleged actions in 2012 in relation to non-BSA-related abuse charges, he was added to the BSA's volunteer screening database that prohibited any future BSA involvement. He was not a registered BSA member at that juncture.
On March 11, two days after Chapman's charges were initially announced, the BSA released a statement iterating that 85 percent of the organization's abuse survivors were supportive of a reorganization plan that included the establishment of a $2.7 billion sexual abuse compensation fund—described as the biggest fund in U.S. history.
Retired bankruptcy Judge Barbara Houser was designated to oversee the settlement trust. Other retired judges like Diane Welch and Honorable Michael Reagan who possess experience in child sexual abuse cases are said "to coordinate thorough and independent claim review."
In addition to financial compensation, the reorganization effort purportedly will include "a range of provisions designed to strengthen the organization's existing youth protection protocols." The BSA said that includes the hiring of a youth protection executive, the formation of an advisory Youth Protection Committee, and updates to current membership policies.
In 2020 the BSA announced it filed for bankruptcy so it could restructure its non-profit organization to pay sexual abuse survivors.
It wasn't until the BSA's bankruptcy that the organization learned that Chapman had been registered in Michigan in the early 2000s when he allegedly committed the abuse. In January 2021 the BSA reported new allegations to law enforcement.
"Nothing is more important than the safety and protection of the youth in our programs—it is our top priority," the BSA said. "The BSA has some of the strongest youth protection policies of any youth-serving organization, which are informed by respected experts in the fields of child safety, law enforcement and child psychology.
"Consistent with our commitment to protecting scouts and upholding our values as an organization, the BSA strongly supports efforts to ensure that anyone who commits sexual abuse is held accountable. We believe it is imperative that all convicted abusers serve their full criminal sentences and comply with any post-release requirements to protect children and reduce recidivism. We also support efforts to strengthen protections for survivors of sexual abuse, including by reforming civil and criminal statutes of limitations governing allegations of abuse."
Other BSA efforts have included: mandatory youth protection training for all volunteers and employees; a leadership policy that requires at least two youth-protection trained adults be present with youth at all times during scouting activities and bans one-on-one adult-child interactions in person, online, or via phone or text; a screening process for adult leaders and staff; a ban on the use of recording devices and cell phones near bathrooms and shower houses; and "the prompt mandatory reporting" of any allegation or suspicion of abuse to law enforcement.
Last June Nessel's office and the Michigan State Police announced a joint investigation involving the examination of approximately 5,000 claims provided by the national BSA. Nessel's office said Monday that a completed review of 550 claims have resulted in about 60 inquiries sent to state police for further investigation.
There are reportedly over 82,000 national claims.
Anyone in Michigan with information regarding potential BSA abuse can leave anonymous tips by calling 844-324-3374.
Newsweek reached out to the Church of Jesus Christ of Latter-Day Saints for comment.