'Only Murders In The Building' Season 2 Premiere Recap: Persons of Interest
Only Murders In The Building Season 2 is back after eight months of waiting and fans have been lucky to be treated to the first two episodes of the new season back to back.
Season 2 picks up immediately from the cliffhanger ending of Season 1, which saw Arconia Board Manager Bunny (played by Jayne Houdyshell) found stabbed to death in Mabel's (Selena Gomez) apartment. Inevitably, Mabel and her crime-solving partners, Oliver (Martin Short) and Charles (Steve Martin) found themselves as suspects in her death and Season 2 begins with our favorite trio, not only trying to clear their name, but also solve the case.
Ignoring all warnings from Detective Williams (Da'Vine Joy Randolph) to lay low Mabel, Charles, and Oliver are back with their boom mic and board, ready to solve Bunny's murder.
Once again, they meet some interesting new residents in The Arconia, including Amy Schumer... played by Amy Schumer, who may just hold the key to what happened that fateful evening.
Newsweek has the full recap of Only Murders in the Building Episodes 1 and 2 below.
OMITB Season 2, Episode 1 Recap
To kick off the new season, Only Murders In The Building has welcomed Michael Rapaport into their universe, starring as a foul-mouthed Detective Kreps who is convinced Mabel, Oliver and Charles are responsible for Bunny's death.
After hilarious interrogation scenes, with Charles (once again) reliving his "Brazzos" days, the trio are set free as "persons of interest". "FINALLY!" Oliver rejoices as he flees outside to address the press to get his moment in the spotlight. It sure is good to have Oliver back as well as his cute little dog, Winnie.
Back at The Arconia, Charles received a phone call about a potential Brazzos reboot and Mabel received a video message from a local art gallery manager, Alice (played by Cara Delevigne), inviting her down to see an exhibition.
The most exciting thing to happen in the new series so far is when Oliver meets Schumer in The Arconia elevator. Schumer is playing an exaggerated version of herself in the series, hoping to buy the rights to Oliver's podcast, Only Murders in the Building, to turn it into an "eight to ten episode streaming series with exclusive internet content leading to gamification." How meta.
Of course, Oliver has been waiting for this moment and has a "200-page" pitch lying around his apartment and agrees to meet with Schumer later in the day, who happens to be staying in Sting's former apartment.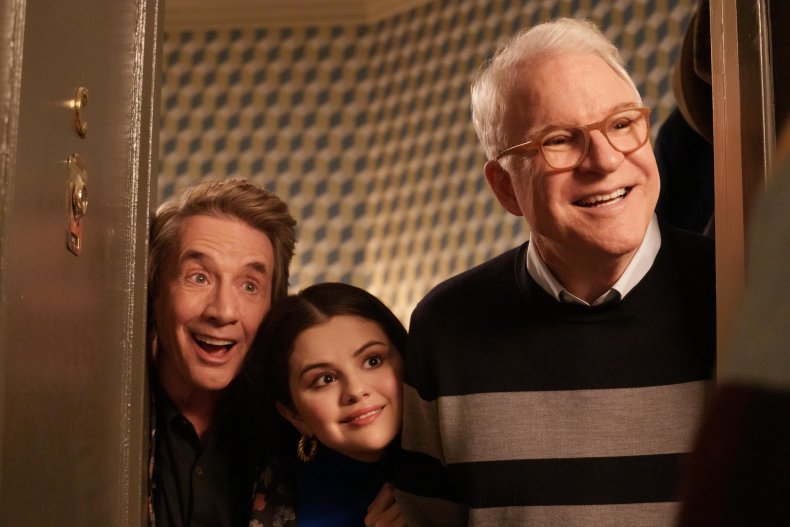 We are only 15 minutes into Season 2 with nine more episodes to go and so far, Schumer, Rapaport, and Cara Delevingne have appeared. Who on earth is going to be next?
Fast forward seven minutes, and 30 Rock star Tina Fey is also back on the scene as a rival podcaster, Cinda Canning.
At the end of Season 1, Cinda revealed her plans to do a podcast called "Only Murderer's in the Building" all about Mabel, Oliver, and Charles as potential suspects in the death of Bunny and she has stayed true to her word, only giving the trio more momentum to do Season 2 of their own podcast, "Only Murders in the Building."
As part of her first episode, Cinda drops dome truth bombs about Mabel, Charles, and Oliver including the fact Charles's father was in-and-out of prison and Oliver, has left behind a trail of hate mail he once wrote to Bunny, painting them both not entirely in the best light. In episode 2, audiences learn Charles's father had multiple affairs and really was a criminal and of course, Oliver really did write Bunny a whole bunch of mean letters, which he eventually manages to retrieve from Bunny's apartment.
Whilst in Bunny's apartment, the trio comes across Bunny's parrot, Mrs Gambolini. The bird's appearance may seem irrelevant for now, but if Season 1 is anything to go by, everything is a potential piece of evidence.
It turns out Bunny did not only have a bird in her apartment, she was also a collector of very "porny" art, in the words of Uma (Jackie Hoffman). Her and cat-loving neighbor and former Tim Kono suspect, Howard (Michael Cyril Creighton), have come to collect the painting for the appraiser, and apparently, it is "worth a fortune."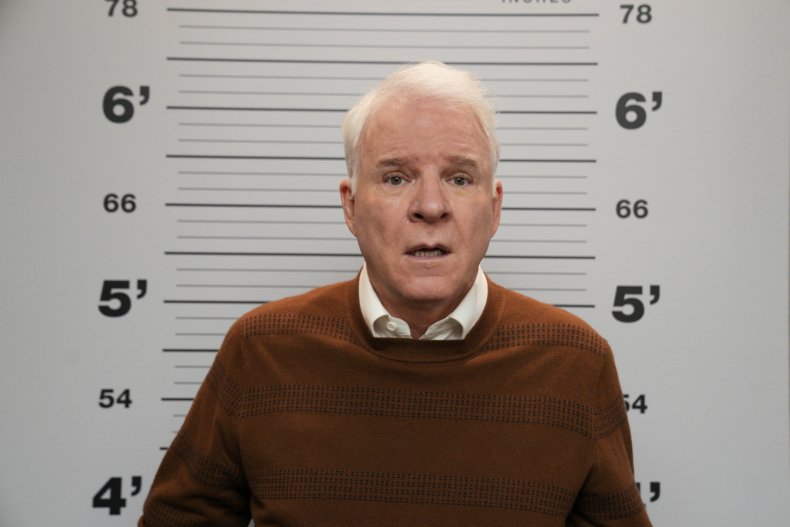 As Mabel, Charles and Oliver hide in Bunny's closet, Uma and Howard make the shocking discovery that the painting they are looking for has been removed and they automatically assume the killer must have stolen the painting.
But for Mabel, Charles, and Oliver, the circumstantial evidence against them continues to mount even bigger, when the painting mysteriously appears in Charles's apartment moments later.
And, just as the episode comes to an end, it is revealed the naked man in the image, is Charles's father.
OMITB Season 2, Episode 2 Recap
Thankfully episodes 1 and 2 of Only Murders In The Building are available to watch back to back because there is no way audiences would rest not knowing why Charles's father is in that raunchy painting, titled "Savage, 56."
As if the episode had not gotten off to a tense start already, Mabel decided to drop the bombshell that Bunny's final words to her as she lay dying were "14" and "Savage."
The trio is convinced they are being framed and set out to take steps to return Bunny's painting during an impromptu gathering at her apartment but their plans are slightly thwarted when Bunny's mother Leonore (Shirley Maclaine), the owner of the painting, makes an appearance.
Bunny's replacement, Nina showed up to the gathering, introducing herself to The Arconia residents. Howard makes a sly hint that Nina and Bunny did not always see eye to eye. Could Nina be the killer? Keep a note of Nina's name for now.
After the awkward meeting at Bunny's apartment, Mabel pays Alice a visit where she learns the painting's artist, Rose Cooper, died in mysterious circumstances. Coincidence? Probably not.
Then, in a moment, which is sure to be relevant in future episodes, Alice asks Mabel to destroy a sculpture with an axe and the entire thing is captured on video. The pair also kiss, teasing a romantic storyline for the two artists.
Charles also learns something about the artist in question, it turns out, that his father and Rose were having an affair. Charles's father and Leonore were also having an affair, at the same time. This could explain why Charles's father is the focus of the painting and potentially why Leonore, wanted to own it but nothing is quite clear.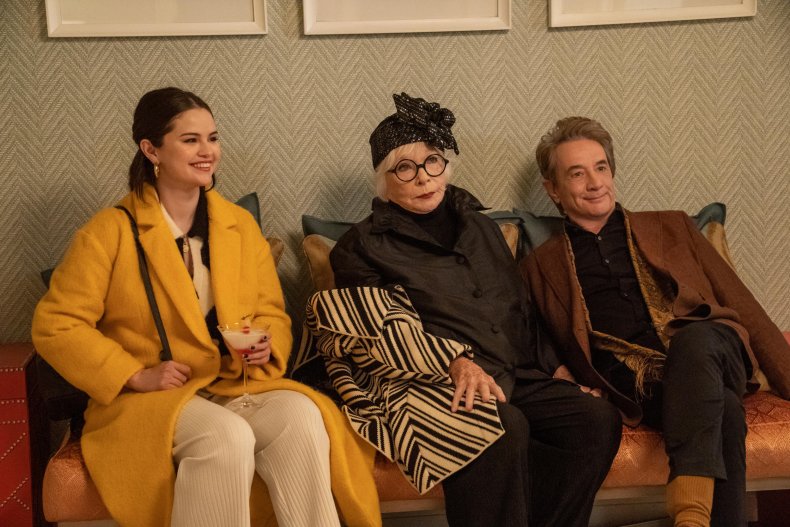 Eventually, Oliver, Mabel, and Charles have no option but to abandon the painting by the dumpster outside, and guess who's apartment it later ends up in? Schumer's.
Schumer, who has grand plans to play Jan (Amy Ryan) in her TV adaptation of Oliver's podcast, found the painting outside but it turns out, the painting is a replica. Did the killer have the painting made to frame Oliver, Mabel, and Charles or is there another reason the painting is a fake?
The good news is, that Leonore does not believe Mabel, Oliver and Charles killed her daughter, so who did? The bird Mrs. Gambolini claims to know.
Only Murders In The Building airs Tuesdays on Disney+ and Hulu.