Only One Fortune 100 CEO Has Donated to Donald Trump's Campaign
Only one chief executive at the U.S.'s 100 largest companies has donated to a presidential campaign in the last two months, according to Federal Election Commission Records.
This is one more than in the previous last election cycle, where none of the Fortune 100 pledged to a candidate in August. However, it brings CEOs further from 2012, when nearly a third had opted to support Mitt Romney.
Eight Fortune 100 CEOs had donated to other Republican candidates in the run-up to the primaries this year, according to a Newsweek analysis of campaign donations data, while three had donated to Democratic candidates.
The data also showed that over the past two years 24 of the 100 CEOs had donated to other Republican campaigns.
Only Energy Transfer CEO Kelcy Warren has donated to President Donald Trump campaign funds in the last two months, having given £10 million to a pro-Trump super-PAC on top of other donations at the end of August, according to data released on Sunday.
The oil pipeline tycoon has faced controversy during the Trump presidency, with protests over the Dakota Access Pipeline in 2017—a project the president backed. A court opted to scrap the pipeline after finding critical environmental impact linked to it.
The billionaire has been a vocal supporter of President Trump, and has said in an email statement to Forbes this year he believes "the upcoming election is the most important in a generation."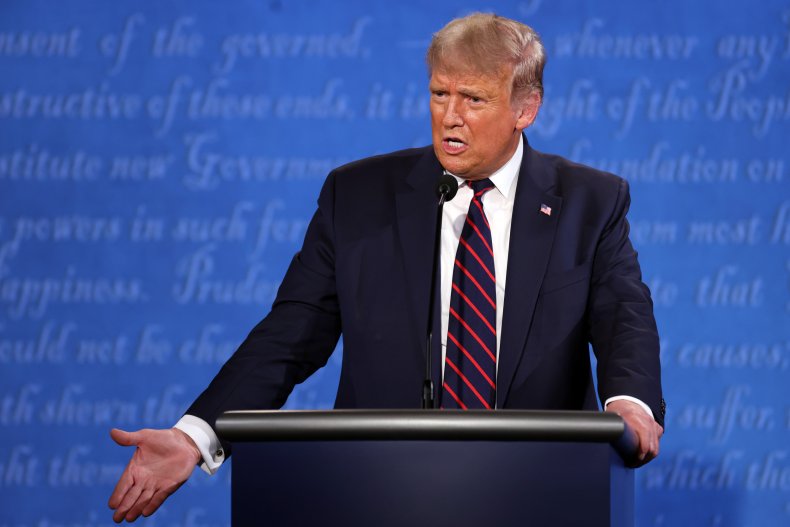 Notably, Oracle CEO Larry Ellison has not donated to Donald Trump this year, according to the filings.
The company recently won a bid against Microsoft for Chinese video-sharing app TikTok's U.S. assets, which received Trump's blessing. The president has openly backed the company in the past.
"I think Oracle is a great company, and I think its owner is a tremendous guy. He's a tremendous person. I think that Oracle would be certainly somebody that could handle it. Yeah. We gave them until September 15th," the president said at the time of the deal.
In February this year, Ellison opened his estate in Rancho Mirage, California, for a campaign fundraising event, with supporters paying $100,000 to get a golf outing and have their photo taken with Trump.
Clarifying his position to Forbes, Ellison later said he had never personally given money to the president's efforts and played down the campaign fundraiser.
He stated: "I said President Trump could use the property. I was not here. We only have one president at a time. I don't think he's the devil—I support him and want him to do well."
Fewer CEOs have given money to the Democrats ahead of the November 3 election, while none had directly donated to Joe Biden in August, according to the FEC filings. Eight CEOs of the 100 had given to Democratic campaigns.
Merck CEO Kenneth C. Frazier backed the Biden victory fund to the tune of $50,000 in May and had separately pledged two $2,800 donations to the Biden for President campaign in the same month.
The level of donations to the Biden campaign is a contrast to Hilary Clinton's run, where she received donations from twice as many Fortune 100 CEOs as President Barack Obama in 2012.
Apple CEO Tim Cook, American Airlines Group's Doug Parker and Nike's former CEO Mark Parker backed the Clinton campaign. None of the three have backed a horse this time around, although Cook has attended dinners at the White House.
This analysis looked at the top 100 companies listed in Fortune Magazine's annual ranking of the U.S. 500 largest businesses by revenue. It then sifted through the FEC campaign-finance disclosure reports by name to check for donations, beginning at the start of 2019, and running up to the most recent disclosures. The research was undertaken at the end of September.
Some CEOs have given to both Republican and Democratic candidates, while the majority—72—have refrained from donating to political campaigns altogether in the last two years.
A majority of CEOs donating to Republicans in this election cycle could represent a nod to the presidential candidates' attitude to business.
Joe Biden has pledged to raise corporate income taxes from 21 to 28 percent if he is elected, while Trump is mulling capital gains tax relief for businesses.