Only Two U.S. States Are Seeing Coronavirus Case Numbers Improve
With COVID-19 numbers rising across vast sections of the country, data indicates just two U.S. states—Hawaii and Vermont—are seeing substantial improvements in their average diagnosis and fatality rates.
Confirmed COVID-19 cases in the U.S. reached 8 million late last week. On Friday, health officials in 10 states confirmed their largest daily increases in new infections, while the country's overall single-day jump in cases approached figures reported during the last week of July, amid a nationwide outbreak resurgence. Those 10 states were: Colorado, Idaho, Indiana, Minnesota, New Mexico, North Carolina, North Dakota, West Virginia, Wisconsin and Wyoming, according to a New York Times database. On Saturday, Nevada reported its highest single-day jump in cases since mid-August.
Amid significant upticks reported across more than half of the country, Hawaii and Vermont, both of which saw relatively mild outbreaks this year compared to other states, are seeing significant improvements in their COVID-19 numbers. In Hawaii, confirmed daily cases have declined since health officials reported a spike in late August and early September. On Monday, the state's seven-day average stood at 79 cases, down more than 20 percent from the average reported two weeks prior. Its average daily fatalities had decreased by 25 percent over the same time period.
Although Vermont's average case count increased compared to numbers reported two weeks ago, due to a spike recorded October 5, when the health department confirmed 32 new cases, its latest figure was down more than 10 percent from last week. Only 58 deaths have been confirmed in Vermont due to COVID-19 since the onset of the pandemic.
Newsweek reached out to the Vermont Department of Health and Hawaii Department of Health for comments but did not receive replies in time for publication.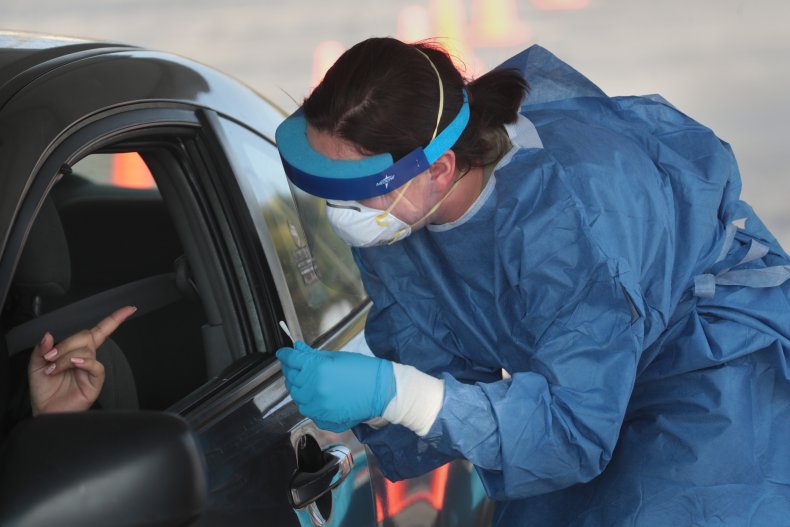 Friday marked the first time more than 70,000 new cases were confirmed across the U.S. in a single day since July 24, as the nation's weekly moving average topped 55,000 diagnoses per day. By Monday, the Times database placed the average at 56,615 daily cases, while Johns Hopkins University's statistics suggested it was closer to 60,000. Both figures indicate the U.S. is currently confirming positive COVID-19 tests at rates similar to those observed during the summer's spike, while some health experts warn of an oncoming third wave. The latest average represents a 30 percent increase from the average reported two weeks ago.
As of Monday morning, more than 8.1 million people have tested positive for COVID-19 in the U.S., and close to 220,000 have died in connection to the disease, according to Johns Hopkins University's data. Once the COVID-19 outbreak's global epicenter, the U.S. continues to hold the highest infections count of any affected country, followed by India, Brazil, Russia and Argentina.