OnlyFans Scraps Porn Ban Plans, Will Still Provide 'Home for All Creators'
OnlyFans has scrapped plans to ban "sexually explicit content" on the subscription site.
The pornography ban, which was set to come into force on October 1, had been subject to much backlash from sex workers who claimed that they were being "cast aside" by the company they helped popularize.
A statement was released on Twitter on Wednesday August 25 which began: "Thank you to everyone for making your voices heard.
"We have secured assurances necessary to support our diverse creator community and have suspended the planned October 1 policy change.
"OnlyFans stands for inclusion and we will continue to provide a home for all creators."
The proposed ban was announced by the pay-to-view service on August 19, and it revealed the move was in order "to comply with the requests of our banking partners and payout providers."
OnlyFans has been facing increasing scrutiny from payment providers, including Mastercard, who have imposed tight restrictions on sellers of pornographic content.
This was lobbied for by conservative anti-pornography groups such as Exodus Cry and National Center on Sexual Exploitation (NCOSE), previously known as Morality in Media
They have been targeting credit card companies and payment processors that work alongside pornographic sites, under the guise of abolishing sex trafficking and exploitation.
Sarah, who sells explicit photographs on the site, told Newsweek at the time: "I think sex workers kind of built that platform and made it what it is. I'm just totally cast aside. It's really insulting.
"It's worrying, as it's been a really clear lifeline as a source of income, especially over the pandemic."
Claire, another creator of pornographic content, also revealed that the ban was making her worried she would not be able to afford her sleep disorder medicine.
She told Newsweek: "I'm appalled. I'm embarrassed in a way. And I don't know, I'm shattered. Doing this [OnlyFans] was something that I really enjoyed.
"And I put so much time and effort into it and tears sometimes. It made me feel confident with myself, and they're just not even help us a little bit.
"And now they're doing all this... It's like, they pulled the rug out from under us now we've made them enough money."
Responding to the barrage of criticism online after the news of the ban broke, OnlyFans tweeted on August 21 a message of assurance to those that create pornographic content.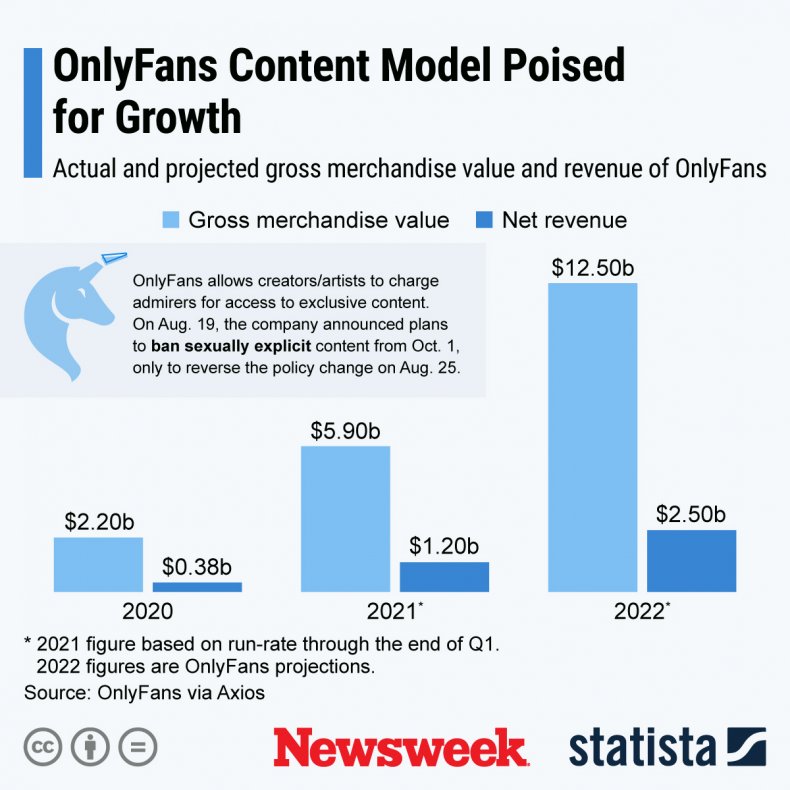 It read: "Dear Sex Workers, The OnlyFans community would not be what it is today without you.
"The policy change was necessary to secure banking and payment services to support you. We are working around the clock to come up with solutions. #SexWorkIsWork"
For some, the U-turn on the decision comes too late, with one OnlyFans creator, known on Twitter as @FrankieAndLucyX, writing: "No chance. You have proved that not only are you untrustworthy but you are willing to put millions of creators out of a job + possibly dangerous situs for money you didn't even tell us first.
"Plus I'm not f**king my fans around already moved. Damage already done."
Another @Jaysenbowman, added: "So translation, you thought that your business model could survive by demonizing sex workers. And instead you took the PR hit and realized you had to back out.
"This isn't 2005—most people don't think of sex work as shameful or dirty. It's work. Demonizing them was a bad move."
According to data provided by Statista, OnlyFans has grown in revenue and value substantially from 2020 to 2021—a $3.7 billion increase in gross merchandise value—and is still poised for huge growth in 2022, according to the company's own predictions.
UPDATE 8/26/21 10:50 a.m. ET: This article was updated to include data from Statista.