Ontario Fire Map: Here's Where Canada Wildfires Are Burning
Some 39 forest fires continue to burn in Ontario, Canada, this week, according to the Ministry of Natural Resources and Forestry. Most of the fires were under control, being observed or being held, CTV News Canada reported.
Some of the most notable fires included the Lady Evelyn Fire Cluster, which was under control at 67,422 acres. The Parry Sound Fire was also being held at 28,076 acres. Other regions in Canada, along with the United States and Mexico, deployed resources to help with the fire situation in Ontario. Some 160 firefighters and crew were working on the flames.
Many of the fires burning in Ontario were started by lightning, according to the Ministry of Natural Resources and Forestry. Many had sparked back in July and were being monitored by fire officials.
An interactive map of the fires burning in Ontario is available here.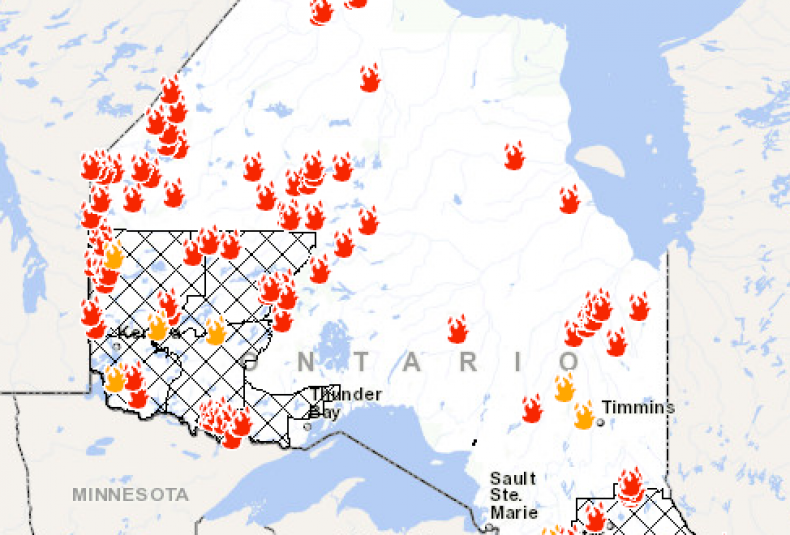 In British Columbia, meanwhile, some 550 wildfires continued to burn. As of Sunday, multiple communities were under air quality advisories due to the smoke. Minister of Public Safety and Solicitor General Mike Farnworth issued a state of emergency last week, expected to stay in effect for at least 14 days. The state of emergency aims to ensure the region has access to adequate resources to fight the fires.
"Public safety is always our first priority and as wildfire activity is expected to increase, this is a progressive step in our wildfire response to make sure British Columbia has access to any and all resources necessary," Farnworth said. "Taking this step will further ensure we can protect the public, property and infrastructure and assist with firefighting efforts."
Almost 20,000 people were impacted by the fires in British Columbia. The smoke from the flames could be seen from space. Widespread smoke reduced visibility in the region, inhibiting the ability of firefighters to detect new fires and use aircraft to combat those burning, the BC Wildfire Service said.