'Historic' Open-Carry March Planned for Ferguson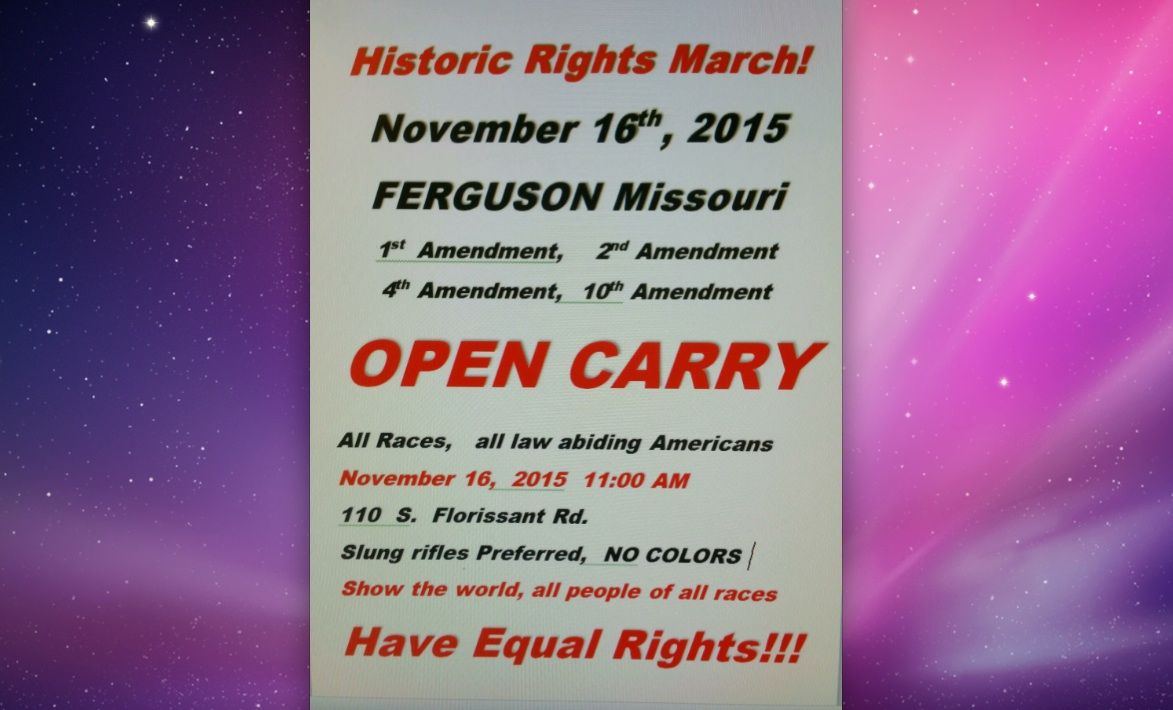 A "historic" open-carry march, in which participants carry and display firearms, is scheduled to take place in Ferguson, Missouri, on November 16, organizer Sam Andrews tells Newsweek.
Andrews, a former member of the Oath Keepers, a pro–Second Amendment group that made national headlines when heavily armed members of its St. Louis–area chapter arrived at the Ferguson protests this past August, has started circulating a flier for the march, he says.
"Historic Rights March!" the poster reads, above a listing of the First, Second, Fourth and 10th Amendments to the U.S. Constitution.
"All races, all law abiding Americans," the flier further beckons, advising: "Slung rifles Preferred, NO COLORS."
"Show the world, all people of all races Have Equal Rights!!!" the flier also says.
Andrews discussed his plans for march in an August with Newsweek, saying at the time that Oath Keepers wanted to arm area African-Americans so they could defend themselves from police abuse.
"The point of the march is twofold: First, it's to show that Americans of all races have equal rights," he says of the planned march. "The second point of the march is to prove that the police cannot convert the exercising of a God-given right into crimes."
Andrews tells Newsweek that organizers are working with the city of Ferguson and the police department on security and permits. A spokesman for Ferguson did not respond to Newsweek's request for comment at publication time.