Opinions Split After 'View' Host Says GOP Not 'In Line' With U.S. Values
A panel on The View sparked debate online after its co-host said the Republican Party isn't "in line with American values" over a wave of legislation that critics say targets LGBTQ communities.
The show's segment on Friday delved directly into controversy around Republican-backed bills that seek to restrict sexual content in schools. After wading into the divisive topic, reactions online were predictably split, with some agreeing with the take and others saying the show's panel is out of touch.
"The LGBT community has been making strides fighting for their rights in America for years," Joy Behar, cohost of The View, began the segment. "But the GOP has introduced a slew of 'Don't Say Gay' style bills that target the community."
Behar was referencing Florida's so-called "Don't Say Gay bill" that proponents said was needed to prevent inappropriate sexual content being presented in classrooms. Critics said it would stigmatize LGBTQ students and prevent needed conversations about sexuality. Legislators in other states have filed similar bills.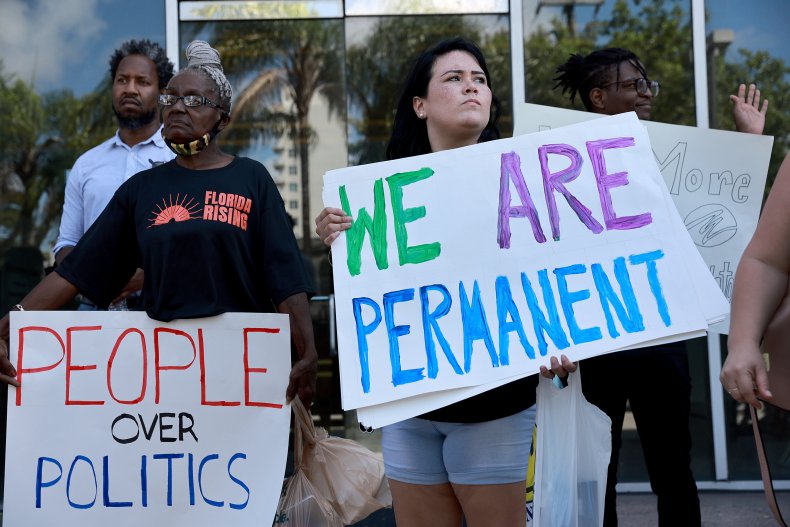 Behar said Republicans also took aim at accusations from Republicans that "the left is grooming children to become gay—if you can do that," she said.
The segment cut to a now-viral video of Michigan State Senator Mallory McMorrow's speech castigating a Republican legislator for claiming she was seeking to "groom and sexualize" children.
"Statistically speaking, Americans have become much more accepting of the gay community," said Behar. "In 1985, 89 percent of parents said they would be sad if they discovered their child was gay or lesbian. By 2015, it was down to 39 percent. So the country is evolving; apparently the GOP is not."
Ana Navarro, a Republican political analyst, said gay marriage was long used by the GOP as a successful "wedge issue." With gay marriage now legal and widely accepted, she said "today's fear" is about children being sexualized or indoctrinated.
Co-host Sunny Hostin and actress Jane Lynch ridiculed the idea that children could be "groomed" into becoming gay. Hostin said the bigger problem is "the Republican Party doesn't really have a platform that is in line with American values."
"When you don't have a platform, you do have to resort to fear," she said. "And this is just cyclical, and it's out of their playbook. And I think (President Lyndon Johnson) said it best. He said, 'If you can convince the lowest white man he's better than the best colored man, he won't notice you're picking his pocket.'"
Twitter user Nancy Martin Holcomb reacted by saying, "I think parents should ALWAYS have a say in what their children are subjected to in school. I don't care if Republican or Democratic, any sort of sex education should never be mentioned to children under the age of 10."
But Twitter user Valerie Schick disagreed, writing, "Parents are supposed to guide their children. Any responsible parent would try to sway their children to be happy with themselves, and support who they are. Not give them doubt, that they can change who they are. That's not support."
"It's true," wrote Twitter user Plaudd.sol. "American values are those of the majority, and they actively try to prevent people from voting just so they have hope of winning elections. They also gerrymander district boundaries to the same end. We see you!"
"We will see what Americans really think in November," Twitter user B Herg wrote, alluding to the upcoming 2022 midterm elections. "REDWAVECOMING."
"1000% agree with The View," wrote Twitter user hyjohhny355. "Nobody is forcing and grooming students to be LGBT. Students had themselves to choose who to become. Having knowledge of it doesn't mean your LGBT right now. It's ultimately up to the students to decide and not the parents nor the teachers."