Christopher Nolan's 'Oppenheimer'—All We Know So Far
Christopher Nolan's next project is not a war epic or high-octane thriller.
Instead, Nolan is bringing the life of J. Robert Oppenheimer to the big screen in the biopic, Oppenheimer, with an incredibly talented and star-studded cast to bring the incredible true story of the 'father of the Atomic Bomb' to life.
After two years of waiting, filming has officially wrapped on Oppenheimer and audiences have been treated to a first-look image of Cillian Murphy as Oppenheimer.
Newsweek has all there is to know about Christopher Nolan's Oppenheimer below, including release date, cast, trailer, plot, and more.
When Is Oppenheimer Out?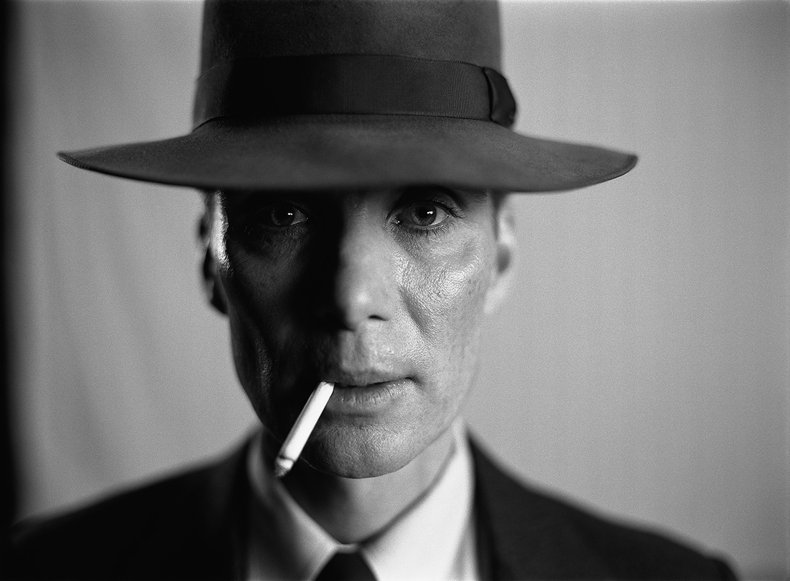 Oppenheimer has finally got a release date.
However, the bad news is, that fans will have to wait a little longer for Oppenheimer to land in cinemas.
Christopher Nolan's Oppenheimer will premiere in theatres on Friday, July 21, 2023.
The official release date was announced via Oppenheimer's social media channels alongside an image of Cillian Murphy as J. Robert Oppenheimer.
In the image, Murphy can be seen wearing a suit and hat, as clouds of fiery smoke blaze behind him.
The words "Oppenheimer. The world forever changes" appear at the top of the image.
Who Stars In Oppenheimer?
Oppenheimer features a star-studded cast, including many famous faces who have appeared in some of Nolan's most notable films.
According to The Hollywood Reporter, the casting process was so secretive the actors did not know which role they would be playing until after they agreed to work on the movie.
Cillian Murphy leads the cast of Oppenheimer as J. Robert Oppenheimer himself.
Murphy is best known for his role as Tommy Shelby in Peaky Blinders and Jozef Gabčík in the war drama Anthropoid.
This is not the first time Murphy has worked with Nolan. He has appeared in the movies, Batman Begins, Inception, Dunkirk, and The Dark Knight Rises.
Speaking to Variety about preparing for the role of Oppenheimer, Murphy said: "[I prepped by doing] an awful lot of reading. I'm interested in man and what [inventing the atomic bomb] does to the individual. The mechanics of it, that's not really for me—I don't have the intellectual capability to understand them, but these contradictory characters are fascinating."
He will be joined by the likes of Emily Blunt, Matt Damon, Robert Downey Jr, and Florence Pugh to name a few.
A Quiet Place's Blunt will portray Katherine "Kitty" Oppenheimer, Oppenheimer's wife and Thor's Matt Damon will star as Lieutenant General Leslie Richard Groves Jr, who directed the Manhattan Project, the top secret project to develop the atomic bomb.
Iron Man's Robert Downey Jr plays the role of Lewis Strauss and Don't Worry Darling's Florence Pugh takes on the role of Jean Tatlock, an American psychiatrist, and physician.
Other famous faces tarring in Oppenheimer include:
Rami Malek
Benny Safdie
Dane DeHaan
Josh Hartnett
Jack Quaid
Matthew Modine
Dylan Arnold
Alden Ehrenreich
David Krumholtz
Michael Angarano
Kenneth Branagh
David Dastmalchian
Jason Clarke
Louise Lombard
Scott Grimes
Christopher Denham
James D'Arcy
Guy Burnet
Josh Peck
Harrison Gilbertson
Emma Dumont
Matthias Schweighöfer
Gustaf Skarsgård
Devon Bostick
Alex Wolff
Tony Goldwyn
Trond Fausa Aurvåg
Gary Oldman
Josh Zuckerman
Olivia Thirlby
Casey Affleck
What Is Oppenheimer About?
Oppenheimer is a biographical film about the life of J. Robert Oppenheimer, the theoretical physicist, who is often referred to as the 'father of the atomic bomb'.
Oppenheimer was a part of the secret Manhattan Project of World War II, which developed the first nuclear weapons in the world.
At 5.29 a.m. on July 16, 1945, the United States detonated the world's first-ever nuclear weapon. Code-named Trinity, the test was conducted in the Jornada del Muerto desert, southeast of Socorro, New Mexico.
The same style of bomb would be denoted over Nagasaki on August 9, 1945.
Nolan's Oppenheimer is based on American Prometheus, a biography of J. Robert Oppenheimer written by Kai Bird and Martin J. Sherwin.
The movie mainly focuses on Oppenheimer's time as the director of the Los Alamos Laboratory and his work on developing the first atomic bomb.
The first dropping of the atomic bomb over populated areas targeted the Japanese cities of Hiroshima and Nagasaki on 6 and 9 August 1945, respectively. Killing over 21,400 people in total, they were the first and last time atomic bombs have been used in warfare.
Oppenheimer was filmed on a combination of IMAX 65mm and 65mm large-format film as well as IMAX black and white film photography.
Is There A Trailer for Oppenheimer?
Yes, there is a thrilling teaser trailer for Oppenheimer.
However, the teaser trailer is only available to watch in theatres, so you will have to pay the cinema a visit to catch the first look at Oppenheimer.
The trailer is attached to Jordan Peele's new movie, Nope. Meaning, you'll be in for an evening of sci-fi horror if you want to see the Oppenheimer teaser.
According to a report by Variety, the trailer begins with Blunt as Oppenheimer's wife, Katherine saying: "This is your moment. 11 months, 24 days, 15 hours, 29 minutes," presumably a countdown to the test of the first-ever nuclear weapon.
Oppenheimer is coming to theatres on Friday, July 21, 2023.