Oprah Shuts Down Chat With Gayle King Over Harry and Meghan Bombshells
Oprah Winfrey said she was "as surprised by the bombshell" interview with Prince Harry and Meghan Markle "as anybody else."
Oprah was asked about the prospects of a royal reconciliation by Gayle King in the aftermath of Queen Elizabeth II's death and she said she didn't get involved in "family business."
Even the CBS News host, who is a friend of hers, couldn't get her to give a view on the future of royal relations, and King said Oprah then ended the interview, though it sounds like on good terms.
The conversation came 18 months after Meghan told Oprah how an unnamed royal expressed "concerns" about how dark her unborn child's skin might be in the March 2021 CBS tell-all.
Oprah said: "I was as surprised by the bombshell as everybody else. I was doing an interview to offer them a platform to tell their story about why they left and that was my number one intention, was clarity on why did you leave."
"Some of the things that were revealed in that interview came as a surprise to me and those surprises are now referred to as 'bombshell' but I didn't set out to do a bombshell interview.
"I set out to do an interview, have a conversation that would allow them to tell their story."
Asked about a possible reconciliation, she added: "I do not get into people's family matters. Everybody who has experienced some challenges in their families with in laws or brothers or sisters knows how difficult those challenges can be. I'm sure for the royal family it's no different.
"No one consults me on their family business so I try to stay out of family business."
King said: "And after that Oprah goes, 'Gayle that is the end of this interview.'"
Nothing in her delivery suggested any ill feeling between Oprah and King, but the fact her friend couldn't coax out an answer shows how reluctant the star interviewer was to delve into royal business.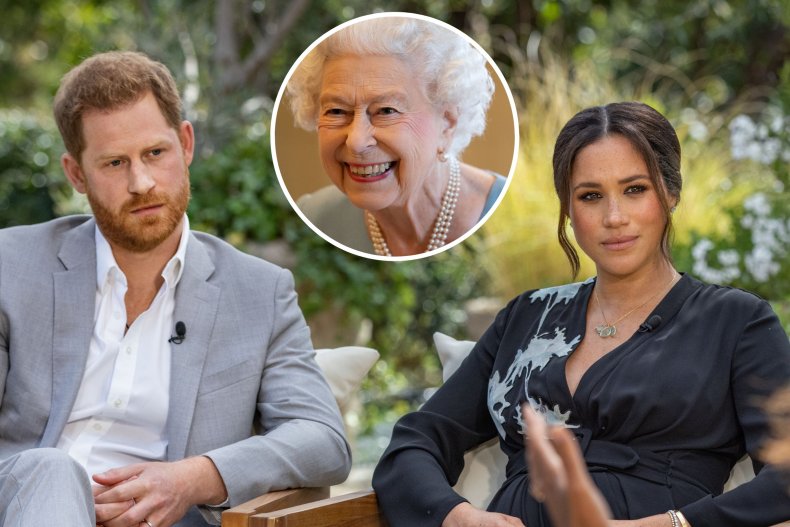 Oprah was also asked by Extra TV, and she said: "Well, this is what I think, I think in all families—you know, my father passed recently, this summer, and when all families come together for a common ceremony, the ritual of, you know, burying your dead, there's an opportunity for peacemaking... And hopefully, there will be that."
Among revelations, Meghan told Oprah: "So, we have in tandem the conversation of 'He won't be given security, he's not going to be given a title' and also concerns and conversations about how dark his skin might be when he's born."
She added: "That was relayed to me from Harry. Those were conversations that family had with him."
The comment became the single stand out allegation of the interview and it triggered a debate about racism in Britain, America and internationally.
The couple didn't disclose the identity of the allegedly racist royal, but did rule out the involvement of the queen and Prince Philip.
Harry and Meghan were in Britain when the queen died on the final stop of a whirlwind tour and they canceled their final appearance as Harry made the journey to Scotland to say goodbye to his grandmother.
There were signs of a possible first step towards reconciliation after William invited his brother to do a joint walkabout, meeting well-wishers outside Windsor Castle on Saturday, September 10.
However, it's still unclear how enduring the brief rapprochement will prove to be as there was little obvious interaction between the two couples.
King Charles III had warm words for Harry in his first broadcast as Britain's new monarch on Friday, September 9.
He announced William and Kate Middleton's new Prince and Princess of Wales titles and added: "I want also to express my love for Harry and Meghan as they continue to build their life overseas."
Harry's own tribute to the queen read: "Let us echo the words she spoke after the passing of her husband, Prince Philip, words which can bring comfort to all of us now: 'Life, of course, consists of final partings as well as first meetings.'
"Granny, while this final parting brings us great sadness, I am forever grateful for all of our first meetings—from my earliest childhood memories with you, to meeting you for the first time as my Commander-in-Chief, to the first moment you met my darling wife and hugged your beloved great-grandchildren.
"I cherish these times shared with you, and the many other special moments in between."
In a show of unity with his father, he said: "And as it comes to first meetings, we now honour my father in his new role as King Charles III."
Do you have a question about Queen Elizabeth II, King Charles III or their family that you would like our experienced royal correspondents to answer? Email royals@newsweek.com. We'd love to hear from you.