Oprah for President? Golden Globes Speech Convinces People the Star Should Run in 2020
Oprah Winfrey's award acceptance speech at the 75th Golden Globe awards Sunday got people buzzing that she's interested in running against President Donald Trump in 2020. One of those people is her longtime partner Stedman Graham.
In Winfrey's roughly nine-minute speech accepting the Globes' Cecil B. DeMille lifetime achievement award she defended the media—which has been under attack from the president—backed the women in Hollywood speaking out against sexual harassment and told the crowd "a new day is on the horizon!"
Her rallying cry, coming after months of revelations of widespread sexual misconduct in Hollywood, sent social media users into a frenzy. When Winfrey's partner Graham was asked if she is considering a run for president after her address, Graham told the Los Angeles Times that "it's up to the people" and added the former talk show host "would absolutely do it."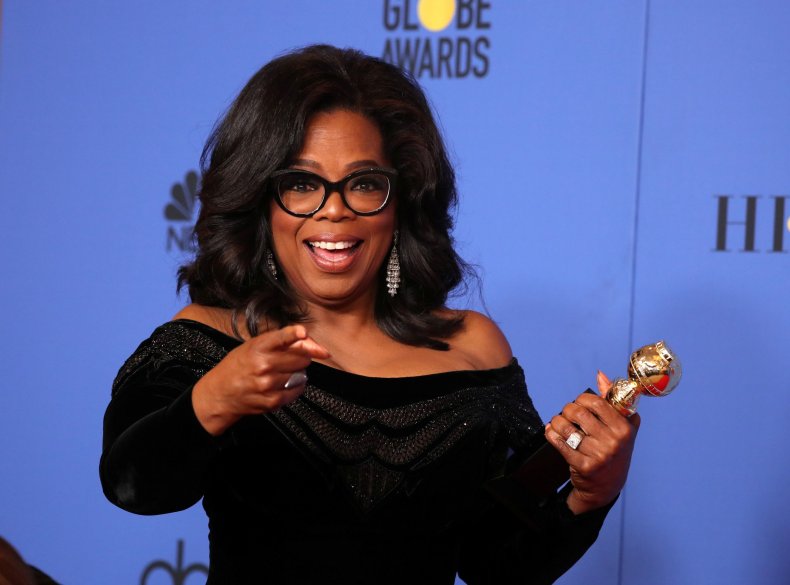 "She's running," tweeted Matt Viser, The Boston Globe's deputy Washington bureau chief, in response to Winfrey's speech.
"Oprah. 2020," tweeted Shaun King, a black activist and columnist for The Intercept.
Early in her speech, Winfrey—an actress and media mogul with an estimated net worth of $2.8 billion—said she wanted to thank the Hollywood Foreign Press Association for the media bringing to light the revelations about sexual harassment and sexual assault that have shaken the industry.
"We know the press is under siege these days," she said. "We also know it's the insatiable dedication to uncovering the absolute truth that keeps us from turning a blind eye to corruption and to injustice. To—to tyrants and victims, and secrets and lies. I want to say that I value the press more than ever before as we try to navigate these complicated times."
Read more: Ellen DeGeneres says she or Oprah will be Biden's running mate in 2020
To some this sounded like a rebuke of Trump, who repeatedly calls the media and revelations about his administration made by journalists "fake news."
Late Sunday, Trump tweeted he would push back the Fake News Awards he had originally announced he would give out Monday, instead announcing the result on January 17. The president has said he will seek a second term as president and began raising campaign donations for his 2020 bid the day of his inauguration in 2017.
This is not the first time that Winfrey's name has been floated alongside talk of a presidential bid. Late last year, talk show host Ellen DeGeneres joked in an interview on her show with former Vice President Joe Biden that she didn't know "if it's going to be myself or Oprah as your running mate."
Biden hasn't said he will be running for the Democratic nomination, but he didn't rule out the possibility in a series of interviews last fall in which he promoted his book Promise Me, Dad, a memoir reflecting on the death of his son Beau from brain cancer.
Late-night host Seth Meyers helped kicked off speculation about a potential Winfrey run in American politics at the Golden Globes ceremony Sunday in his opening monologue while hosting the awards.
"In 2011, I told some jokes about our current president at the White House Correspondents' Dinner—jokes about how he was unqualified to be president—and some have said that night convinced him to run," Meyers said. "So if that's true, I just want to say: Oprah, you will never be president! You do not have what it takes!"