Optical Illusion of a Young Girl Sinking Into Sidewalk Is Baffling Internet Users
Oftentimes, a picture is taken that is so visually baffling that the internet is left scratching its collective head to make sense of what it actually depicts.
This is known as an optical illusion— something that tricks the eyes into seeing something different to what has actually been captured.
And a recent photograph of a young girl who appears to have been engulfed by a paved walkway is just that.
In the snap, posted to Reddit by user MK24ever, the child, who is wearing a fluorescent pink top is holding a toy aloft, and appears to be waist-deep in the path.
Next to her is a grassy area and there is a hedgerow and tall trees behind.
The snap was captioned: "My daughter, where's the rest of her?! Ohh I see, do you?"
The image which was posted on May 6 has been liked over 69,000 times and there are over 1,200 comments, which highlight people's bemusement.
One Reddit user, NotMyMa1nAccount, wrote: "At the very first look I thought the shadows are a dress and she's lying on the floor."
Another person, Pork_Chap commented: "Even after you pointing it out, my brain still flip-flops between understanding and confusion."
XXXTENTACHION added: "I thought she was just in a hole in the ground. The shadow would still be in the same place so that wouldn't really help if I didn't know any better."
But can you see what the image actually depicts?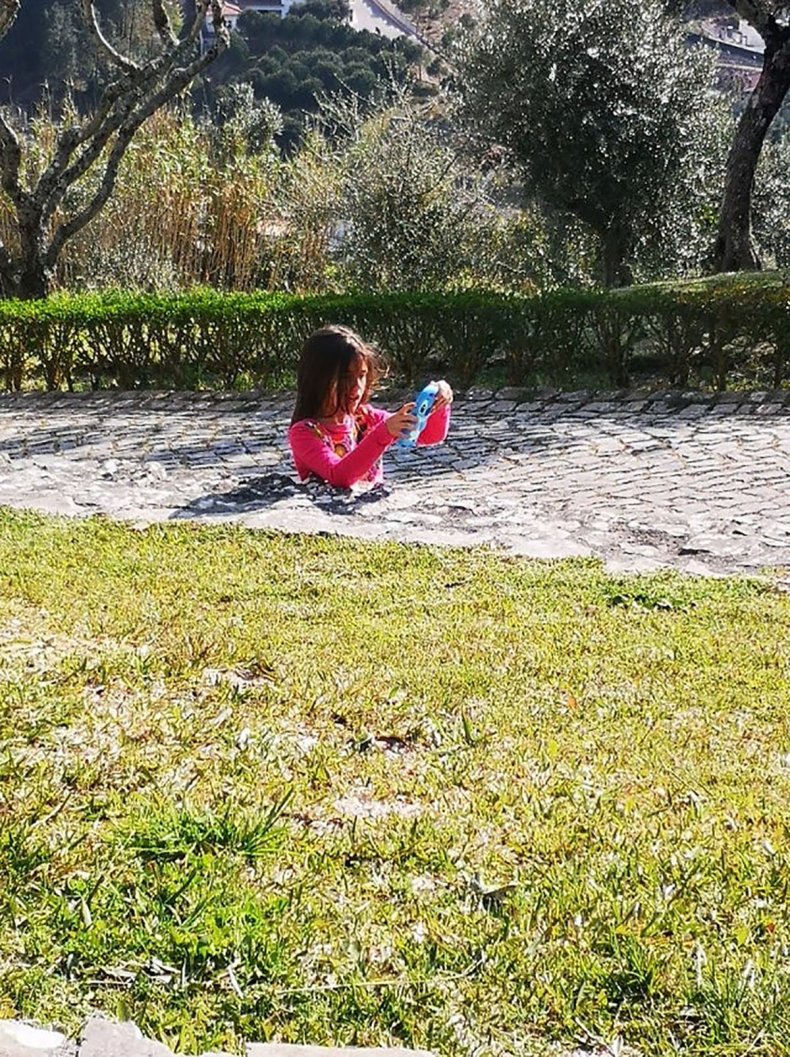 Well, if you can't MK24ever hastened to explain: "Grass pavement is at the wall end, then the road where my daughter is standing is around 1 mt [meter] lower than the grass pavement, where she's resting her arm."
So there we have it, the girl is standing behind a wall. Look again, and you will see it.
Speaking to Newsweek the image poster revealed that the photograph was taken by his wife outside Ourém Castle in Portugal.
The man, identified as Fred, explained: "She never realized the weird illusion she captured, because she snapped the photo but never really checked it after."
It was only when he was sorting out old photographs that he noticed the peculiarity of the image.
He went on to say: "The kid in the photo is my daughter and she finds it very funny to become so famous all of a sudden.
"Curious fact, I'm a professional photographer and I never had such a famous photo, my wife bested me at my own job..."
And if you would like to view another optical illusion, take a look at this video showing a woman supposedly jumping over a building.
It recently gained lots of traction online, as people are trying to work out how she's pulled it off.
The TikTok user, who calls herself Ying, posted a clip to her account, @ying.hxxx, which showed herself walking in the foreground, with her garden shelter in the background.
The woman then turns her back to the camera and jumps over the wooden structure, landing behind it.
After this she puts her hands in her pockets and walks away—as she now simultaneously resembles a giant while her back yard appears to be the size of a dollhouse.
Update 5/19/21, 12:30 p.m. ET: This article was updated to include comment from Reddit user MK24ever.