Orange Wine is Taking Over, But What Is It?
When it comes to wine, orange is the new white.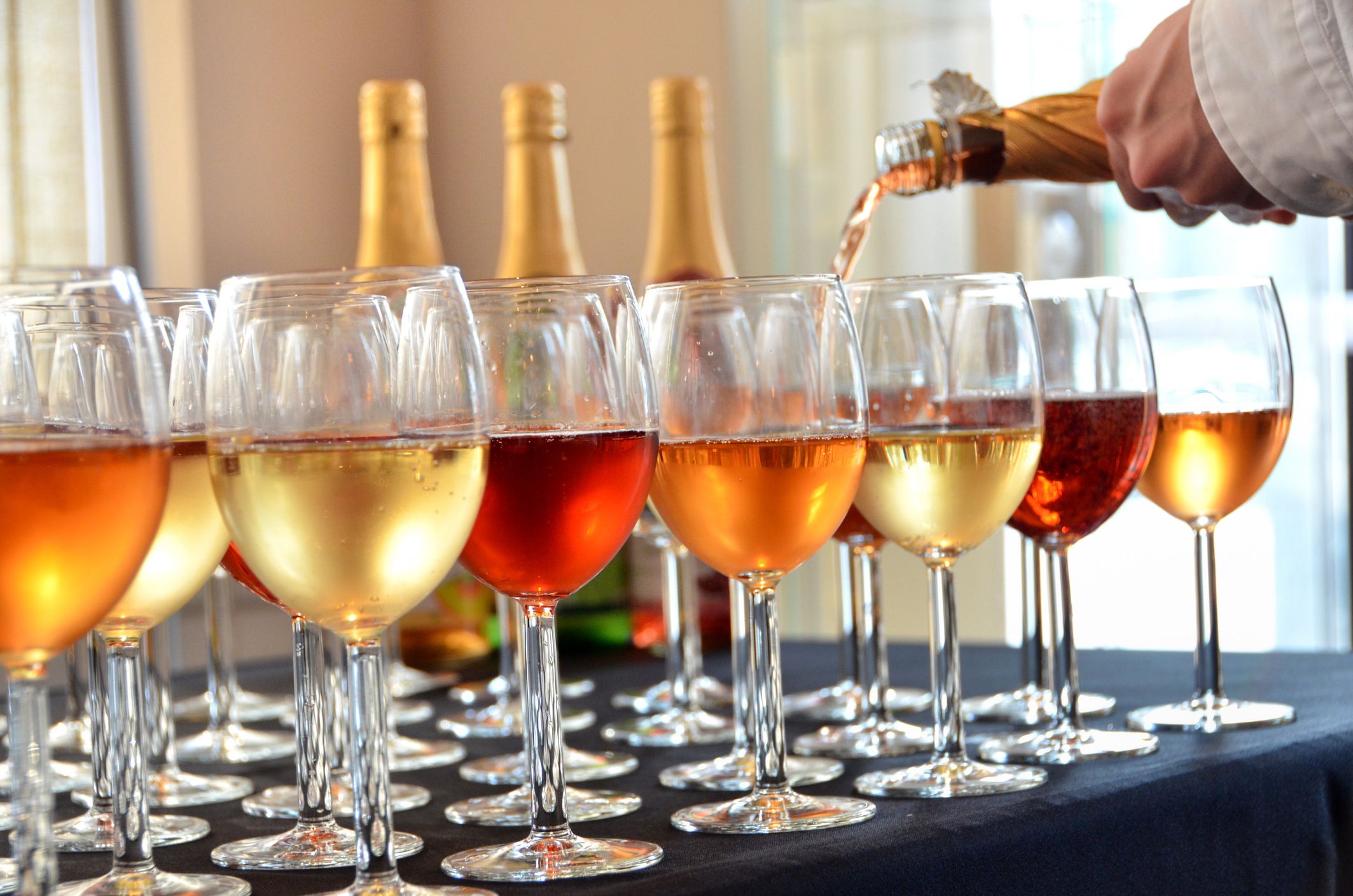 Orange wine is the biggest thing in wine these days, replacing rosé in the hearts of hipsters and wine aficionados.
No, it's not made from oranges—it's the process used to make it that gives this vintage its golden hue. Orange wine, also known as skin-contact wine and skin-macerated wine, is made from white-wine grapes where the skins have been kept on for weeks or even months, as opposed to being quickly removed. This contact gives adds flavor, pigment and tannins and gives orange wine its distinct color. (Red wine is also a made through a skin-contact process, using red grapes.) Far from being a new fad, skin-contact wine is the oldest recorded winemaking process in the world, dating back some 8,000 years.
Its already broken into the mainstream in Europe, where the supermarket chain Aldi sells a bottle for under $8. And interest is growing in the United States: "When it first came into U.S. wine consciousness about a decade ago, it was a hip discovery among avant garde sommeliers, mostly in major cities like New York," Wine expert Karen MacNeil, author of The Wine Bible, told Newsweek. "In the U.S., I think deep interest in orange wine is still confined to that very narrow slice of the wine-drinking world." But in forward-thinking foodie establishments, the rage for orange wine has become what the New York Times called an "obsession." One of these orange outposts is the Four Horsemen, the Brooklyn restaurant/wine bar co-owned by LCD Soundsystem frontman James Murphy, where up to 40 different orange wines are offered by the bottle on any given night. "They are very popular with our guests," wine director Justin Chearno tells Newsweek. While sales of orange aren't being formally tracked yet, America's wine market is worth more than $61.8 billion. Even a "very narrow slice of the wine-drinking world" would reap a huge reward.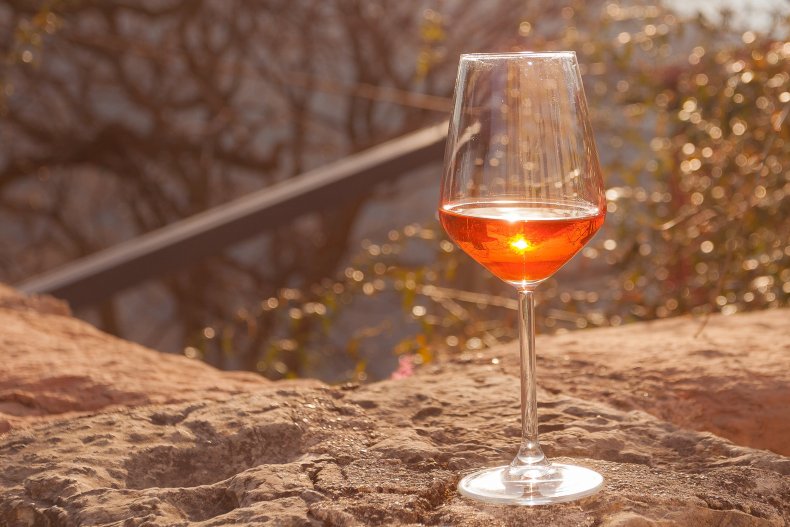 What does orange wine taste like?
We know it's the latest thing, but how does orange wine taste? Rather unique: The skin of the grape adds a whole new set of flavors. Skin-contact wines tend toward a rich, spicy tang that can taste slightly like beer. And they can offer notes of melon, herbs or nuts, though how long it was fermented with the skins on will affect the taste. The more contact, the richer and deeper the flavor. Some like that intensity, while others prefer orange wines that were aged with the skins for just a few weeks, putting them closer to the border of white wine. "There is no one taste that skin-macerated wine has," says Chearno. "It depends on the grape that the winemaker works with. The wines are made around the world from many different areas with many different grapes."
Orange wine's ancient history
Orange wines date originated Georgia, the mountainous Eastern European country that's been making wine for millennia. (Pottery fragments decorated with grape patterns and containing chemical traces of wine that were found near Tbilisi date back 8,000 years.)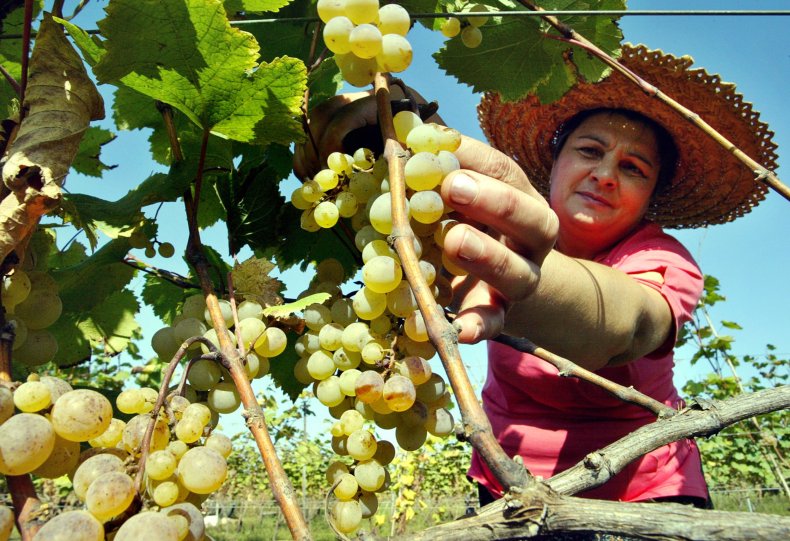 Georgians traditionally make skin-contact wine in large, egg-shaped terracotta pots called qvevri. The jars are buried up to their neck and the wine is left to ferment from a few days to up to six months. The process, which dates back more than 6,000 years, creates what Georgians call "amber wine"—an English importer gave it the less romantic "orange wine" label in the early 2000s, though, and it stuck.
A number of Georgian winemakers still use the qvevrito make orange wine. Kakha Tchotiashvili comes from a long line of artisanal winemakers in the Kakheti region of eastern Georgia. As a child, he learned about winemaking from his father and grandfather, doing odd jobs on the winery, picking grapes and washing the qvevri, eventually taking over the Tchotiashvili vineyard from his father. He's passionate about Georgia's amber wine heritage, and works a collective vineyard with up to 50 different varieties of Georgian grapes.
To make his wine, he crushes the grapes into the qvevri and leaves it, with the skins but without the stems, for six or seven months. The shape of the qvevriallows for a natural filtration process to take place. The aging then continues in oak barrels or in stainless steel tanks; sometimes the wine is bottled straight from the qvevri.
No additives or chemicals are added in either the vineyard or the wine production. This minimal human intervention, which would make production hard to regulate for less experienced winemakers, is balanced by Tchotiashvili's intimate knowledge of both the process and the vines.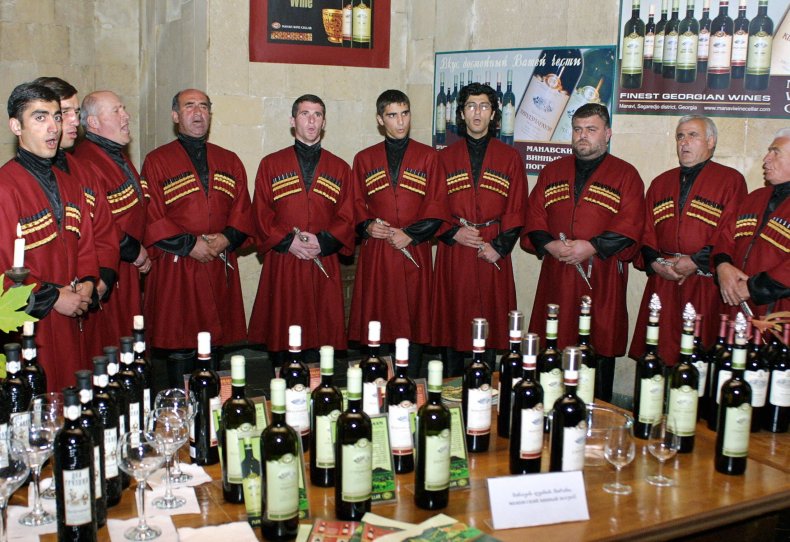 Georgian wine is undergoing a boom, according to the Georgian National Wine Agency, with exports increasing 54 percent in 2017 alone. (Most of it went to Russia and Eastern Europe.) Yet Georgia isn't the only country making orange wine. Italy and Slovenia can also claim skin fermentation as a traditional process, and make many of today's great orange wines.
Slovenian journalist and wine writer Sašo Dravinec has witnessed the resurgence of orange wine in Europe with delight. As a child growing up in the port city of Koper, he saw local farmers make batches of skin-contact wine: "Sadly, bad cellar practice meant that the wines were all too often oxidized," Dravinec told Newsweek, "[but] those that weren't linger in the memory."
Orange wine remained a local favorite until the 1970s, when it was eclipsed by trendy white wine. Around a decade ago, Slovenian winemakers began to bring back traditional maceration practices, but with more consistent results than their forefathers. Inspired by the new flavors entering the market, Dravinec and a colleague decided to organize an orange-wine tasting, which in 2012 evolved into the first orange wine festival in Slovenia. A sister festival opened in Vienna that fall, and both attract hundreds of attendees.
"Interest in orange wine is growing fast, just like all products made with more sustainable, organic and environmentally-friendly processes," says Dravinec. "When we started the festival, there were a lot of wine lovers who were sceptical or merely curious, but many of them quickly became fans of orange wine."
It's particularly popular among millenials, a generation keen to rediscover traditional processes. "A lot of young people just starting out in the world of wine adopt orange wines as their own because of the winemaking concept, [which is] based on coexistence with nature," says Dravinec. "Orange wines are made by small producers, which means they always have an identity, a vital trait in today's world of global brands."
Vineyards from Spain to South Africa have hopped on the bandwagon and orange wines have even taken root in the U.S., with each vineyard adding its own unique character. Channing Daughters, an artisanal winery in the Hamptons, has a whole range of lighter orange wines, which are fermented on skins for 20 days at the most. Virginia's King Family Vineyards makes an award-winning orange-wine Viognier using oak barrels. And in Napa, natural winemakers Forlorn Hope do a skin-fermented Sauvignon Blanc.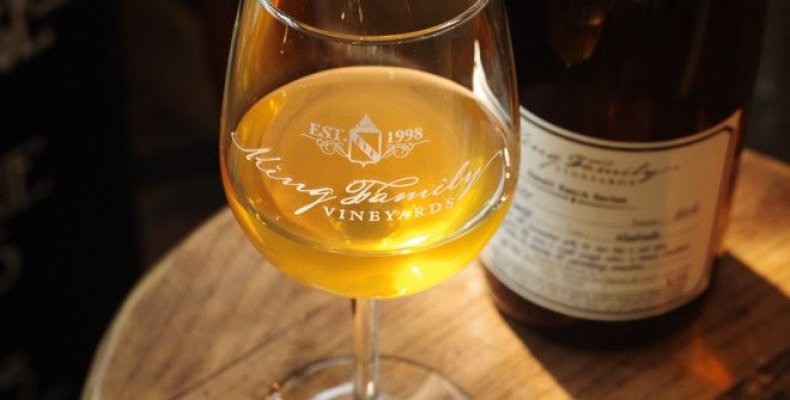 Natural orange wines
Thanks to its ancient roots and tangy taste, orange wine is often grouped together with natural wines, although not all orange wines are natural. The natural wine movement began in France in the 1990s, when Marcel Lapierre began producing pesticide-free wines cultivated with natural yeast rather than sulphur, which was usually added as a preservative.
To this day, the definition of natural wines is nebulous, but it essentially signifies wine that was made with as little chemical and technological interference in either the grape cultivation or fermentation. As traditional chemical-free production became fashionable, natural wine was embraced by a new generation. Many contemporary orange wine producers still use wild yeast and bottle the wine unfiltered, without any chemicals additives. It's this reason why orange wine is still a darling of the natural wine world. "It is very much boutique, artisan winemaking, producing wines with an identity, with close contact between the winemaker and the wine drinker, and I doubt very much that production will ever be industrialised," Dravinec says. "I guess that there will be attempts by the big brands to force their way into this niche, but I'm sure that makers and lovers of orange wines have enough awareness to keep that personal element, and to strengthen their movement to prevent the global invading the local."
Some wine purists turn up their nose at orange wine for this very reason. It's harder to control the taste of natural orange wines due to the minimal human intervention during the fermentation process. In less experienced hands, the wine can become oxidized, which will wipe out its fruity aromas and leave a vinegary taste. But don't be put off if you get a bad bottle—there's plenty of gorgeous natural orange wines out there too.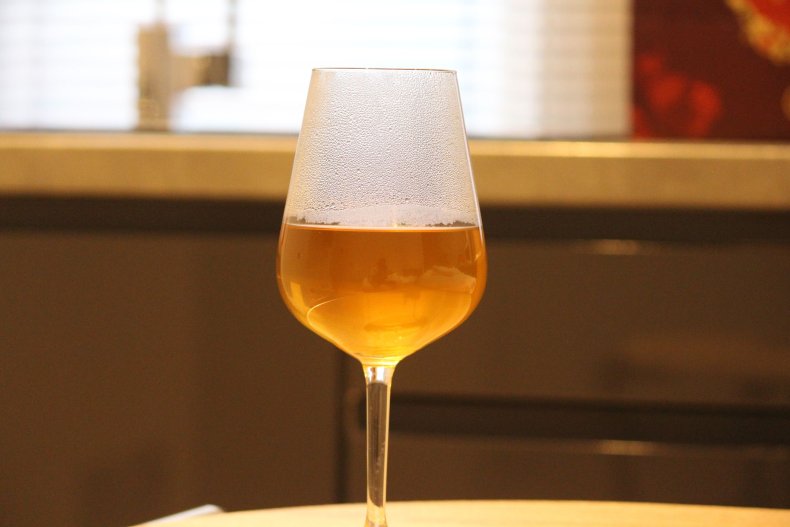 What foods does orange wine go with?
Although it might seem intimidating to match this diverse and unusual flavor palate with food, orange wine can certainly compliment a meal. Zurab Ghviniashvili, the export manager for Georgia's Tchotiashvili Vineyard, recommends fish to complement Tchotiashvili's Mtsvane, which is honey-colored with herbal notes. "It pairs with eggplant salad with nuts," he told Newsweek, while the dry, flowery Khikhvi "is perfect with pork, beef and lamb."
Over at the Four Horsemen, Justin Chearno also likes to pair skin-contact wine with roast pork, or a cheese course. "They are incredibly versatile wines and, in my opinion, work very well across a menu," he says. "The good ones can have the acidity of a great white wine while also the same texture as a full bodied red."
Faun, a Michelin-recommended Italian restaurant, is another hip New York eatery with orange wine on the menu. They serve Paleokerisio, a natural skin-contact wine from Greece with a slight fizz and a rich apple tang.
"As far as we know there is no other commercial producer using the once-nearly-extinct debina grape, and we've certainly never tasted a wine quite like it," Faun owner David Stockwell told Newsweek. "It has yeasty, cidery properties that make it pleasing to beer lovers, and just the right amount of black tea and oxidation to pique the natural wine lover's curiosity." He recommends drinking it with chicken-liver mousse or the fried chicken sandwich Faun serves at brunch: "[It's] a bit spicy and heavy on the pickled onions," he says.
What should you look for when you choose a bottle?
Most orange wines are made in small batches by independent wineries, so they tend to be a little pricier than a grocery store Pinot Grigio. Many people's unfamiliarity with orange wine may also cause some anxiety over the wine list. Luckily, there are a few failsafe options: "I think the best place to start are the orange wines of Georgia—like Pheasant's Tears or Iago's wine, says Chearno, and wines from Dario Princic, Vodipivec, Zidarich and La Stoppa in Italy."
Dravinec says newbies should just dive right in: "Experience is always the best teacher," he says, encouraging a visit to wineries producing orange wine, "ideally in the northern Adriatic—in Slovenia, Italy and Croatia—where there is the greatest density of makers of orange wines." If Adriatic wineries are a little out of reach, Dravinec says a restaurant sommelier or savvy server can point you in the right direction.
Combining ancient heritage and cutting-edge hipness, orange wine seems is primed to make its move from the underground onto the tables of the world. There's never been a better time to give it a try.