Orcas Attack So Many Boats Sailors Are Being Told To Stay in Port at Night
Orcas are attacking so many boats in Spain that sailors are being told to stay in port at night.
Since the summer of 2020, there have been increased reports of killer whales interfering with boats off the coast of Spain and Portugal, even though the reason for this remains unclear.
Orcas often come to this area during the summer months, to feed on the tuna that live around the Gibraltar Strait. Although fearsome predators to other marine wildlife, they rarely attack humans in the wild.
However, some 236 interactions with orcas and boats have been reported since 2020, Spanish News Today reported. The encounters range from orcas simply approaching the boats, to the actively interfering with it.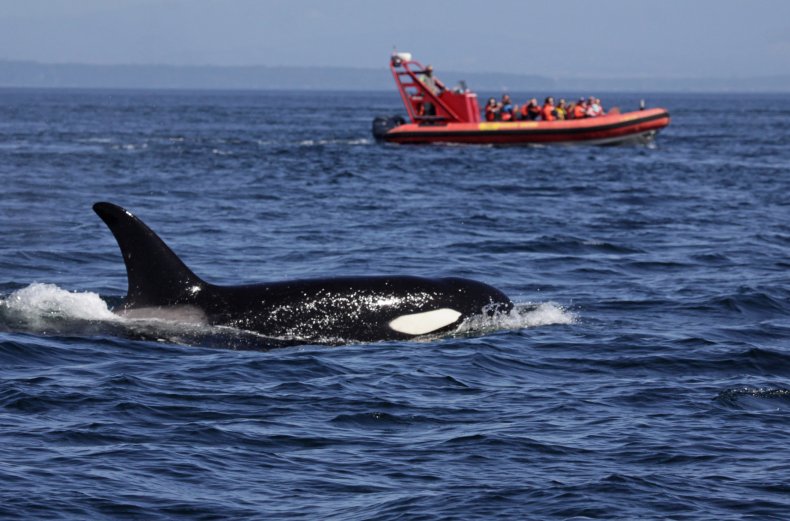 The Coordinator for the Study of Marine Mammals (CEMMA), a non-profit organization that studies marine mammals in Galicia, northern Spain, posted on Facebook that there have now been so many interactions, that sailboats should not venture out at night.
"Orcas have been traveling north in Galicia, and there have been several interactions with sailboats, both during at day and night. So, we'd like to recommend you to be careful in this area (between Sisargas islands and Estaca de Bares Cape) and, if possible, to spend the night in port to reduce the additional risks associated with a night rescue and tow at sea," the organization said in a statement.
CEMMA said it will try to "visit the affected boats in boat as much as possible."
Newsweek has contacted CEMMA.
"Talking to crews and collect graphic material—when photos or videos have been recorded—could help in our attempt to better understand this behavior," the statement said.
According to Spanish News Today, attacks before 2020 were extremely rare.
The attacks are also occurring off the coast of Portugal. Most recently, orcas attacked and sunk a sailboat with five people on board, miles from the coast of Sines.
After the orca targeted the boat, it was so badly damaged it started to sink.
Lisbon's Maritime Search and Rescue Coordination Center was alerted to the incident at around midnight. The passengers were then escorted to shore by the navy, and were able to dock safely at 2:43 a.m.
Alfredo López of Iberian Orca, the Atlantic Orca Working group—an organization dedicated to the conservation of marine mammals around the area—told Newsweek that since 2020, the attacks are not increasing, however "they do not stop."
"They are not attacks, they are interactions, that is, killer whales detect a foreign object that enters their lives and respond to its presence, but not in an aggressive way, they do not show aggressiveness in their behavior, but by touching and manipulating it. That is what we define as interactions," he said.
"The origin could be competition [with each other] in speed, game and skill but [this behavior] became a habit and a routine."
It would not be the first time orcas have been observed learning behaviors.
Scientists have previously observed killer whales approaching fishing boats, having learned that the fishing lines could provide an easy meal. It is possible that this has taught certain pods to be bolder in approaching boats.