Oregon GOP Calls Governor's New Restrictions 'Orwellian,' as State Continues to Set Records in COVID Cases
GOP officials in Oregon have criticized Democratic Governor Kate Brown for imposing new restrictions to help curb the spread of the coronavirus, calling her decision "unconstitutional" and "Orwellian."
Brown announced a two-week "freeze" across the state on Friday, which will limit and close some business in an effort to curtail the virus.
Under the new restriction, bars and restaurants will transitioned to takeout only; gyms will close; indoor and outdoor gatherings will be limited to six people; groceries and pharmacies will lower their capacity; and churches and faith groups will be allowed to host gatherings at a maximum of 25 people.
The new measures will be in effect from November 18 through December 2, with the possibility of extension in some counties.
"We are trying to stop this ferocious virus from spreading even more quickly and far and wide, and to save lives," Brown said in a news conference on Friday.
The decision comes as Oregon faces its worst outbreak to date, reaching record highs in both positive cases and hospitalizations. According to data compiled from the The Oregonian and OregonLive, the state currently has 54,937 reported cases, and 308 hospitalizations.
On Thursday, Oregon recorded its highest ever single-day increase in daily cases, with 1,109 people testing positive for the virus. That is more than double the amount of daily new cases than just two weeks ago.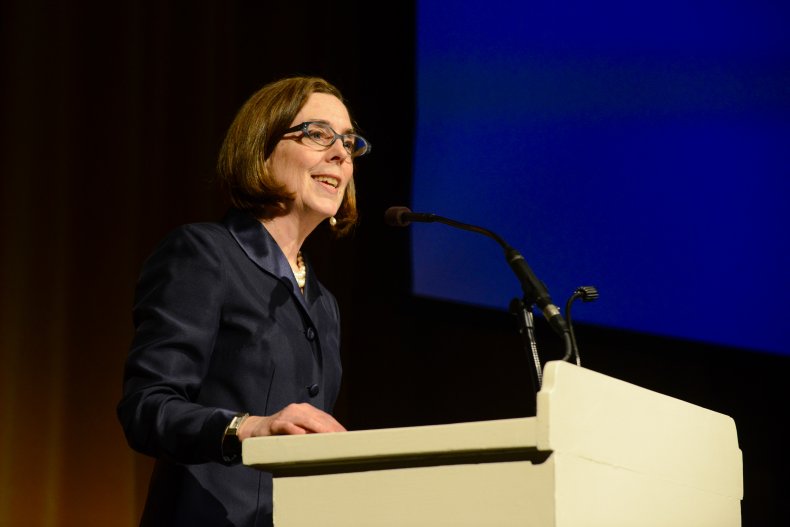 But Brown's efforts to curtail the virus through statewide restrictions were met with contempt among state GOP officials.
Senator Tim Knopp called the governor's new orders "unconstitutional" and showed concern that a two-week freeze would place an overwhelming burden on Oregon's economy.
"We can't have a second statewide shutdown and expect we're going to have any type of working economy coming out of this next year," he said.
Senator Dallas Heard also weighed in on the matter by calling Brown's attitude "elitist," and said that her restrictions on family and faith gatherings were "a bold infringement on the citizens of Oregon's baseline rights."
And in a message sent to his constituents this week, Senator Brian Boquist wrote that Brown and the Oregon State Department of Health were "fearmongering" and promoting "Orwellian" requirements.
"Though Oregon has had one of the lowest mortality rates and infection rates in the country, the state's leaders are consistently 'doom and gloom' about the outlook. Why? Because fear and panic gives them more power," he stated.
In response, Charles Boyle, a spokesman for Brown, told Newsweek that "Governor Brown's recent measures to stop the spread of COVID-19 are a necessity to give Oregon a fighting chance to flatten the curve and save lives."
He added, "Actions taken now will be critical in preventing more lives from being lost, and the governor is counting on Oregonians to work together and make smart choices."
The backlash from GOP leaders in Oregon echoes a national trend as Republicans and Democrats continue to disagree on the lengths that the country should take to curb the rapid spread of COVID-19.
While Democratic-governed states such as Illinois, Washington and New York continue to implement new restrictions, Republican-led state Mississippi became the first state to say they will refuse to participate in a nationwide lockdown if President-elect Joe Biden were to implement one.
Last Friday, Biden tweeted that he was "alarmed by the surge reported COVID-19 infections, hospitalizations, and fatalities," adding that the current federal response has been "woefully lacking."
This story has been updated with a comment from a spokesman for Governor Kate Brown.