Mississippi Gov. Says 'We're Not Going to Participate' If Next President Introduces Nationwide COVID-19 Lockdown
Mississippi Governor Tate Reeves said on Thursday that his state will not participate if the next president decides to introduce a nationwide lockdown in an effort to slow the spread of the novel coronavirus.
Though Reeves, a Republican, did not mention Joe Biden by name, he referred to comments from one of the president-elect's coronavirus advisers, who said earlier this week that a nationwide lockdown of four to six weeks could help bring the spread of the virus under control.
"The fact is that we're going to try to work with whomever the president is, but we're not going to participate in a nationwide lockdown," Reeves said during a virtual news conference. "This notion that one of his advisers has said that all we really need is about a six-week national lockdown and we can slow down the spread of this virus is totally and completely beyond reasonableness."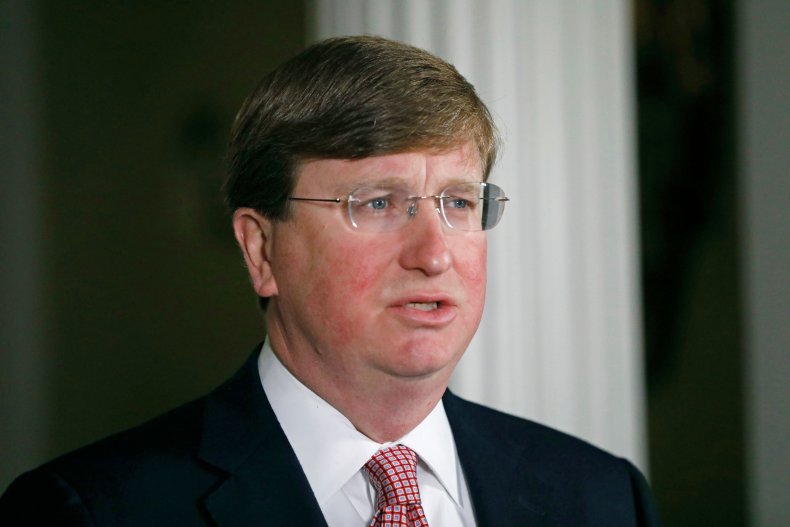 Although most major networks declared Biden, a Democrat, the victor of the national presidential race on November 7, President Donald Trump has yet to concede the election. While Trump has resisted the idea of locking down state economies throughout the pandemic and encouraged the states that did shut down to reopen quickly, Biden took a more cautious tone as he campaigned for the presidency.
Biden said in August that he would consider a nationwide lockdown if scientists recommended doing so, but he later said that he believed there was a safe way to keep the economy running without introducing additional shutdowns. The president-elect said earlier this week that his administration plans to "follow the science" in deciding how to respond to the pandemic and will adjust that response depending on whether infection rates rise or fall.
By Thursday, November 12, health officials reported a total of more than 10.5 million COVID-19 infections across the U.S. since the pandemic began, according to a Johns Hopkins University data tracker. More than 130,000 of those cases were reported in Mississippi, according to the Mississippi Department of Health.
The U.S. began setting record increases in new COVID-19 infections last week, with more than 1 million new infections reported in just 10 days between the end of October and early November. Reeves acknowledged the nationwide surge in new cases and said the situation in Mississippi is also "significantly more than what we have become accustomed to."
Though Reeves encouraged Mississippians to wear masks and practice social distancing, he said that the responsibility of enforcing virus-related restrictions should remain with local and state governments.
Reeves mentioned the Stafford Disaster Relief and Emergency Assistance Act of 1988, which outlines how the federal government can assist state and local governments in dealing with natural disasters, as a reference point.
"Under the Stafford Act, when you have emergencies—and this is clearly one of the longest-lasting emergencies in American history—that those emergencies have to be state managed, locally executed and federally supported," the governor said. "I don't believe that there is any Constitutional or statutory authority for any president to shut down Mississippi's economy. We will certainly fight that, if it becomes necessary."
Instead of a full economic lockdown, Reeves said Mississippi will continue its current strategy, which is targeted to slow the virus' spread in counties with high infection rates.
"The people of Mississippi can't just go home, shut down their small businesses, shut down their restaurants, shut down their gyms, shut down their other small businesses for six weeks and just think that you can come back six weeks from now, flip a switch and everything's going to be fine," Reeves said. "It's not the way the economy works."
Newsweek reached out to Biden's transition team for comment but did not receive a response in time for publication.