Oregon Rep. Pushing Bill to Address Sexual Assault in Transportation Industry Says Uber Can Do More to Prevent Attacks
Democratic Rep. Peter DeFazio is calling on Uber to do more to prevent sexual assaults and harassment from happening on the company's watch, after it published a report revealing it had received nearly 6,000 reports of sexual assault in the U.S. between 2017 and 2018.
Uber published the data in a "U.S. Safety Report" as part of a bid to show its commitment to improving safety and ensuring accountability "to riders, drivers, and the entire industry."
The report, which is released biannually, showed the company had received 5,981 sexual assault reports out of the 2.3 billion trips it facilitated in the U.S. over a two-year period. In nearly half of those cases, passengers were the ones accused of assault.
"At its core, this report is about more than Uber," the ridesharing company emphasized in its 84-page report. "It's about taking a new, better approach to an age-old problem that too many in our society normalize and may live with every day. It's about improving safety for women and everyone else. It's about accountability—to riders, drivers, and the entire industry."
In an interview with Newsweek, DeFazio, who has penned legislation specifically aimed at tackling sexual assault and harassment within the transportation industry, said that while the report is a strong step in the right direction, transportation companies like Uber could be doing much more to prevent sexual assault within their sector.
"Disclosure is good, but it's a first step," DeFazio said. Action, he said, will be needed to back up the company's claims of working to combat sexual assault and harassment on its rides.
The congressman specifically took issue with Uber's resistance to fingerprinting potential drivers during background checks.
In Eugene, Oregon, DeFazio had said that background "fingerprinting" checks carried out by the local police department found just over two dozen Uber and Lyft drivers had criminal records that had been missed in the companies' own checks. One driver, he said, had been a registered sex offender, while another had been a convicted murderer.
Lyft has disputed that point, however, with a spokesperson telling Newsweek that the background checks were not "fingerprinting" checks, but a records check based on data held in sealed databases only available to police and through certain courts.
The spokesperson asserted that if past offenses were missed, it would only be because information had been cleared from "other criminal records databases."
Responding to Lyft's comments, DeFazio's office acknowledged that the background checks did not involve fingerprint checks explicitly, but said that the checks were still more comprehensive than checks being done by ridehailing companies.
In his interview with Newsweek, DeFazio said he believes companies like Uber ultimately do not "want to have any impediments that might delay people from setting up."
According to Uber's own policies, "all drivers wanting to use the Uber app are required to undergo a screening process to ensure safety and compliance with our criteria."
"We will permanently deactivate a driver's account if subsequent screening steps uncover a violation of Uber's safety standards or of other criteria required by local regulators," the company states.
Newsweek has asked Uber for more information about its policies, as well as for a response to DeFazio's comments.
Ultimately, the Oregon lawmaker said, Uber is one of many transportation companies can that can do more to combat sexual violence.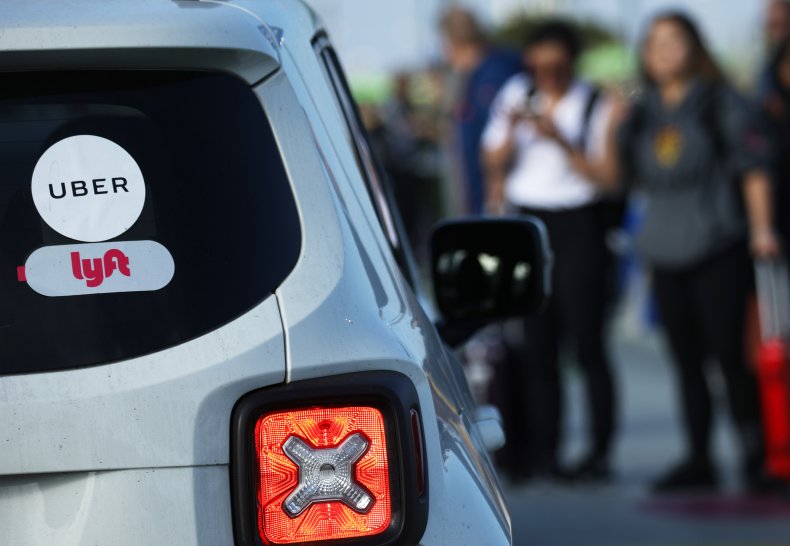 Under his bill, The Stop Sexual Assault and Harassment in Transportation Act, companies would have to "put in place systems to facilitate the reporting of sexual assault and harassment" allegations, as well as "develop procedures that would prohibit, in the case of Uber, either their drivers and their riders, if the rider has committed sexual assault against a driver, from use of the platform in future."
"That would obviously apply across all modes of transportation, not just Uber," DeFazio said.
The Oregon representative stressed that he was not only targeting Transportation Network Companies (TNCs) with his bill, noting that his push for the legislation was sparked by reports of sexual assault and harassment within the airline industry.
As the Association of Flight Attendants raised in the wake of the #MeToo Movement, as many as 68 percent of flight attendants said they experienced sexual harassment during their flying careers, in a survey that saw more than 3,500 workers polled.
Meanwhile 18 percent said they had experienced physical sexual harassment from passengers in the last year, with more than 40 percent of those alleging to have suffered physical abuse three or more times.
DeFazio said he believes the problem is widespread within the transportation industry, with a recent report from the U.S. Department of Transportation flagging that cruise liners had seen at least 35 sexual assault incidents reported during the short summer period of July 1 to September 30.
The Oregon lawmaker said he did not foresee much opposition from either the House or Senate in moving the bill forward.
Even then, he said, "I think there's more work to be done beyond this bill... But, this is the start."
Updated: This article has been updated with statements from Lyft and additional statements from Rep. DeFazio's office. It has also been updated to add more clarity on background checks that were conducted on ride-hailing drivers in Eugene, Oregon.