One of the 11 "runaway Republican" Oregon state senators described his escape from state police over a climate change vote, even appearing on Fox News from an "undisclosed location" as he evades potential arrest.
Oregon Republican lawmakers say they are "not taking any chances" after fleeing the state in order to avoid giving the state legislature quorum which would allow a vote on a cap-and-trade system intended to limit carbon emissions.
State Senator Tim Knopp, speaking with The Wall Street Journal Monday, detailed his initial escape to neighboring Washington state, where he became fearful that climate change-friendly Democratic Governor Jay Inslee would have him arrested and sent back to Oregon. He then drove his hybrid Ford Fusion to a lakeside cabin in Idaho where he appeared on Fox & Friends and bragged that he was "hiding in plain sight."
Knopp told Fox & Friends host Steve Doocy Tuesday he has spoken with the Oregon state police superintendent twice and "politely declined" to allow troopers to return him to Salem.
At least one other Oregon Republican state senator who fled the state, Cliff Bentz, described purchasing a burner cell phone to avoid being tracked and said he has changed hotels routinely to stay one step ahead of law enforcement who may be on his trail. Bentz also appeared on a Fox News broadcast Friday.
Idaho State Police have said they are not pursuing the Oregon "runaway Republicans" because they have not broken any of its own state laws. And Idaho's state government is one of the few in the region controlled by Republican lawmakers.
Last week, as one GOP lawmaker threatened state police with violence, the 11 Republicans fled the state after Democratic Governor Kate Brown threatened to have law enforcement officers "compel" the legislators to finish the legislative session and vote on the climate change law intended to reduce greenhouse gas emissions among state businesses, House Bill 2020.
Speaking with Fox & Friends Tuesday, Knopp described the legislation as "an inefficient, complicated and expensive way to address reduction in carbon dioxide emissions." He said he does believe carbon emissions need to be reduced, but that he and his Republican colleagues don't think Oregon businesses should be punished with taxes and penalties in order to accomplish that goal.
"I feel no constitutional obligation to stand around so they can pass their leftist progressive agenda," Knopp told The Oregonian from the Idaho lake. "[We're] not providing a quorum for Democrats to roll over us."
"You're on the run right now," Doocy said with a laugh, noting the GOP state senator was being interviewed from an "undisclosed location."
"Kind of hiding in plain sight," Knopp replied, smiling. "Let's just call it the Mountain West."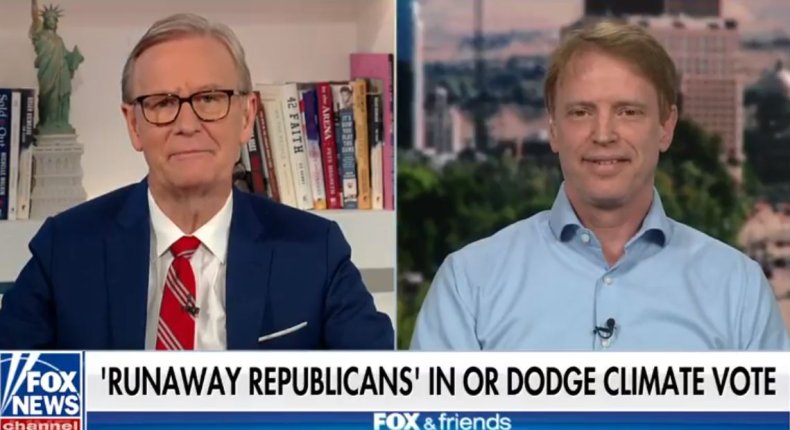 "But how long do you have to stay out of the state?" Doocy pressed, prompting Knopp to explain that he and the other GOP state senators will remain out of the state until the legislative session constitutionally ends June 30 at midnight. Knopp said he is going to "fight as long as we possibly can" to get a bipartisan agreement worked out with the Democrats. "Unless we can have an agreement that's how long we will be out," he added.
Knopp said the governor has called him but he has not yet returned her calls early Tuesday. However, he told the local Willamette Week he has been chasing poor reception around the lake in order to Skype with his 11-year-old daughter as he avoids Salem Democrats.
The Oregon Republicans appear to be taunting their Democratic counterparts left waiting in the capital, with Knopp continuing his press tour on Sky News Monday declaring his actions a "peaceful political protest."
Knopp said Oregon state police informed him over the phone "if they come in contact with us" they will notify the attorney general on whether or not to arrest him. "We are just not taking any chances so we have moved to border states for the duration of this session. We're obviously hopeful we can have a bipartisan solution."
Several Oregon Republicans have made the argument that countries including China and India are the ones creating the most harm to the planet and Oregon businesses should not have to be the ones to pay for foreign indiscretions.
He noted there has not been any sign of "significant progress" in the cap-and-trade talks with Democrats thus far. And speaking with The Wall Street Journal Monday, Knopp explained why he wound up in Idaho after fleeing both Oregon and Washington state.
"You have a Democratic governor in Washington running for president on climate change," he said of Governor Inslee. "What better way to energize that campaign than to return intransigent Republicans so they can vote on climate change? I was like, I've got to get out of here."
Perhaps illustrating the lengths the Oregon GOP state lawmakers will go to avoid voting on the climate change legislation, state Senator Brian Boquist threatened to violently repel any state police who may try to apprehend him: "Send bachelors and come heavily armed," he said ominously last week.
Oregon Republican Senate Minority Leader Herman E. Baertschiger Jr. has repeatedly declined to say where he is hiding in interviews with several news outlets while on the lam.