Oregon Restaurant Issued Nearly $9,000 in Fines for 'Willfully' Ignoring COVID Seating Limits
An Oregon restaurant owner knew she was violating state COVID-19 prohibitions on indoor dining, but she continued to do so "willingly."
Trudy Logan, owner of Springfield restaurant Along Came Trudy, was fined $9,215 by state authorities for two violations of the state's temporary rules to prevent the spread of COVID-19. The first involved willfully ignoring capacity limitations, and the second was a failure to enforce mask wearing across staff and customers.
The Oregon Occupational Safety and Health Administration announced the fine on Wednesday. OSHA launched an investigation after receiving multiple complaints the cafe had disregarded public health orders despite the fact it was located in a county labeled Extreme Risk. Along Came Trudy is the fourth business to be fined by OSHA in Lane County as of December 11.
"It is our expectation that employers comply with public health measures that we know are effective at decreasing the risks to workers and reducing the spread of this disease. And we have been able to resolve most concerns about COVID-19 and the workplace constructively and without formal enforcement visits," said Michael Wood, administrator for Oregon OSHA, in a press release. "However, as this case demonstrates, we will continue to carry out enforcement actions where appropriate and particularly where employers knowingly disregard standards."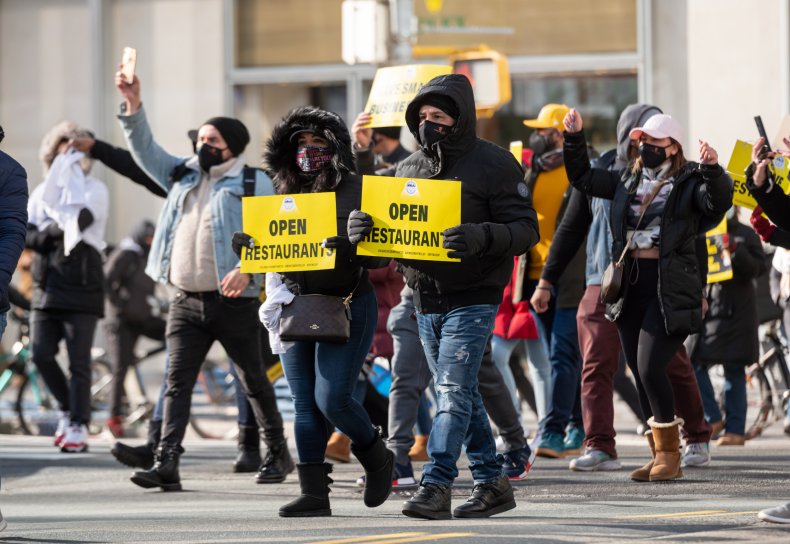 Early "visual spot checks" confirmed Along Came Trudy was hosting customers for indoor dining before OSHA officially opened its investigation on December 21. According to a press release, social media posts, news stories and a phone interview with Logan further corroborated the offenses to OSHA.
"She knew of the prohibition on indoor dining in counties with an extreme risk rating, but willingly chose to continue," the release states. According to OSHA, armed people stood outside the restaurant and repeatedly threatened to "thwart the process" for regulators.
"Breaking the law is not the answer—fighting for relief and additional flexibility with our government partners is until we can get to the point where we can operate our businesses again free from government interventions," Jason Brandt, president and chief executive officer of the Oregon Restaurant and Lodging Association wrote in an email to Newsweek.
Indoor dining spaces are a likely hotbed for coronavirus. According to the Centers for Disease Control and Prevention, people who test positive for COVID-19 are twice as likely to have dined at a restaurant in the two weeks before getting sick.
Restaurant owners feeling the brunt of the restrictions and have pushed government officials to speed up reopening. Oregon's leisure and hospitality sector lost about 30,000 jobs at the end of last year, most of which were in the full-service restaurant industry.
"Relief to date coupled with limited operations due to government restrictions has proven to be too little for many small businesses which results in situations including restaurants feeling they have no choice but to open their doors against regulations," Brandt said in an email to Newsweek.
Oregon Governor Kate Brown announced limited indoor activities, including gyms and moving theaters could reopen with limited capacity at the end of last month. However, indoor dining continues to be banned for at least two months in extreme risk counties, according to the Brown.
"The lack of continuity in operations is permanently altering too many Oregonian livelihoods. We must open some indoor dining statewide now, and we can do it safely," Brandt said in a press release last month. States like California and New York have recently announced indoor dining will be restarting with mandated safety restrictions.
Local KEZI 9 News reported that Logan has said she will keep the restaurant open despite the fines.
Newsweek has reached out to Along Came Trudy for comment, but did not hear back in time for comment.