Oregon Seeing More Days of Poor Air Quality Due to Growing Wildfires: Report
The rampant wildfires that have raged across Oregon in the last few years are having a detrimental effect on the state's air quality—an issue particularly compounded by last year's wildfire season.
A newly released report from the Oregon government's Department of Environmental Quality (DEQ) revealed an overall uptick in annual days with poor air quality. This is credited largely to the excess smoke created by the state's intense recent fires.
"Wildfires are becoming larger and more frequent across the Western U.S., which is causing more smoky days with poor air quality," DEQ Air Quality administrator Ali Mirzakhalili explained, according to Oregon Live. "Increasing wildfire smoke from Oregon, as well as California, Idaho, Washington, and even British Columbia, means more communities across the state are now experiencing higher concentrations of (particulate matter)."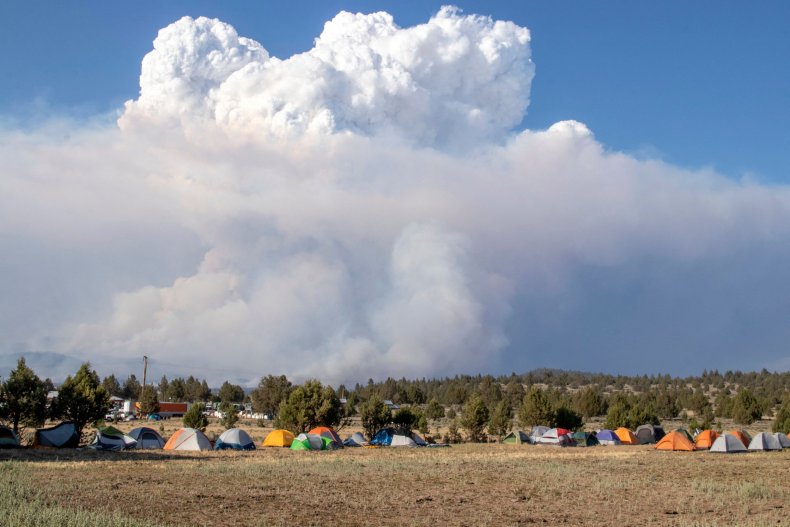 According to the state's report, from September to October 2020, Oregon saw the highest levels of particulate matter in the air since the DEQ began keeping that measurement in 1985. This is based on information collected from 24 areas in the state, including the cities of Portland, Medford, and Bend, using a handful of categories to quantify air quality: good, moderate, unhealthy for sensitive groups, unhealthy, very unhealthy, and hazardous.
The report also noted that while 2020's wildfire season was shorter than average, the higher intensities of its fires contributed to the worsening air quality. This intensity was further attributed to a sizeable windstorm that struck the state after Labor Day.
"Overall trends indicate that the number of days in which air quality measures 'Unhealthy for Sensitive Groups or Worse,' as well as concentrations of [particulate matter], are continuing to increase," the report stated.
Meanwhile, the Associated Press reported that the main blaze currently raging in Oregon, the Bootleg Fire near Klamath Falls, reached a size of roughly 75 square miles on Friday, making it the largest active wildfire in the U.S.
The fire had burned through over 377 square miles as of the same day, with only around 7 percent of the blaze reported to have been contained, acording to CBS News.
Officials believe it could take until November for the Bootleg Fire to be fully contained. There is also concern that it may eventually merge with the smaller nearby Log Fire.
The fires have also begun to create massive clouds of smoke and ash that are visible at a distance of around 100 miles. Some of these clouds have reached the dangerous point of generating their own weather events, which can include phenomenons dubbed "fire tornadoes."
"We're expecting those exact same conditions to develop today and even worsen into the weekend," fire crew spokesperson Holly Krake said on Friday.