Oregon Wildfires Map, Update As Bootleg Burns Area Five Times the Size of Washington D.C.
Several wildfires are continuing to burn in Oregon, as around 2,000 residents have been displaced by the blazes that include some of the biggest fires currently devastating multiple states across the U.S. West Coast.
More than 1,700 firefighters are currently tackling multiple wildfires in Oregon, as a dozen helicopters have been assigned with officials struggling to contain the blazes, according to Reuters.
The state's largest blaze, the Bootleg Fire, which is one of nine currently burning in the state, has so far destroyed 227,235 acres, while it is only 7 percent contained at time of writing, according to the federal InciWeb wildfire tracking site.
Although the fire has so far destroyed 21 homes and 54 structures, while threatening around 2,000 homes, there have not yet been any deaths reported from the blaze.
InciWeb wrote the "fire remains very active with significant acreage increases due to hot, dry, and breezy conditions, and plume-dominated fire behavior.
"Poor humidity recovery at night is contributing to active fire spread through the night time period. Robust spread rates are being generated by drought-affected fuels. Expecting similar conditions for the next several days."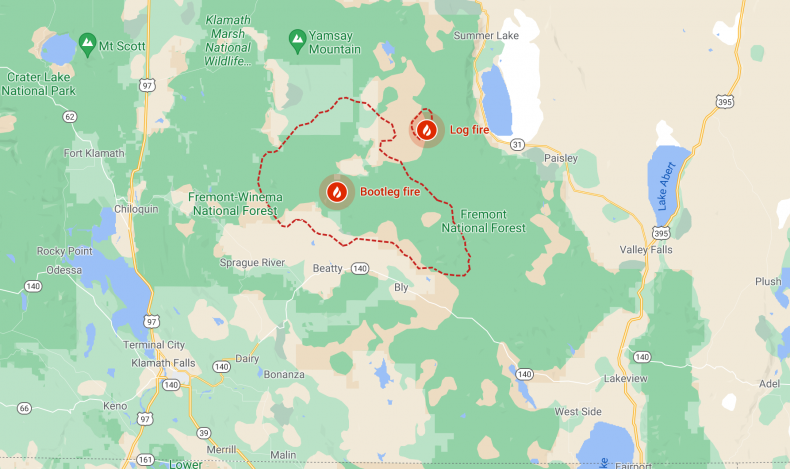 The fire, which measures at around 355 square miles, is currently more than five times the size of Washington, D.C. and about one-fifth as big as Grand Canyon National Park.
The Bootleg Fire is just one of 71 active wildfires currently burning across the U.S., as just less than 1 million acres have been destroyed by the blazes not yet contained, according to the National Interagency Fire Center.
A majority of the fires in the country have been recorded in Idaho, Montana and Arizona, but several other states including Oregon and Washington have also been badly affected after a summer heatwave and drought hit the West Coast.
The nine active fires currently burning in Oregon are up from the six that were reported on Wednesday, while there are 17 affected areas in Idaho and 12 in Montana.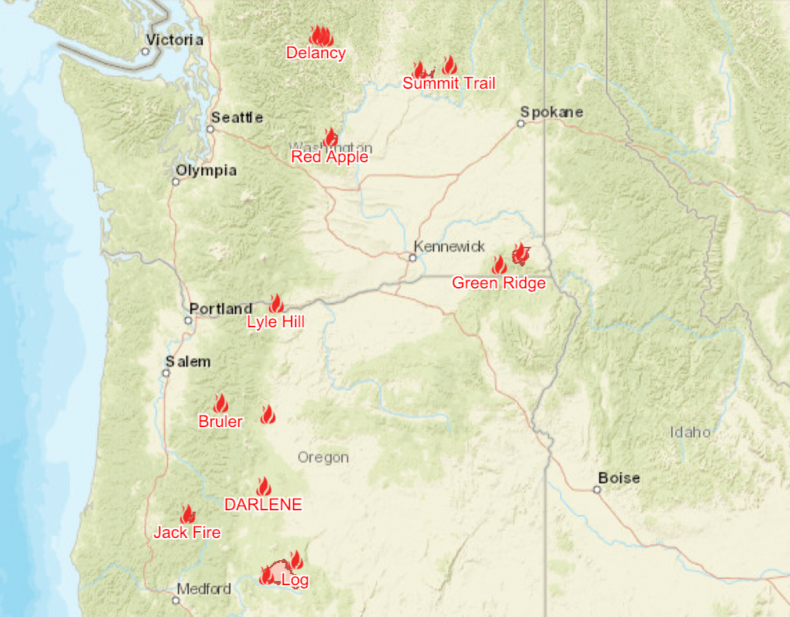 Oregon and Washington, currently recording four blazes, moved into Preparedness Level 5 on Wednesday, which according to the National Interagency Fire Center means they could experience "complex wildland fire incidents, which have the potential to exhaust national wildland firefighting resources."
The National Guard was also deployed in Oregon on Wednesday morning to help with road closures and traffic control in areas affected by the fires as residents across the state were told to evacuate.
Earlier in the week, one of the evacuees, Tim McCarley, told Reuters that officials informed him and his family, "If you don't leave, you're dead," as "sparks and embers were coming down" outside his home.
Images taken by satellites managed by the National Oceanic and Atmospheric Administration on Wednesday through to Thursday showed the growth of the fire from space, as smoke was pictured covering large parts of the West Coast.
"Oregon's #BootlegFire showed explosive growth last evening, with its #smoke and #pyrocumulusclouds seen here by@NOAA's #GOES17Satellite," the agency tweeted alongside the footage of the smoke spreading.
More acres have burned this year across the United States compared to this point in 2019 and 2020. The country recorded 34,411 fires with 2,255,218 acres affected from January 1 to July 15, 2021, according to the National Interagency Fire Center.
That compares to 28,231 fires and 1,731,324 acres for this period in 2020, and 22,845 fires and 2,176,774 acres in 2019.
The blazes are expected to continue causing issues for Oregon for a number of months, as a public information officer for Northwest Incident Management Team 10 told Newsweek earlier this week that the estimated containment date for the Bootleg Fire has been set for November.
The containment date has been set for later in the year because officials are expecting "a great deal of mop-up, repair and recovery to complete" once the fire has been fully contained.