Oregon Senate Candidate Who 'Stands With' QAnon Distances Herself From Conspiracy Theory
A Republican nominee for a U.S. Senate in Oregon on Thursday claimed that she was "taken out of context" by the media after she posted a video to social media publicly praising QAnon conspiracy theorists on Tuesday.
Candidate Jo Rae Perkins pledged her allegiance to the right-wing conspiracy theory and its adherents in a since-deleted video posted to her Twitter account on the same day she won the GOP nomination. Two days later, she insisted that she does not believe "everything" about the theory and would not describe herself as a "follower," while claiming that the "fake news" had treated her unfairly by quoting her own words from the video.
"Less than 24 hours after my win, my words were already being spun through the fake news machine and taken out of context," Perkins said in a statement. "I was not endorsing Q/Anon but rather stating that I appreciate the fact that there is still free speech in this country that allows for voices – including whistleblowers from both sides of the aisle – that may, or may not, bring to light issues Americans need to be aware of."
Perkins deleted the video she insists the "biased press" took out of context not long after it was posted. The short video includes Perkins delivering a clear message of support for the conspiracy theory, repeating the QAnon slogan "where we go one, we go all" while holding up a sticker of the slogan's acronym and the hashtag #QANON, while providing no further context.
"Hi, my name is Jo Rae Perkins, candidate for the U.S. Senate in Oregon," Perkins said in the 18-second video. "Where we go one, we go all. I stand with President Trump. I stand with Q and the team. Thank you anons, thank you patriots. And together, we can save our republic."
Perkins will be facing off against two-term Democratic Senator Jeff Merkley in November, who won his last election in 2014 with a more than 20 percent margin of victory over his Republican challenger.
Newsweek reached out to the National Republican Senatorial Committee for comment. This article will be updated with any response.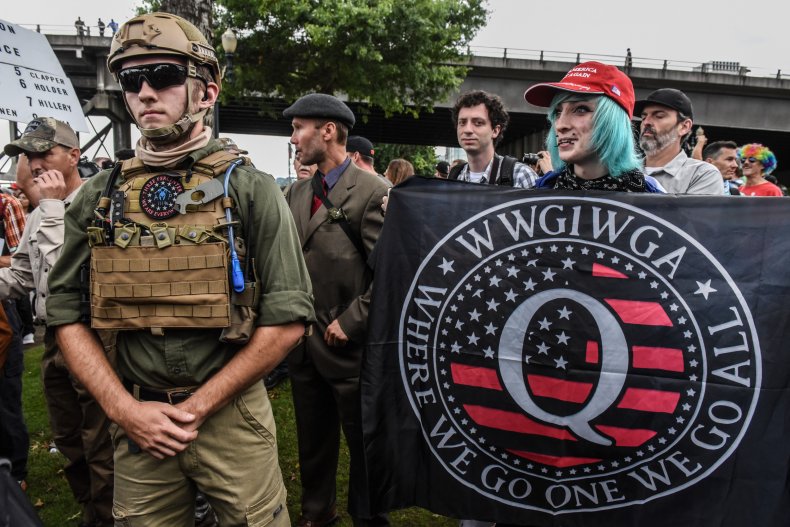 The QAnon conspiracy theory gained popularity after anonymous posts from a supposed informant called "Q" appeared on the 4Chan imageboard website in 2017. Far from being the product of a legitimate "whistleblower" as Perkins suggests, information provided by "Q" comes entirely from anonymous posts that make evidence-free claims from unknown and unverified sources.
The claims of "Q" typically center on suggestions that President Donald Trump is secretly fighting against a "deep state" controlled by Democrats, Satanists and Hollywood "elites" that are focused on damaging the president while engaging in child sex trafficking.
The conspiracy theory has remained popular in some right-wing circles online despite "Q" repeatedly making predictions that are later proven to be false. Trump has personally shown support for devotees of the theory, reportedly amplifying tweets from QAnon supporters at least 131 times as of May 11.