Oregon State Rep. Mike Nearman Charged Over Role in Opening Capitol to Far-Right Protesters
Republican Oregon state Representative Mike Nearman is facing legal charges for allowing far-right protesters to enter the state Capitol on Monday, December 21, 2020. His actions violated the building's COVID-19 and safety protocols.
Nearman faces a first-degree misdemeanor charge for official misconduct and a second-degree misdemeanor charge for criminal trespass, according to Oregon Public Broadcasting (OPB). He is scheduled to appear in the Marion County Court at 9 a.m. on May 11.
Surveillance video on December 21, 2020 captured Nearman exiting a locked Capitol building door. Upon exiting, far-right demonstrators, including Patriot Prayer members, forced their way into the building. They had been outside protesting the state's coronavirus restrictions.
After entering the building, demonstrators fought with state troopers and Salem police. One man allegedly sprayed officers with bear mace. Others shattered glass doors and attacked journalists outside. Meanwhile, Nearman walked around the building and entered on the opposite side, OPB reported.
At the time, lawmakers were meeting in a special session to discuss a COVID-19 relief bill.
Nearman is also facing possible repercussions from his Democratic House colleagues. In January, they filed a formal complaint against Nearman saying that his actions endangered lawmakers, House workers and law enforcement officers. The complaint sparked an investigation that could lead to mandatory counseling for Nearman or his forced expulsion from the legislature.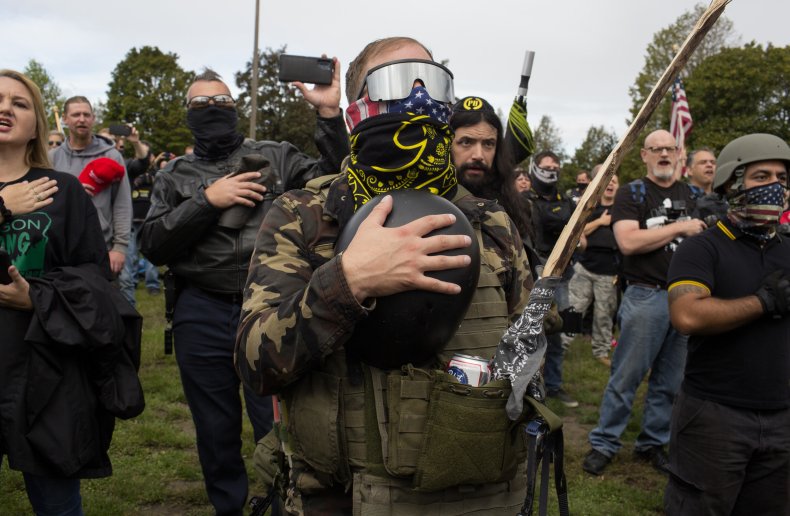 In January, the legislative chamber stripped Nearman of his committee responsibilities. He is now required to give 24 hours notice before arriving to the Capitol building. It is one of several restrictions imposed on him due to his facilitated security breach.
The lawmaker was also fined $2,000 for the damage demonstrators caused inside the building. Oregon House Speaker Tina Kotek, a Democrat, called on Nearman to resign.
"His actions have created immense fear among legislators and Capitol staff," Kotek said in a statement. "I believe he should resign immediately because he has already breached the public trust and endangered our ability to safely conduct the people's business."
Nearman is set to appear at a far-right gun rights rally in Salem, Oregon on Saturday. The rally will be held at the city's Riverfront Park and will be lead by the far-right group Patriot Prayer.
Nearman will speak along with Jo Rae Perkins, a prominent QAnon supporter who was the Republican Senate nominee in Oregon. Perkins lost to Democratic incumbent Jeff Merkley in November.
Newsweek contacted Nearman's office for comment.